New ICRISAT groundnut varieties to be available from the next season
From
Published on

10.08.20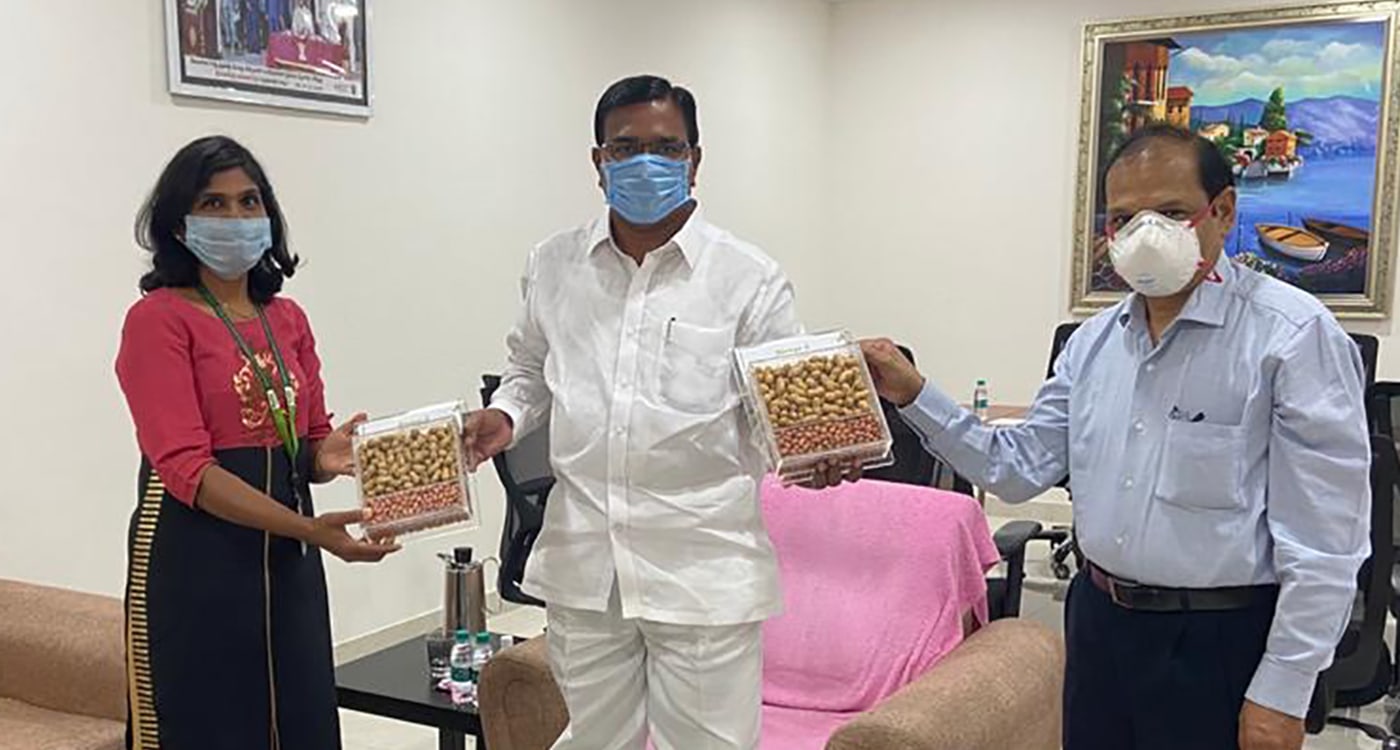 Photo: ICRISAT scientists Dr Janila Pasupuleti (L) and Dr Pooran Gaur (R) presenting packs of two new groundnut varieties to the Minister for Agriculture Singireddy Niranjan Reddy (center) in Hyderabad on August 4, 2020. Photo: ICRISAT
Two new groundnut varieties with high oleic acid content developed by ICRISAT in association with the Indian Council of Agricultural Research-Directorate of Groundnut Research would be made available to the farming community in Telangana from the next season.
This was stated by the Minister for Agriculture, Singireddy Niranjan Reddy, after a meeting with a team of scientists from ICRISAT. The Minister stated that the new varieties known as Girnar 4 (ICGV-15083) and Girnar 5 (ICGV-15090) would be most suitable for cultivation in the erstwhile Mahabubnagar, Rangareddy and Nalgonda districts.
Mr Niranjan Reddy said the new varieties could withstand moisture stress and Telangana state can produce high quality groundnuts. Groundnut is largely cultivated in Rabi season (post-rainy) in Telangana state under irrigation. The harvesting is done in dry months rendering the produce to be less prone to Aflatoxin contamination. This enables production of high quality and food safe groundnuts in Telangana state.
Read more on the benefits of the high oleic content of these groundnut cultivars: http://gldc.cgiar.org/new-icrisat-groundnut-varieties-to-be-available-from-the-next-season/
This story was originally published on The Hindu