New climate-resilient, disease-resistant chickpea varieties coming farmers' way
From
Published on

11.10.21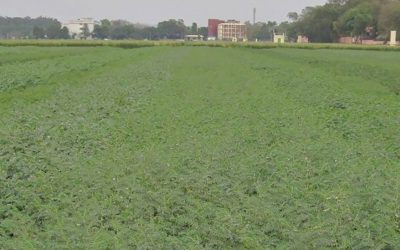 Developed through genomics-assisted breeding by the Indian Council of Agricultural Research (ICAR) and ICRISAT.
Three new chickpea varieties, with enhanced drought tolerance, disease resistance and increased yield, are set to become available to the Indian farmers. These have been notified to be available for cultivation by the Central Varietal Release Committee.
Calling for the deployment of 'fast-forward breeding', a newly conceived framework that promises faster delivery of varieties to farmers, Dr Rajeev Varshney, Research Program Director – Accelerated Crop Improvement, ICRISAT, who coordinated the integration of genomics-assisted breeding activities for developing these varieties, said, "Counting three other varieties released in 2019 and 2020, genomics-assisted breeding has delivered six high-yielding chickpea varieties in India during the last three years."
Why chickpea improvement?
Dr Arvind Kumar, ICRISAT's Deputy Director General-Research, pointed to the threat of drought in chickpea-growing regions of India while explaining the need for sustained and continued research to improve the crop. "Drought alone causes up to 60% annual yield losses in chickpea. The changing climate warrants development of cultivars that can attain their maximum potential under drought stress in rainfed environments as well as in disease-prone environments," Dr Kumar said.
ICRISAT, in collaboration with ICAR, has been leading the efforts for genetic dissection of drought tolerance and Fusarium wilt resistance in chickpea using the most advanced sequencing and genotyping technologies at its Center of Excellence in Genomics & Systems Biology.
Collectively called genomics-assisted breeding, these approaches are being deployed by ICAR institutes such as ICAR-IIPR, ICAR-IARI and several state agricultural universities, in collaboration with ICRISAT, to develop high-yielding, disease-resistant and nutrition-dense varieties faster than ever before.
Among the three new chickpea varieties are the two drought-tolerant varieties – IPC L4-14 and BGM 4005 – that were developed by transferring a 'QTL-hotspot' (genes for drought tolerance) from the donor chickpea variety ICC 4958 into two leading parental chickpea varieties, DCP 92-3 and Pusa 362, respectively.