Milking it: boosting and professionalizing Kenya's informal dairy sector
From
Published on

27.09.23

Impact Area
Funders

Bill and Melinda Gates Foundation, United Kingdom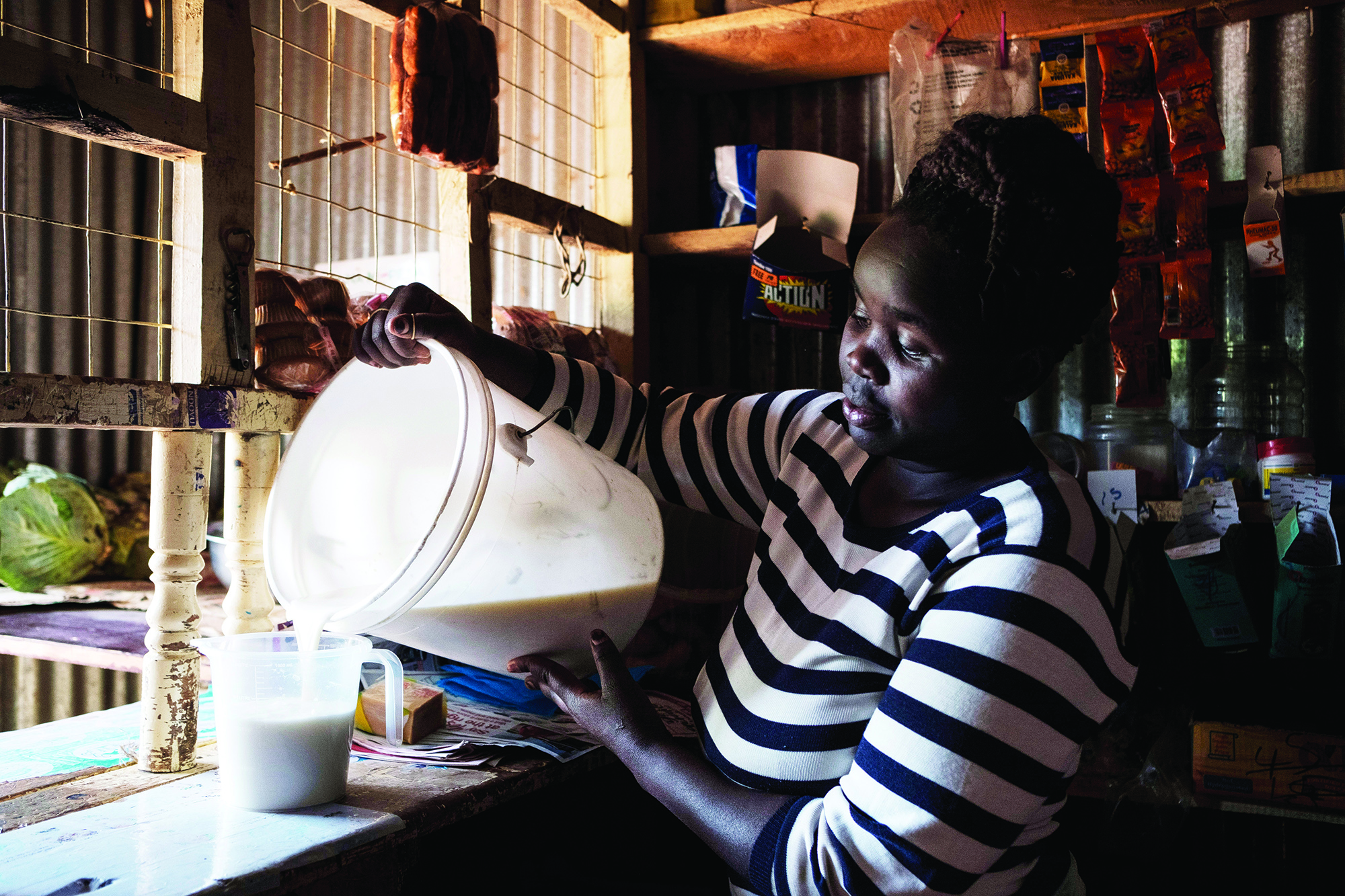 On the outskirts of Kenya's Rift Valley town of Eldoret, many locals make money by selling fresh cow's milk. Vendor Winnie Cherono ('Mama Chumba'), who sells an assortment of staples from a small hole-in-the-wall kiosk, says her fresh milk is popular because it tastes better – and is healthier and cheaper – than the ultra-heat-treated (UHT) packaged alternative, which retails at around double the price.
More than 70 percent of Kenya's milk is sold through outlets like this – kiosks and shops supplied directly by producers or through middlemen – in the informal market. But it's not an easy enterprise. Most vendors don't have fridges, so they need to sell all their stock on the day they receive it, and use careful hygiene and storage practices to slow down spoilage. Many also suspect that some of their suppliers also water their milk down or try to pass off older milk as fresh.
Government officials often push back on the unregulated informal sector with attempts to reduce, eliminate, or streamline it.
'The government has traditionally handled informal markets with a hard hand,' said Silvia Alonso, a principal scientist and epidemiologist at the International Livestock Research Institute (ILRI). 'They go around and inspect and if the vendors don't comply with requirements, they have to shut down.'
Whilst regulations are important to ensure the food sold in markets is safe for consumption, enforcing standards that are not aligned with current realities results in significant negative impacts on livelihoods – as well as on nutrition amongst poor households that can only afford milk from informal sources.
'A vast proportion of Kenyans depend on these markets, both as buyers and sellers, so it's important to preserve them,' said Alonso.
That's why Alonso's team of ILRI scientists – in collaboration with the International Food Policy Research Institute, the International Institute for Environment and Development, and national partners – have been working with vendors in Kenya's informal milk sector to help them up their game, through the More Milk project.
Pathways to professionalization
The team identified three key areas to improve the safety of any informal food sector: capacity building, incentives and an enabling environment. They designed a food safety intervention 'as a pathway to legitimize informal markets and informal actors while improving milk safety and hygiene practices – to find a way to bring them within the food systems rather than excluding them,' said Alonso. 
The intervention aims to improve the safety of milk, increase milk consumption in children from low-income households, and enhance the vendors' revenues and professionalism.

The program has trained close to 200 participants in peri-urban Eldoret. They learned to evaluate freshly delivered milk in their shops using simple tests – organoleptically (that is, using the senses to assess flavour, odour, appearance, and texture) and by boiling it to assess its freshness, purity, and safety. They also received training on milk handling (such as ensuring containers are uncontaminated), business skills, 'soft skills' like negotiation with suppliers and customers, and product promotion – including implementing a marketing campaign to promote the importance of milk for children and build better connections between vendors and consumers. 
Read the full story at ILRI.org.
Story by Monica Evans, ILRI science writer.
Banner photo: Winnie Cherono, locally known as Mama Chumba, pours out a supply of fresh milk at her shop in Eldoret, Kenya. ILRI/Kabir Dhanji