May Message from the Chair of the System Board
From
Published on

31.05.23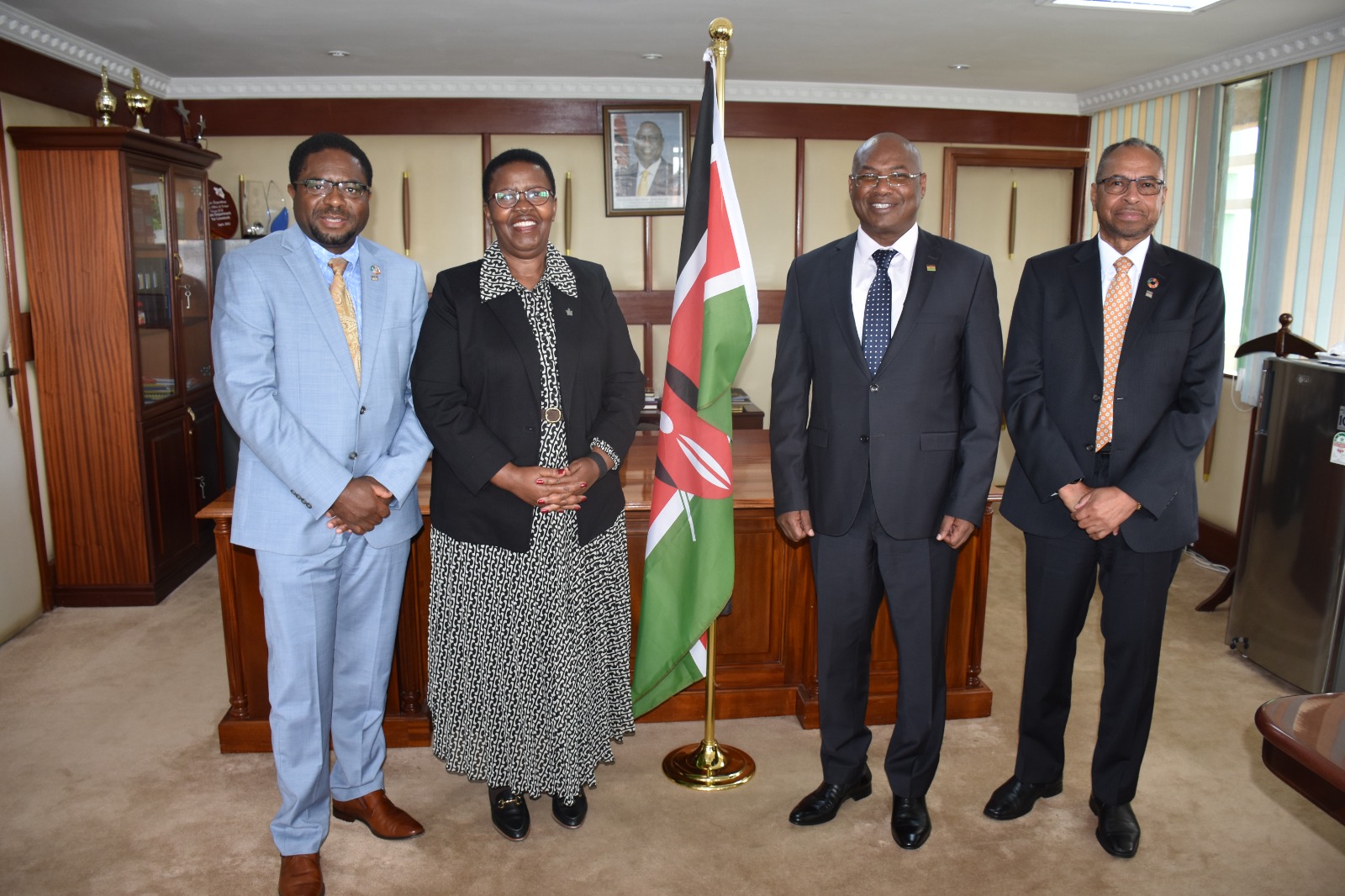 Appolinaire Djikeng, Lindiwe Majele Sibanda, Harry Kimtai, Jimmy Smith
Warm greetings to the CGIAR community. 
I continue in my endeavor to send you updates on my engagements, and this month I take you to Nairobi, Kenya where I visited recently.    
The priority of that trip was to reinforce key strategic partnerships, both external and internal, and to connect with CGIAR staff, something I really enjoy doing. 
My first port of call was a meeting with Permanent Secretary Harry Kimtai of Kenya's Ministry of Agriculture and Livestock Development.  
Accompanying me were the newly appointed Director General of ILRI, Dr. Appolinaire Djikeng, and former ILRI DG, Dr. Jimmy Smith. 
PS. Harry Kimtai expressed his enthusiasm to continue the partnership from where Jimmy left off. He specifically highlighted ILRI's index-based livestock insurance and encouraged ILRI to actively engage in the scaling out of this innovation regionally under the World Bank's DRIVE project. 
I then met with Director General Dr. Eliud Kiplimo Kireger of the Kenya Agricultural and Livestock Research Organization (KALRO), an important partner of CGIAR in Kenya, and a sitting member of the System Council. 
DG Kireger emphasized the numerous bilateral partnerships KALRO has with CGIAR centers and said he looks forward to those partnerships consolidating under One CGIAR. 
At the ILRI campus, I spent time with Nicoline de Haan, director of the GENDER impact platform and the lead for CGIAR's research initiative HER+. 
The GENDER equality, youth and social inclusion impact platform is an important vehicle for CGIAR to synthesize our gender work and track its impact. We are devoting similar focus to four other impact platforms:
Poverty reduction, Livelihoods and Jobs
Climate Adaptation and Mitigation, 
Environmental health and Biodiversity, 
Nutrition, Health, and Food Security
I hope to showcase each one of these going forward. 
Following this, I met with Dr. Simon Heck from the International Potato Center, and congratulated him on his new appointment as CIP's Director General.  
Much of Simon's work has been in Africa, working out of Nairobi, but now he's packing his bags to relocate to Lima, Peru – a base I hope to visit soon. 
I also met Dr. Segenet Kelemu, the director general of our sister institution ICIPE, fondly known as the 'insect centre.' 
DG Segenet reminded us of the crucial role insects have in the circular economy, including their potential as alternative livestock feed and for pest control, both in farmers' fields and during storage. 
Insects are indispensable in agriculture, making close partnership between ICIPE and One CGIAR a must happen. 
At ILRI's campus, I had the joy of meeting and mingling with staff from ILRI, CIP, IIATA, IRRI and IFPRI at a coffee event where I reminded everyone that the One CGIAR journey continues with strength, but importantly, its true success hinges on our united and unwavering commitment to its purpose: our collective mission to transform food, land and water systems in a climate crisis. 
Being back at ILRI's campus felt like a return to a former home. I was affectionately called 'sister,' 'auntie,' 'mother,' and even 'grandmother.' As you may know, I dedicated six years of service to the ILRI Board, three of which (2012-15), I proudly served as Board Chair. 
Later that day, I gave ILRI's management and representatives from ILRI's hosted institutions a recap and candid self-assessment of my first 100 days as CGIAR Board Chair.  
I shared insights, addressed questions and received some frank and honest feedback that I promised to take to the System Board and to the governance review. 
Finally, this month, a spotlight on CGIAR's livestock portfolio, which tackles vital development challenges like nutrition, pandemics and climate change.  
In the Sustainable Animal Productivity for Livelihoods research initiative, our researchers and partners in Tanzania, Kenya and Ethiopia are harnessing genomic technologies to select and provide smallholder dairy farmers with locally adapted dairy cattle that are more productive. 
In Tanzania, they collaborate with agripreneurs who deliver digital information packages to over 60,000 dairy households. These packages offer guidance on optimizing animal productivity through improved feeding, smart seedstock choices, efficient herd management and connections to financial and market services. 
That wraps up this edition of my blog for this month. Next month I will update you on the outcome of my meetings here in Rome, where I recorded this video; as well as other engagements.  
Until then, stay well, focus on the research, and see you soon.