Kenyan President Kenyatta headlines conference at ILRI Nairobi on innovations in Kenya's agricultural sector
From
Published on

02.05.18

Impact Area
Funders

United States of America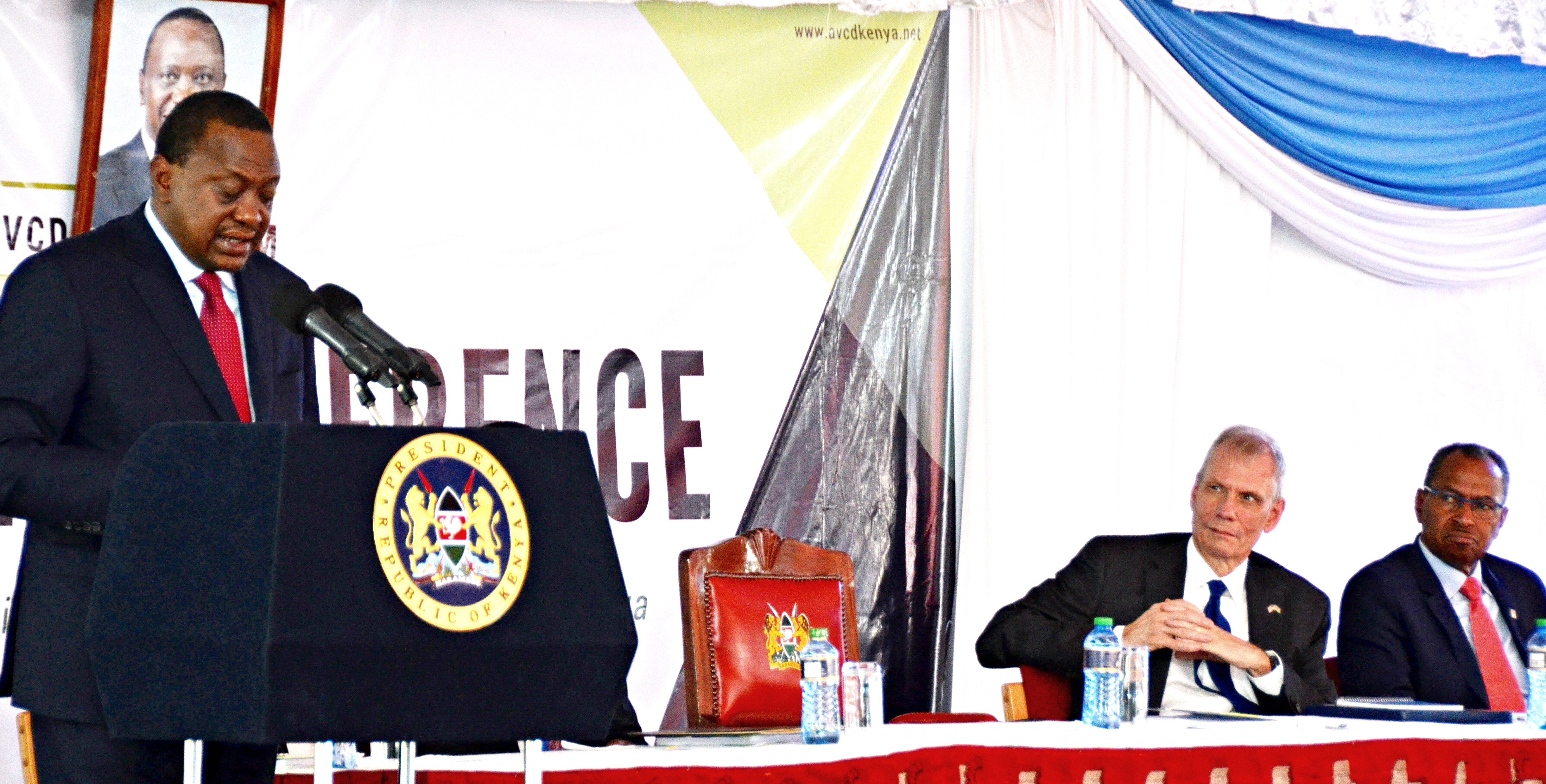 Kenya President Uhuru Kenyatta addresses the 400 guests at the national conference of the Feed the Future Accelerating Value Chain Development project at ILRI on 27 Apr 2018. US Ambassador to Kenya Bob Godec and ILRI Director General Jimmy Smith look on. (Photo credit: ILRI/AVCD)
Speaking at the plenary opening of a two-day conference on a USAID-supported Feed the Future program, held at the Nairobi headquarters of the International Livestock Research Institute (ILRI) 26–27 April 2018, His Excellency President Uhuru Kenyatta reiterated his ambition that Kenya eradicate poverty and hunger in his country by 2022.
'That no Kenyan goes hungry is one of the main focus areas of my administration in this my second term', the president said.

He praised ILRI and its partner research institutions for developing technologies and innovations that 'can rapidly transform agriculture to be more productive, thereby providing gainful employment to our people.'
The session was notable also for the official launch by US Ambassador to Kenya Robert Godec of a second five-year phase of the Feed the Future Kenya Country Plan, worth USD115 million (KES11.5 billion).
The conference was held to reflect on the achievements and to consider the future of Accelerated Value Chain Development (AVCD), a USD25 million project in Kenya funded by the USAID-supported Feed the Future initiative and implemented by a consortium of CGIAR institutes, led by ILRI together with the International Potato Center (CIP) and the International Crops Research Institute for the Semi-Arid Tropics (ICRISAT). Altogether, the program has so far helped some 360,000 households in Kenya, according to Romano Kiome, AVCD's chief of party.
More than 400 people participated in the conference. Guests included representatives from national government, county governments, implementing partners, sub-grantees, selected beneficiaries, partnering projects and the Kenya development donor community—as well as high-level representatives from the national government and diplomatic corps.

Two Samburu women perform a role-playing skit at the AVCD national conference (photo credit: ILRI/Susan MacMillan).
The two-day event included panel discussions addressing the role of science and technology in agricultural development; activities designed to identify collaborative opportunities for stakeholders and partners, including staff of the AVCD program; and role-playing skits by Samburu women meant to show how information about the programs is disseminated at the local level.
The AVCD program works to unlock the economic potential of Kenya's smallholder farmers and pastoralists and covers 21 counties throughout Kenya. The program approaches smallholder farming as a business—rather than simply a livelihood or survival strategy—and targets bottlenecks in the value chain with technical and financial innovations developed by CGIAR research institutes and their partners, such as the Kenya Agricultural and Livestock Research Organization (KALRO). The goal is to competitively and sustainably increase productivity and thereby contribute to inclusive agricultural growth and nutrition and food security.
In the two and a half years since it began, AVCD has met or exceeded nearly all of its initial objectives, said

Iain Wright

, ILRI's deputy director general for integrated sciences.
In addition to President Kenyatta, US Ambassador Robert Godec, Cabinet Secretary of the Kenya Ministry of Agriculture and Irrigation Mwangi Kiunjuri, and ILRI Director General Jimmy Smith, all spoke at the plenary opening. (A livestreamed Twitter video of remarks made by Ambassador Godec, Agriculture Cabinet Secretary Kiunjuri and President Kenyatta is here and additional photos of the event are here.)

Fodder production in Busia and Vihiga counties, Kenya (photo credit: AVCD/FIPS/Raymond Jumah).

Dairying in Siaya County, Kenya (photo credit: AVCD/FIPS/Raymond Jumah).

Accelerated livestock breeding in Busia and Kisumu counties, Kenya (photo credit: left by AVCD/FIPS/Raymond Jumah, right by ILRI/Muthoni Njiru).

Pastoralism in Wajir County, Kenya (photo credit: ILRI/Riccardo Gangale).
From top to bottom: The USAID Feed the Future Accelerating Value Chain Development (AVCD) project works in Kenya to improve smallholder agricultural value chains. For the livestock sector, this includes better livestock fodder (Napier and Brachiaria) production, feeding and marketing; improved dairy production and marketing; accelerated livestock breeding through artificial insemination; vaccination programs protecting cattle against infectious disease; and enhancing the production and marketing of pastoralist ruminant animals in the country's northern drylands.
The AVCD program focuses on several key agricultural value chains: root crops, dairy, livestock and drought-resistant staple crops. Innovations in each case vary. For example:
Thirty thousand households in eastern Kenya are growing an improved potato variety thanks to a distribution program that last year produced 392 tons of potato seeds for market.
The orange-fleshed sweetpotato, once considered a smallholder 'woman's crop', is being marketed for its nutritive value and infused into products such as bread and cookies sold in Nairobi supermarkets.
In northern Kenya, nearly sixty thousand pastoralist households have been reached with an array of programs, including a mobile app that provides livestock disease surveillance and market reports. The app is credited with helping to stop the spread of foot-and-mouth disease in Garissa County.
The AVCD program is part of USAID-supported Feed the Future initiative, conducted under the US Global Food Security Strategy, a multi-billion-dollar hunger and food security initiative that currently operates in 19 countries, including 12 in Africa.

ILRI Deputy Director General for Integrated Science Iain Wright addresses the AVCD guests (photo credit: ILRI/Paul Karaimu).
Implementation of AVCD represents an important achievement for ILRI and its partners, said Iain Wright. 'President Kenyatta's presence here today shows how important this project is to Kenya—but it also demonstrates that ILRI and the other CGIAR centres can not only deliver good science but also demonstrate a tangible impact on people's lives at a meaningful, country-wide scale', he said.
A recurrent theme at the conference was the need for various sectors such as government, private industry and scientific research organizations to cooperate effectively for Kenya to meet the ambitious targets set forth in the government's 'Big Four' list of priorities—manufacturing, universal healthcare, affordable housing and food security. President Kenyatta observed that the AVCD program is making important contributions to three of those four. In addition to improving food security and enhancing nutrition, AVCD's emphasis on the entire value chain includes processing crops such as sweetpotatoes into consumer food products, which is contributing to the country's manufacturing sector.
Agriculture Cabinet Secretary Kiunjuri spoke of his hope to transform the most vulnerable and poor populations from small-scale farmers to agribusiness players. And Ambassador Godec spoke of the need to work with the national and county governments plus the private sector 'to increase farmer and agribusiness access to markets, quality farm inputs and finance.'

Pictured left to right: George Wamwere-Njoroge, ILRI manager of AVCD's livestock value chain projects, AVCD Chief of Party Romano Kiome speaking to guests at the conference, and ILRI rangeland governance scientist Lance Robinson responding to a discussion question (photo credit: ILRI/Susan MacMillan).
ILRI's Jimmy Smith spoke of the broader challenges facing Africa's agricultural sector. 'By the time the global population stabilizes in the 2050s there will be approximately 2.5 billion more people to feed than are fed now. That means that globally, we will have to produce 50% more food than we produce now—70% more here in Africa.'
Indeed, the conference took place at a critical juncture for Kenyan agriculture. A large swathe of the country's breadbasket is under dual attack from a severe drought and an unusually virulent and invasive pest known as the fall armyworm.
Smith summarized the essential role for agricultural research in the task ahead for Kenya. 'Without new research, and without putting research innovations such as the many we've heard about at this conference into practical use', Smith said, 'Kenya's food, nutrition and poverty challenges—which are already facing a changing climate that is giving rise to increased pests and diseases—simply will not be met.'
'On the other hand', Smith argued, 'with continued research—and with the kind of innovative, productive and successful government and public-private agricultural research partnerships on display at this AVCD National Conference—these challenges will be met and overcome.'

Left to right: Muthoni Njiru, communications specialist for the AVDC project, one of the Samburu women in a role-playing skit at the conference, and nametags at the conference registration table (photo credit: ILRI/Susan MacMillan).
Links
A Twitter livestreamed video of remarks by Ambassador Godec, Agriculture Cabinet Secretary Kiunjuri and President Kenyatta.
ILRI Flickr photo album of the event.
ILRI news: Accelerating the development of agricultural value chains in Kenya—AVCD Conference Highlights, ILRI Clippings blog, 30 Apr 2018.
News release and clipping: U.S. Ambassador launches KES 11.5 billion partnership with Kenya to reduce poverty and malnutrition through agriculture-led growth, USAID and AllAfrica.com, 27 April 2018.
News clipping: Kenya moves to empower farmers with sci-tech for food security, Xinhua, 27 Apr 2018.
ILRI livestock research publications generated the AVCD project, which is part of the ILRI-led CGIAR Research Program on Livestock.
More from about AVCD (from USAID's Feed the Future initiative) are here and (from ILRI) here, about the Livestock Value Chain component of AVCD here, and about the KAZNET crowd-sourced data collection platform here.

Five of the many speakers at the AVCD conference (photo credit: ILRI/Susan MacMillan).
Blog articles about AVCD's livestock-focused projects in Kenya
From grass to glass, knowledge to upgrade: How village-based dairy advisors are transforming smallholder systems in Kenya, 3 Nov 2017.
Village-based dairy advisor Priscilla Ouma launches a 'restore milk campaign', 1 Nov 2017.
Highlights of US Ambassador Robert Godec's visit to AVCD sites in Turkana County, 19 May 2017.
3 Tier Network managing livestock disease collectively, for better lives though livestock, 17 May 2017.
More Milk from new grass variety, changing breakfast tables for Dairy Farmers across Homa Bay County, 16 May 2017.
From grass to glass, knowledge to upgrade: How village-based dairy advisors are transforming smallholder systems in Kenya, 20 Jan 2017.
Stepping it up with farmers: Smallholders team up with researchers to improve dairy productivity in Kenya, 18 Jan 2017.
Creating access: AVCD dairy technical team engage with media in western Kenya, 4 Nov 2016.
Kick starting the dairy industry for farmers in western Kenya, 3 Nov 2016.
Where numbers matter: Better herd management for better productivity in Kenya's pastoral communities, 1 Sep 2016.
Easing bottlenecks to uptake of dairy farming in western Kenya, 29 Jul 2016.
Healthy animals, healthy returns: Improving pastoralists' livelihoods in Kenya, 27 Jul 2016.