IRRI commends Indonesia for strong efforts to achieve rice self-sufficiency
From
Published on

16.08.22

Impact Area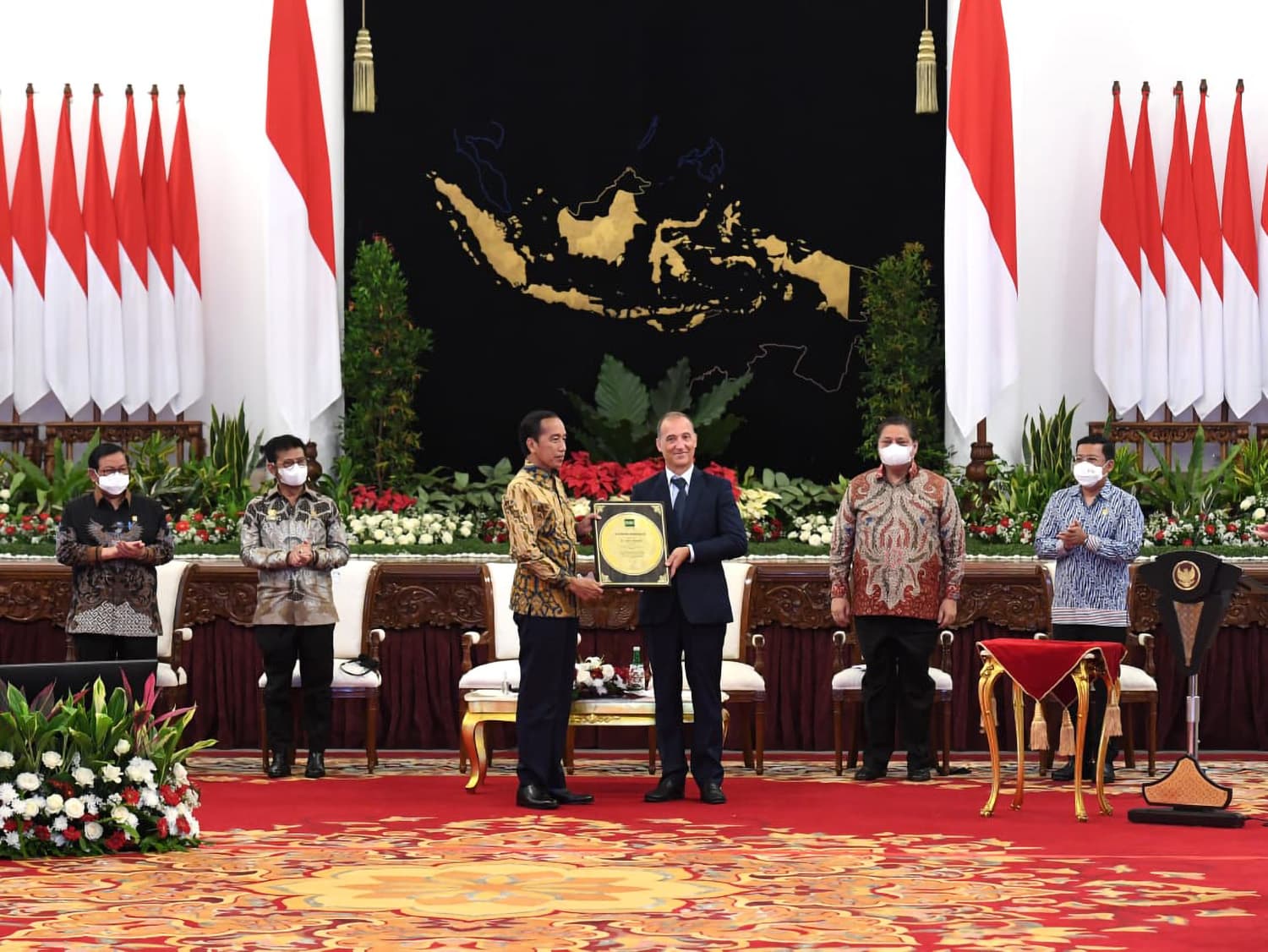 To acknowledge the efforts that Indonesia put into achieving rice self-sufficiency, the International Rice Research Institute (IRRI) awarded President Joko Widodo with a commemorative plaque for "Achieving Agri-Food Systems Resiliency and Rice-sufficiency During 2019-2021 through the Application of Rice Technology" in a ceremony at the State Palace in Jakarta on 14 August 2022. Presenting the award was IRRI Director General Dr. Jean Balié.
Rice is a staple food in Indonesia with a per capita average rice consumption of 108 kilograms every year. From 2019 to 2021, Indonesia achieved a 90 percent self-sufficiency ratio in rice production and demand ratio, demonstrating a high level of agri-food system resiliency, according to the United Nations Food and Agriculture Organizational (UN FAO).
Indonesian government officials including the Agriculture Minister Prof Dr. Syahrul Yasin Limpo, Economic Affairs Minister Airlangga Hartarto, Cabinet Secretary Dr. Pramono Anung Wibowo, and Minister of State Secretary Prof. Dr. Pratniko attended the event on Sunday. The UN FAO Country Director Rajendra Aryal also graced the event.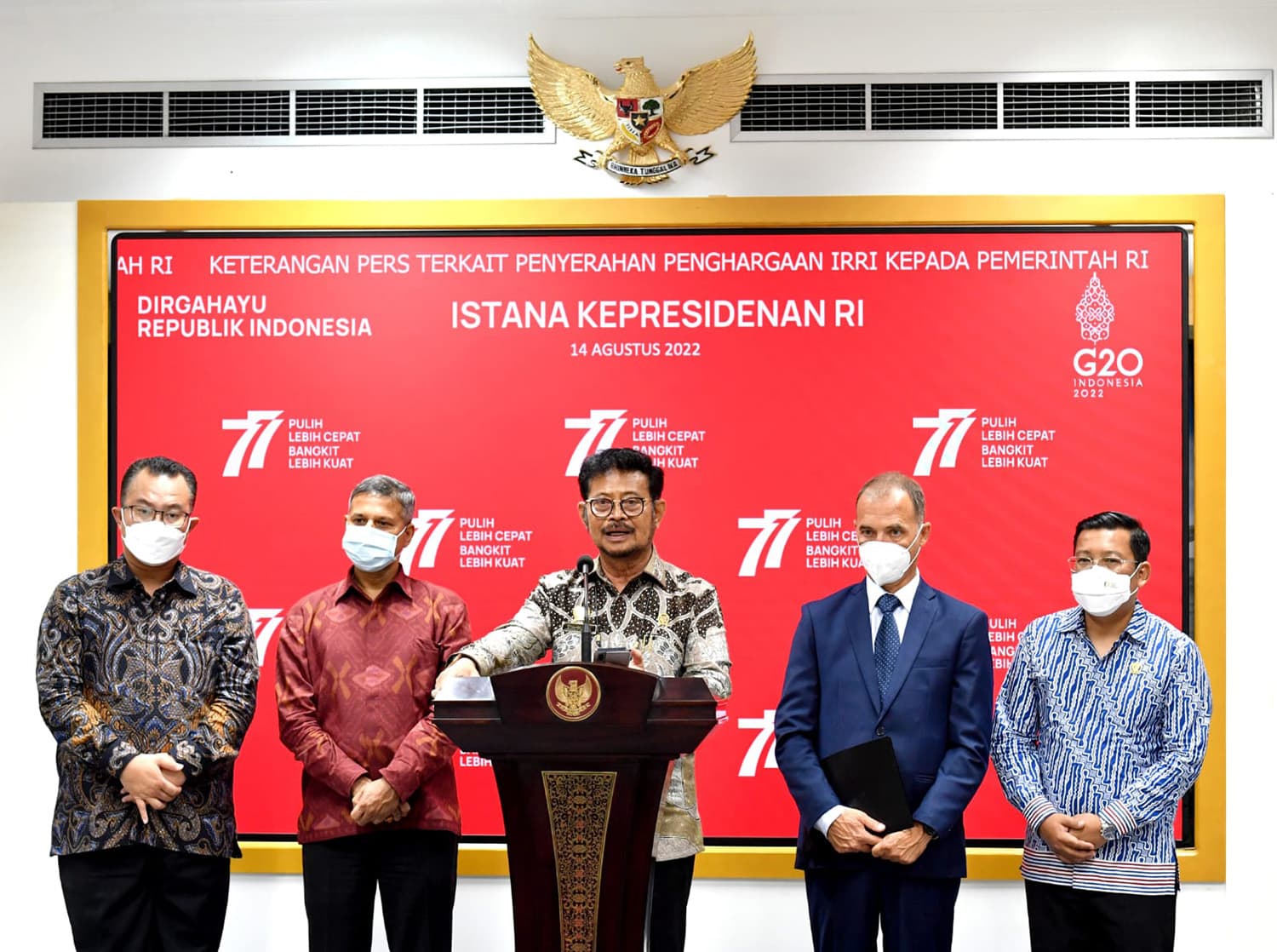 Agriculture Minister Dr. Syahrul Yasin Limpo spoke before the media at the Palace.
Agriculture Minister Dr. Syahrul Yasin Limpo said that the award from IRRI is the biggest gift for Indonesia's 77th Independence Day as it signifies the country's efforts in the last three years, where the country's rice production has continuously increased.
In a speech by President Jokowi, he commended the Indonesian farmers and the agriculture agents.
"I would like to express my deepest gratitude, especially to the real actors who work in the fields, the farmers in Indonesia for their hard work, of course the Regents, Governors, Ministry of Agriculture who all work together with research from universities that we have. This is an integrated work, joint work, mutual cooperation," said Jokowi.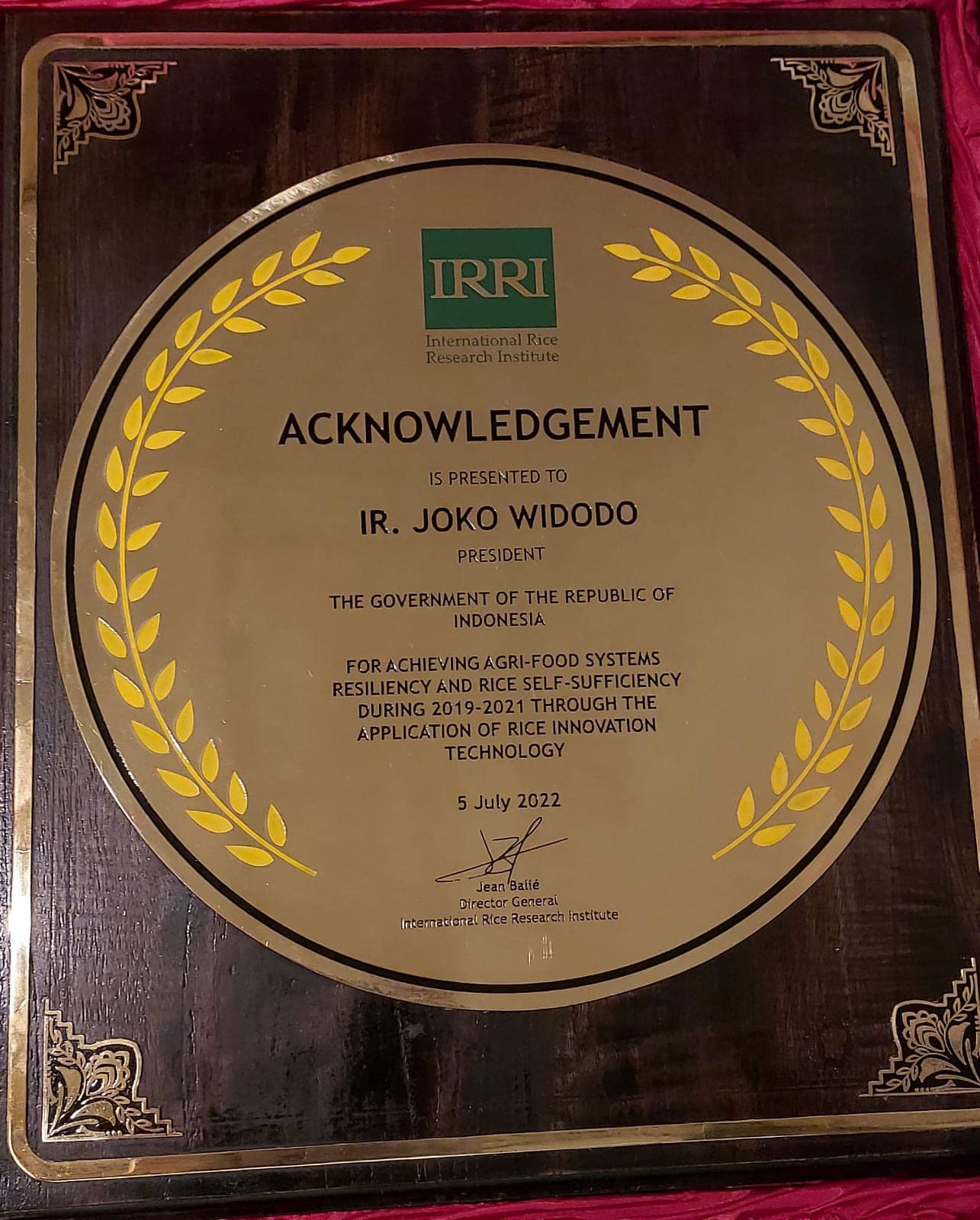 Meanwhile, Balié reaffirmed IRRI and CGIAR's commitment with Indonesia to strengthen the country's food systems and meet the challenges of the post-pandemic normal. "I am confident that, by working together, we can continue to make progress in achieving food security and nutrition for all, while also adopting sustainable agricultural practices that mitigate the effects of climate change as well as improve prosperity of and equity among the people," he said.
IRRI and Indonesia have a rich history of partnership on technological innovations where the institute has supported the country to increase rice production from 2.4 tons per hectare in the early 1970s to over 5 tons per hectare today. An independent assessment by the Australian Center of International Agriculture Research (ACIAR) in 2011 reported that the annual benefit of rice variety releases derived from the IRRI-Indonesia partnership at USD 852 million.
Balié also extended his appreciation to the Indonesian government for the strong support of the 2020-2024 Five-Year Work Plan which allows a long and successful cooperation on technological innovations and exchange as well as dissemination and capacity development in Indonesia. This program, penned in 2020, aims to strengthen Indonesia's rice sector through collaborations across food systems: agri-food policy and markets, new climate-smart and nutritious rice varieties, sustainable rice-based systems, mechanization and postharvest, digital agriculture, and capacity development.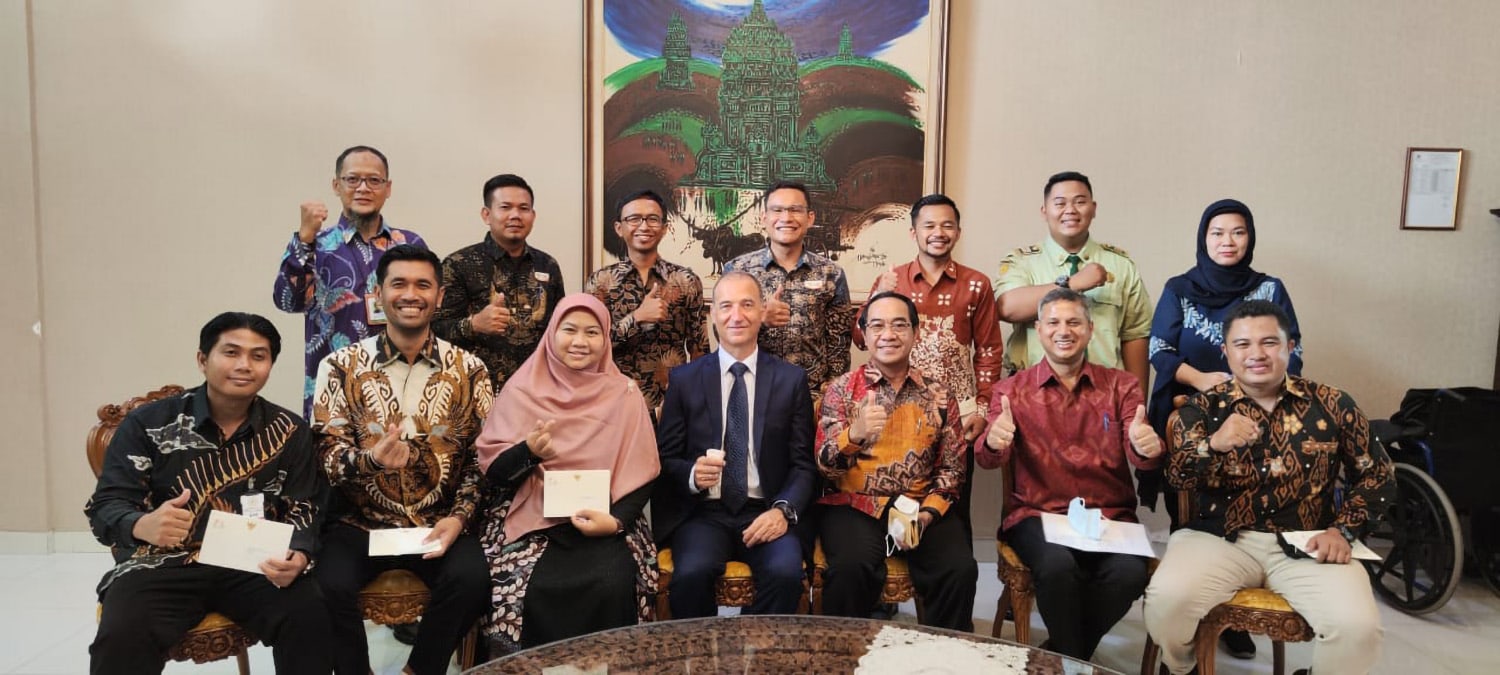 To strengthen the collaboration between the institute and the country, Balié also extended an open invitation to President Widodo, Minister Limpo, and their delegations to visit IRRI Headquarters in the Philippines for a tour of the institute to see the research programs currently being developed, and to discuss more opportunities for collaboration.