Increased funding support to AVISA to accelerate crop improvement and improve seed delivery systems
From
Published on

14.09.20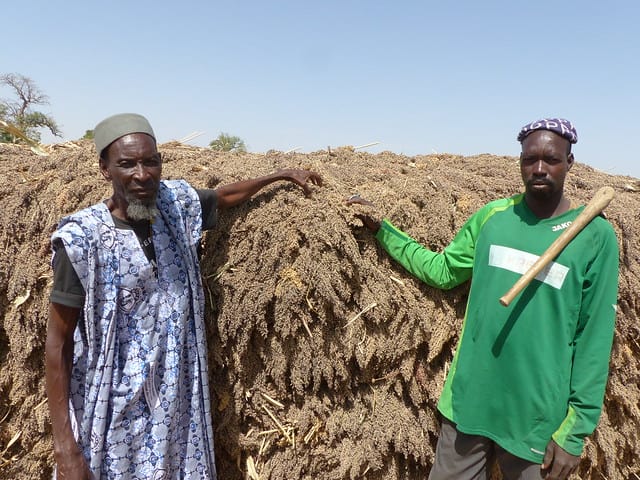 Photo: Farmers from Mali next to their sorghum harvest (AVISA)
One year after it began, Accelerated Varietal Improvement and Seed Delivery of Legumes and Cereals in Africa (AVISA) project is being strengthened to magnify its impact potential with a two-year supplementary grant from USAID. The funding aims to enhance the project's investments and support for modernizing breeding activities and seed systems.
The USAID investment for 2020 and 2021 is aligned with the Bill & Melinda Gates Foundation funded AVISA Project, supporting modernization of crop improvement at ICRISAT; Alliance of Bioversity International and CIAT; International Institute of Tropical Agriculture (IITA). For ICRISAT, the new investment provides an opportunity to include additional crops (chickpea and pigeonpea) and geography (a small part of Asia) that were not originally a part of the project's mandate.
The USAID-AVISA investment will support strengthening of multi-location yield trial networks and environment profiling to cluster target environments; characterizing markets and socio-economic environment to help define and refine product profiles; integration of advanced breeding tools and technologies while advancing breeding material; and strengthening strategic public and private partnerships in enhancing supply and access to high quality seed of improved varieties.
The investment will also accelerate ongoing establishment of a robust public-private partnership through consolidation of Hybrid Parents Research Consortia (HPRC) for sorghum in East and Southern Africa (ESA) and West and Central Africa (WCA), and for millet in WCA.
Dr Harish Gandhi, the acting Global Breeding Lead at ICRISAT and Co-PI for Modernization of Breeding in AVISA Project, said, "Additional investment from USAID in all three regions shows commitment of our donors towards modernization of breeding. This also helps filling in key resource gaps for executing modernization agenda, helping boost overall efforts."
According to Dr Chris Ojiewo, AVISA Project Coordinator, public-private partnerships are crucial as they involve government entities, seed companies, value chain investors such as grain aggregators, farmer groups and farmer cooperatives, NGOs and agro-dealers complementing one another to deliver high quality seed of improved varieties of grain legumes and dryland cereals and allied technologies to farmers in focus countries. The USAID-AVISA investment is an opportunity to document the market potential of new improved varieties and to build technical capacity of seed producers such that their investments become more profitable through better yields in seed production plots.
Read more on the multi-faceted impacts AVISA has made and will make in its partner countries.