Impact study demonstrates Bt brinjal eggplant variety helps farmers in Bangladesh earn more with less pesticide
From
Published on

18.10.19

Impact Area
Funders

United States of America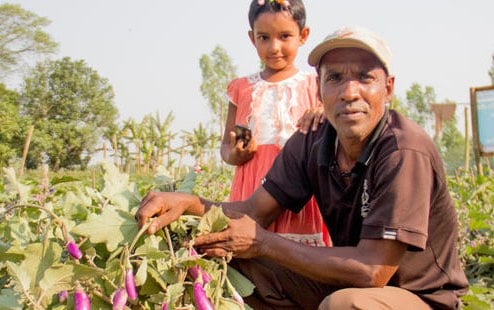 Eggplant, known as brinjal in Bangladesh, is a high-value crop that is widely grown and consumed throughout the country. About 150,000 farmers grow brinjal in Bangladesh and it ranks third after potato and rice among crops in the country in terms of quantity consumed. It is a critical piece of Bangladesh's food security puzzle.
However, brinjal is highly susceptible to the fruit and shoot borer (FSB) pest. FSB is a moth whose larvae bore into the stem and fruit of brinjal. Infestations can lead to yield losses as high as 86%, a devastating hit for smallholder farmers with whom Feed the Future works. To fight this pest, farmers spray their crops heavily with toxic pesticides. Studies have found that farmers spray from as few as 23 times to as much as 140 times per season. This intense amount of spraying can have harmful effects on the health of farmers, their families, the consumers of the fruit, and the environment.
To address this insidious pest, a diverse set of partners, including the Bangladesh Agriculture Research Institute (BARI), Maharashtra Hybrid Seeds Co. Pvt. Ltd. (Mahyco), Cornell University, and Feed the Future, developed brinjal varieties with a protein (Bt, specifically Cry1Ac) that provides protection from FSB, intended to reduce FSB infestation and the need for toxic pesticides.
Photo Credit: Md. Arif Hossain/Cornell University