ICRISAT-led nutrition enhancement program to reach more vulnerable groups
From
Published on

19.07.21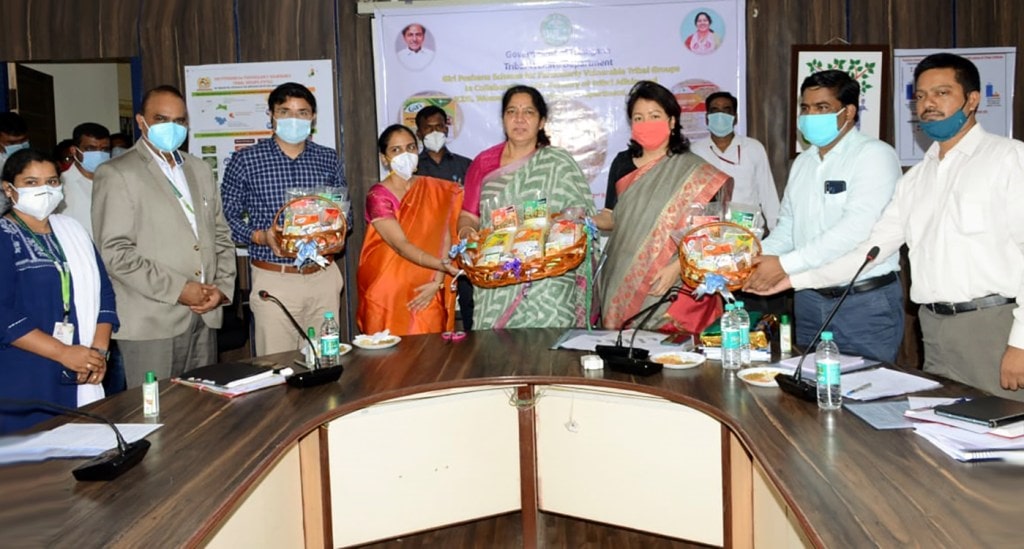 Giri Poshana for Particularly Vulnerable Tribal Groups (PVTGs) launched. 
Over 16,000 children, adolescent girls, pregnant women, and lactating mothers from tribal communities are set to benefit from a nutrition intervention in Telangana, India. ICRISAT's Agribusiness and Innovation Platform (AIP) has formulated nutritionally balanced food products from local crops, which will be manufactured at food processing facilities owned by tribal women.
Mrs Satyavathi Rathod, Minister for Scheduled Tribes Welfare, Women and Child Welfare, Telangana, recently launched the next phase of the tribal diet diversification program titled Giri Poshana for Particularly Vulnerable Tribal Groups (PVTGs). A total of 16,389 beneficiaries from the Integrated Tribal Development Areas (ITDAs) of Utnoor, Bhadrachalam and Mannanur in Telangana will receive the nutritious food products. The food processing facilities are licensed by FSSAI and established in the ITDA areas by the Tribal Welfare Department with support from ICRISAT.
Although Telangana has made significant progress in addressing malnutrition among tribal communities, significant gaps still exist. As per National Family Health Survey 5 (NFHS-5), in Bhadrachalam, Utnoor and Mannanur respectively, 28.4%, 35.4% and 35.9% of children under the age of 5 years are stunted; 25.3%, 38.5%, and 31.7% of children are underweight. Moreover, 21.8%, 26.4% and 21.8% of children in these respective areas are wasted and 69.3%, 67.8% and 75.6% of children are anemic. 68.7%, 60.7% and 55.4% of women in the respective areas are also anemic.