How India's agrifood supply chains fared during the COVID-19 lockdown, from farm to fork
From
Published on

20.07.20

Impact Area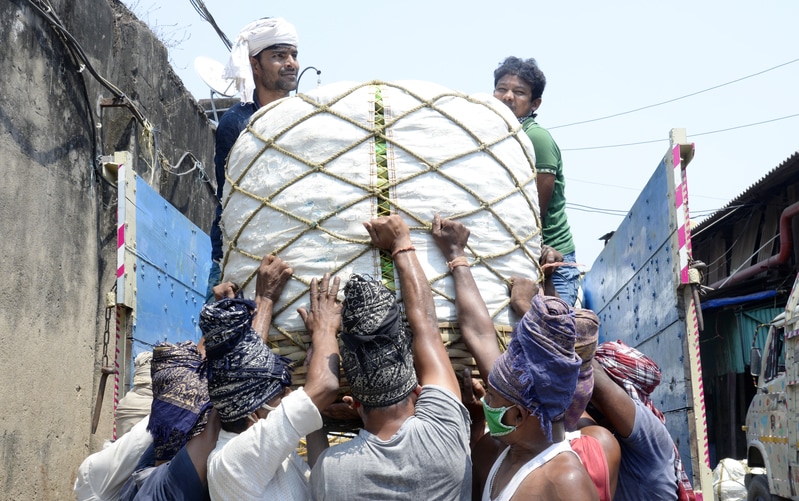 By Sudha Narayanan
Lockdowns imposed in response to the COVID-19 pandemic have disrupted food markets across India. Sudha Narayanan of the Indira Gandhi Institute of Development Research explains that nevertheless, parts of the food system have thus far proven "surprisingly resilient"—and that what happened can only be understood taking into account the complexity and variety of India's food supply chains. The government, traditional retailers, and innovations in supply chains all played key roles in response to the crisis. However, many challenges remain, with food insecurity still high and much uncertainty ahead.—Johan Swinnen, series co-editor and IFPRI Director General.
In response to the COVID-19 pandemic, the Indian government imposed a stringent national lockdown from March 24-May 31 that caused severe disruptions across agrifood supply chains from "farm to fork" (Ramakumar, 2020; Rawal et al., 2020). The government was consistently one step behind in terms of preventing these problems (Narayanan and Saha, forthcoming1).
The lack of labor and machinery disrupted harvests and brought warehouse operations to a virtual standstill. Regulated markets where farmers sell produce were intermittently closed and village traders and merchants did not show up to make purchases. Our survey of around 370 farmers across nine Indian states found that among those who had harvested some produce this season, 29% were still holding on to it; 13% had sold the harvests at throwaway prices and about 7% reported that they had to let the produce go waste.
Lockdown-related problems also made it extremely difficult for many retailers to secure fresh and processed foods and to conduct business (Narayanan and Saha, 2020).
Food markets in India, both in urban and rural areas, constitute a mosaic of diverse actors and tend to be highly fragmented. How did this complex system cope in the wake of lockdown? Despite the early confusion, anxiety, and disruptions, there is now widespread consensus in India that the agrifood system has been surprisingly resilient. Nevertheless, the lockdown's impacts continue, and their dynamics deserve attention from policy makers and organizations working on ways to protect food security. This post outlines five key features of the lockdown's consequences for the Indian agrifood system, noting that these are broad patterns that mask large variations.
Consumer prices rose on average while producer prices crashed
Two broad impacts on prices are evident from existing data. It appears that the overall decline in demand, especially in cities—driven in part by the fall in hotel, restaurant, and catering demand and in part by the large exodus of migrants—has flowed upstream, leading to a substantial fall in producer prices. One producer price index suggests that after a brief rise, prices crashed to almost a third of the pre-lockdown prices by the end of May (Figure 1).This is consistent with findings from farmer telephone surveys as well, where many report a dramatic collapse in prices, especially for perishables.

This blog post is part of a special series of analyses on the impacts of the COVID-19 pandemic on national and global food and nutrition security, poverty, and development. The blog series is edited by IFPRI director general Johan Swinnen and A4NH director John McDermott. See the full series here.
Photo Credit: Saikat Paul/Shutterstock