How dryland crops are helping Telangana's tribal households meet nutritional requirements during lockdown
From
Published on

08.06.20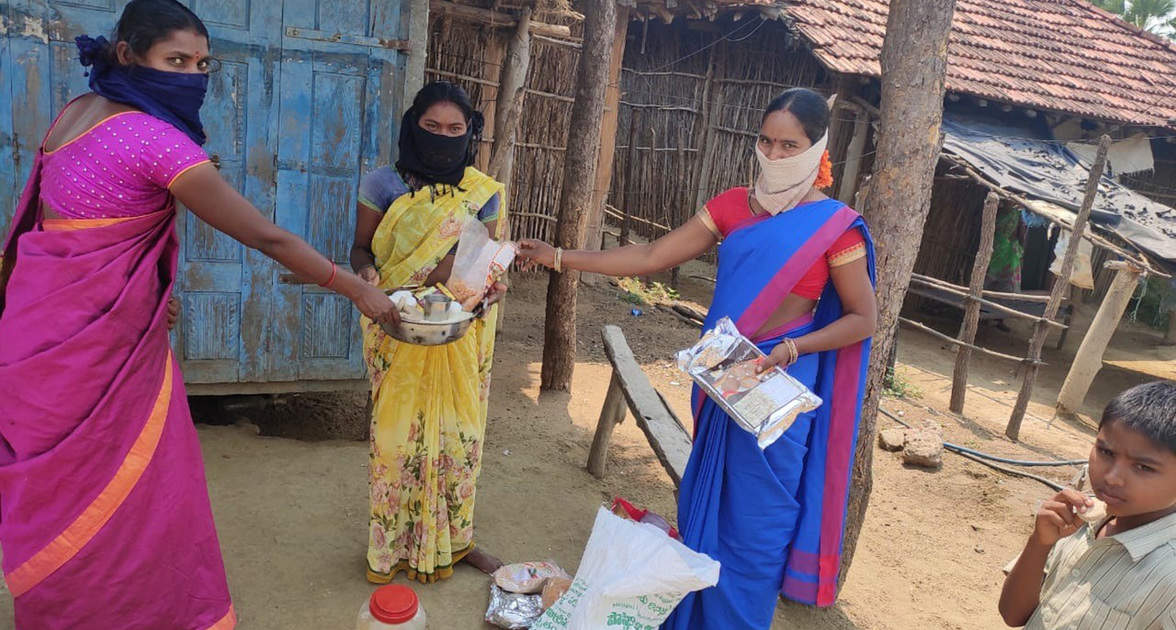 An Anganwadi teacher providing Giri Poshana food to beneficiaries at their homes in Sarvai Village, Eturunagaram, Telangana. Photo: ICRISAT
To ensure nutrition sufficiency in children, pregnant women and lactating mothers of tribal communities in Telangana, India, during times of lockdown, ready-to-eat foods containing millets, sorghum and pulses produced by ICRISAT are being provided at their doorstep.
"The food products are scientifically formulated to promote dietary diversity and are produced using locally available nutritious millets and protein rich pulses. These foods are also rich sources of dietary fiber, minerals, vitamins, and bioactives beneficial for boosting immunity and keeping the tribal population healthy," said Dr Saikat Datta Mazumdar, Chief Operating Officer of the NutriPlus Knowledge (NPK) Program at ICRISAT's Agribusiness Innovation Platform.
The foods are distributed under Giri Poshana, an initiative in which ICRISAT and Tribal Welfare Department of Telangana State have been collaborating to improve dietary diversity and nutritional status of tribal populations. The initiative targets beneficiaries in three Integrated Tribal Development Agencies (ITDAs) of Utnoor (Adilabad district), Eturnagaram (Jayshankar Bhupalpally district) and Bhadrachalam (Bhadradri Kothagudem district) of Telangana.
The local farmers are also benefited as they now have demand for their crops, he added.
The initiative, which began in 2019, was being implemented through select Anganwadi centers (community centers for education, health and other purposes) in the ITDAs. The beneficiaries were being provided three ready-to-cook and three ready-to-eat products as supplementary food, served as breakfast and evening snack, in addition to the governments ICDS mid-day meals. However, after COVID hit and lockdown was imposed, the Anganwadi centers closed and nutrition of the beneficiaries became a matter of concern until the program team worked to change the model of implementation.
Full story on value-addition for grain legumes and dryland cereal produce: http://gldc.cgiar.org/how-dryland-crops-are-helping-telanganas-tribal-households-meet-nutritional-requirements-during-lockdown/