High-level Consultations Show How CGIAR Will Work With Partners to Boost Impact in Africa
From
Published on

25.05.22

Funders

African Development Bank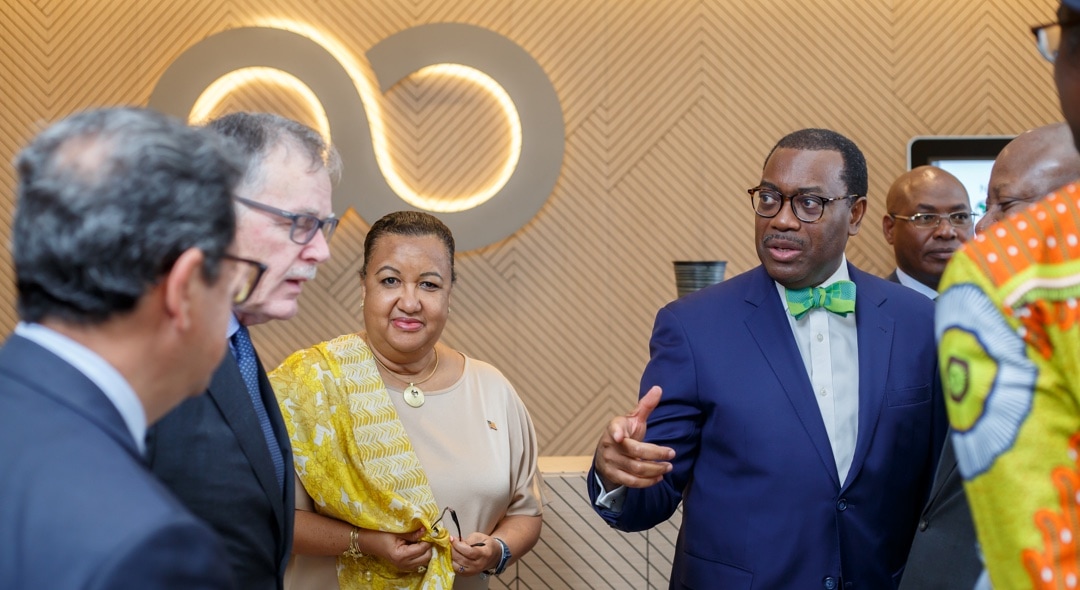 Meetings in Abidjan focused on strengthening Africa's agricultural research and innovation in the context of the One CGIAR reform
A series of high-level meetings in Abidjan, Côte D'Ivoire, has delivered progress towards a strengthened alignment between CGIAR and Africa's research and innovation agenda, with further commitment from CGIAR to build capacity in African institutions to respond to growing threats to food systems.  
The high-level consultations, dubbed Abidjan I and Abidjan II, saw speakers articulate how CGIAR can continue to better support African priorities during its transition to a 'One' CGIAR. The One CGIAR reform will position the organization to deliver more impact for farmers through a holistic 'systems' approach to research and innovation.  
"It is clear that One CGIAR will play a pivotal role in the transformation and improvement of the research and agricultural system of the continent, enhancing performance and responsiveness," said S.E.M. Kobenan Adjoumani, Minister of Agriculture of Côte D'Ivoire and guest of honor at the high-level event. "I have no doubt that One CGIAR, in its design, will capture key concerns of Africa and strengthen Africa's research institutions."  
H.E. Josefa Leonel Correia Sacko, Commissioner for Rural Economy and Agriculture, African Union Commission (AUC), said, "The outcome of this meeting is very important. It will help to shape the terrain for the African agricultural research and innovation agenda and architecture for years to come… We highly value the contribution that CGIAR has made in over 50 years since the Centers were created." 
Dr. Akinwumi Adesina, President of the African Development Bank (AfDB), called on CGIAR to support, engage, and prioritize the needs and concerns of Africa. "The work of the CGIAR Centers in Africa is critical for achieving food security on the continent," he told participants of the Abidjan II meeting, addressing CGIAR. "We are just eight years away from 2030, and Africa must achieve zero hunger by then. Thus, your reforms must hold you accountable to targets that Africa seeks to achieve." 
Dr. Adesina highlighted the importance of delivering technologies to farmers through programs such as the AfDB-financed Technologies for African Agricultural Transformation (TAAT) program. He also called for the One CGIAR Centers based in Africa to remain strong and be considered as key pillars in CGIAR's reform. In addition, he highlighted the need for greater African representation in CGIAR's senior leadership, and for the One CGIAR transition to institutionally strengthen Africa's national and regional agricultural research centers. 
Dr. Marco Ferroni, Chair of the CGIAR System Board, said, "The purpose of the CGIAR reform is to deliver more for Africa and the rest of the world. All One CGIAR Centers will be strengthened as we invest in CGIAR as a distributed organization, joining capabilities to deliver research and innovations that transform food systems and support farmers."   

The Abidjan meetings are part of a series of consultations designed to review and shape the One CGIAR transition. They follow calls from partners for CGIAR to deepen engagement with country and regional stakeholders. This effort includes the formation of a high-level advisory panel, the development of a CGIAR engagement plan, and the roll-out of its Engagement Framework for Partnerships & Advocacy – Toward Greater Impact. In addition, CGIAR's leadership team recently agreed a set of Senior Leadership Team Commitments designed to clarify aspects of the transition, including the continued important role of One CGIAR Centers and their Director Generals.  
Dr. Yemi Akinbamijo, Executive Director of the Forum for Agricultural Research in Africa (FARA), said, "The transition to the One CGIAR is the most far-reaching reorganization the CGIAR has undertaken. By the same token, it offers all of us the best opportunity for the agricultural research and innovation system in Africa to institutionally retool, rewire, reengineer itself for large scale impact. And in this regard, African partners do welcome these reforms."  
"The [Abidjan I] meeting improved the understanding of the One CGIAR leadership of both the perspectives and concerns of the African practice, it also provided a platform for dialogue and options for resolving these concerns – and there's been considerable progress," Dr. Akinbamijo added. 
CGIAR has a continent-wide presence with all Centers engaged in research on the ground to find solutions for African smallholders in tandem with a wide network of partners. Regional Directors, three of which are in Africa, provide a single entry-point for engagement – and clear mechanisms to respond to locally relevant opportunities, priorities and needs. 
Participants of the meetings acknowledged the challenging external environment. Africa faces increasingly complex and interconnected, systemic threats to its food security, including climate change, pandemic, and the impact of the conflict in Ukraine.  
"To stay relevant and to work more effectively with all our partners to meet these challenges head on, CGIAR is evolving to respond to the changing needs of the countries we work with," said Dr. Claudia Sadoff, Convener of CGIAR's Executive Management Team and Managing Director, Research Delivery and Impact. "The CGIAR reform can be a springboard that will strengthen Africa's agriculture research and innovation system."
A formal communiqué to capture key outcomes from the meetings and recommendations for strengthening Africa's agricultural research and innovation in the context of One CGIAR reform will be issued in the coming weeks. 
The consultations were hosted by AfDB, in partnership with FARA, AUC and CGIAR. Participating organizations included the Alliance for a Green Revolution in Africa (AGRA), AUDA-NEPAD, and sub-regional research organizations, CORAF, ASARECA, CCARDESA, NASRO, and the Africa Forum for Agricultural Advisory Services (AFAAS).  
Photos by FARA.