Farmers in the Mekong River Delta get new options for saline crop production
From

CGIAR Initiative on Asian Mega-Deltas

Published on

13.10.23

Impact Area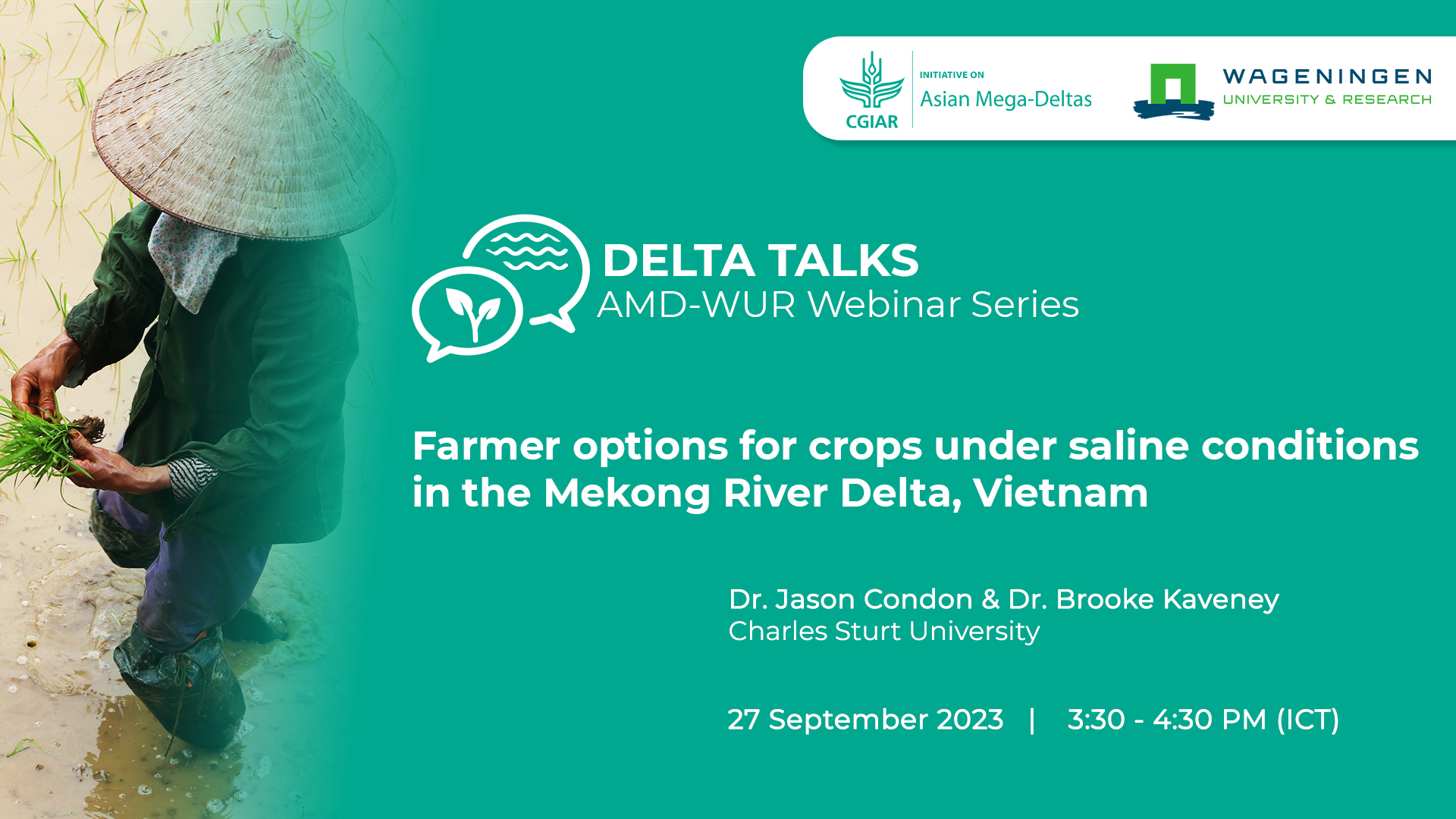 For the fourth installment of the Delta Talks, the CGIAR Initiative on Asian Mega-Deltas (AMD) and Wageningen University & Research (WUR) presented a webinar on the farmer options for crops under saline conditions in the Mekong River Delta (MRD), Vietnam (FOCUS Project). The presentation was given by Dr. Jason Condon and Dr. Brooke Kaveney of the Charles Sturt University, Australia.
Funded by the Australian Centre for International Agricultural Research (ACIAR) and in collaboration with researchers from Can Tho University, the study presented is being conducted to explore alternative crops and management practices during the dry season in MRD. The study is looking into both the biophysical aspects of crop and soil management and the socio-economic factors, such as value chain analysis and market availability. The study also includes mapping the spatial and temporal patterns of saline intrusion and examining the gender dynamics in the continuum of knowledge generation to on-farm adoption.
Dr. Condon and Dr. Kaveney shared the initial findings of the project field trials that have been carried out across four provinces in MRD during the dry season, focusing on different crops and varieties such as cowpea, beetroot, maize, quinoa, and watermelon. These trials involve screening for salinity and drought tolerance, selecting appropriate varieties, assessing water use efficiency, and measuring relevant plant and soil parameters.
In addition to crop selection, the researchers shared that management practices play a crucial role in mitigating the impact of saline intrusion. The project utilizes Chameleon soil moisture sensors to monitor irrigation, helping farmers optimize their water usage. Other practices employed in the field trials include rice straw mulching and the application of compost and biochar to improve soil fertility and reduce salinity.
To find out the results of their field trials, watch the full session:

A collaboration between AMD and WUR, Delta Talks is a webinar series focusing on the development and results of research activities on securing food systems and strengthening climate resilience in the Asian mega-deltas. Delta Talks serves as a platform for the joint exchange of research results or ongoing work between AMD and WUR.