Farmer producers meet innovators to advance the digital transformation of agriculture in Maharashtra
From

CGIAR Initiative on Digital Innovation

Published on

10.08.23

Impact Area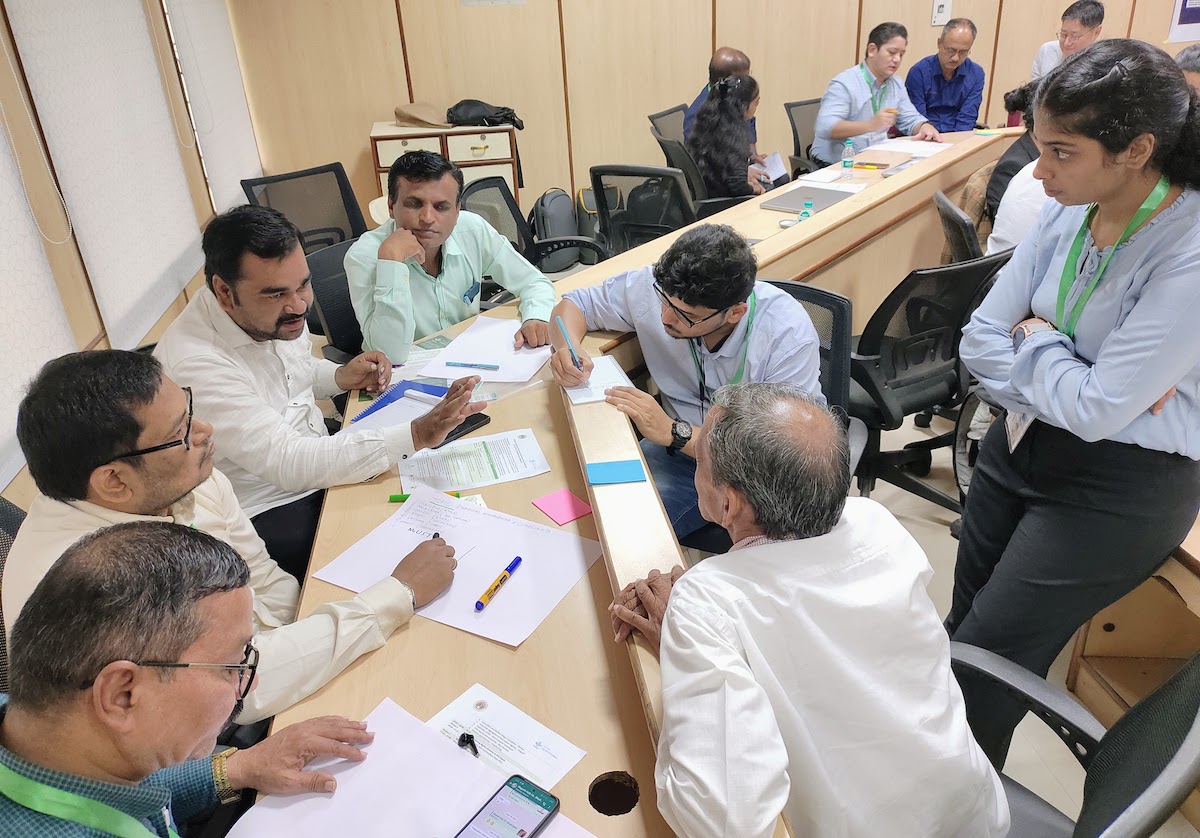 Digital technologies can provide huge benefits to farmer organizations in countries such as India, for example by making tasks more efficient, access to market information or to new buyers and sellers. For this reason, there has been strong governmental support to create for conditions for digitalization to occur.
One such example is the SMART Agtech Integration Facility, created by the Government of Maharashtra in collaboration with the World Bank, which facilitated interaction between technology providers, farmers and producer organizations.
Advancing this work, the CGIAR Digital Innovation Initiative , co-organised a workshop during 25-26 July 2023 in Pune, Maharashtra, in partnership with the Agricultural Technology Management Agency (ATMA), the SMART project, Department of Agriculture, Government of Maharashtra and the Gokhale Institute of Politics and Economics (GIPE).
The goal of the workshop was to identify the digital needs and gaps to technology adoption, build awareness of digital innovations among farmers and foster collaboration with digital innovators. Over the two days, around 50 attendees representing farmer producer organizations (FPOs), innovators and other stakeholders developed a collaborative roadmap and partnerships to overcome the challenges to digitization.
"We are very impressed by the willingness to collaborate for the digitalization of FPOs in Maharashtra," said Jawoo Koo, Digital Innovation lead. "It has become clearer that FPOs' needs are unique and different from other public actors, such that more careful approaches are needed to establish fully synergistic and win-win partnerships. CGIAR is excited to participate in the innovation ecosystem as a research partner to support the successful co-development process and achieve the outcomes of sustainable and equitable agrifood systems."
Attendees discussed the current state of digitalization among farmer organizations, before the innovators took to the stage to showcase their solutions to the audience. The two groups then came in discussions to understand how innovations can address the pain points faced by farmers, and how they could be better adapted to their needs. The participants also engaged in collaborative breakout groups to explore solutions for the seamless integration and successful implementation of digital solutions.
The discussions yielded numerous recommendations, to be  compiled into a report. One example was to establish a shared platform with measurable success indicators, the standardization of pricing units, identification of essential basic services, and the call for deeper and more extensive collaboration.
"I am optimistic that this workshop will pave the way for increased efficiency and collaboration between digital innovators and FPOs", said Darharath Tambhale, director of the Maharashtra Agricultural Technology Management Agency. "By understanding the needs and challenges faced by FPOs, we can collectively identify the most suitable digital solutions that align with our goals of empowering farmers and promoting sustainable agriculture."