Engaging with the commercial sector on rangeland restoration through sustainable value chains
From

CGIAR Initiative on Livestock and Climate

Published on

12.10.23

Impact Area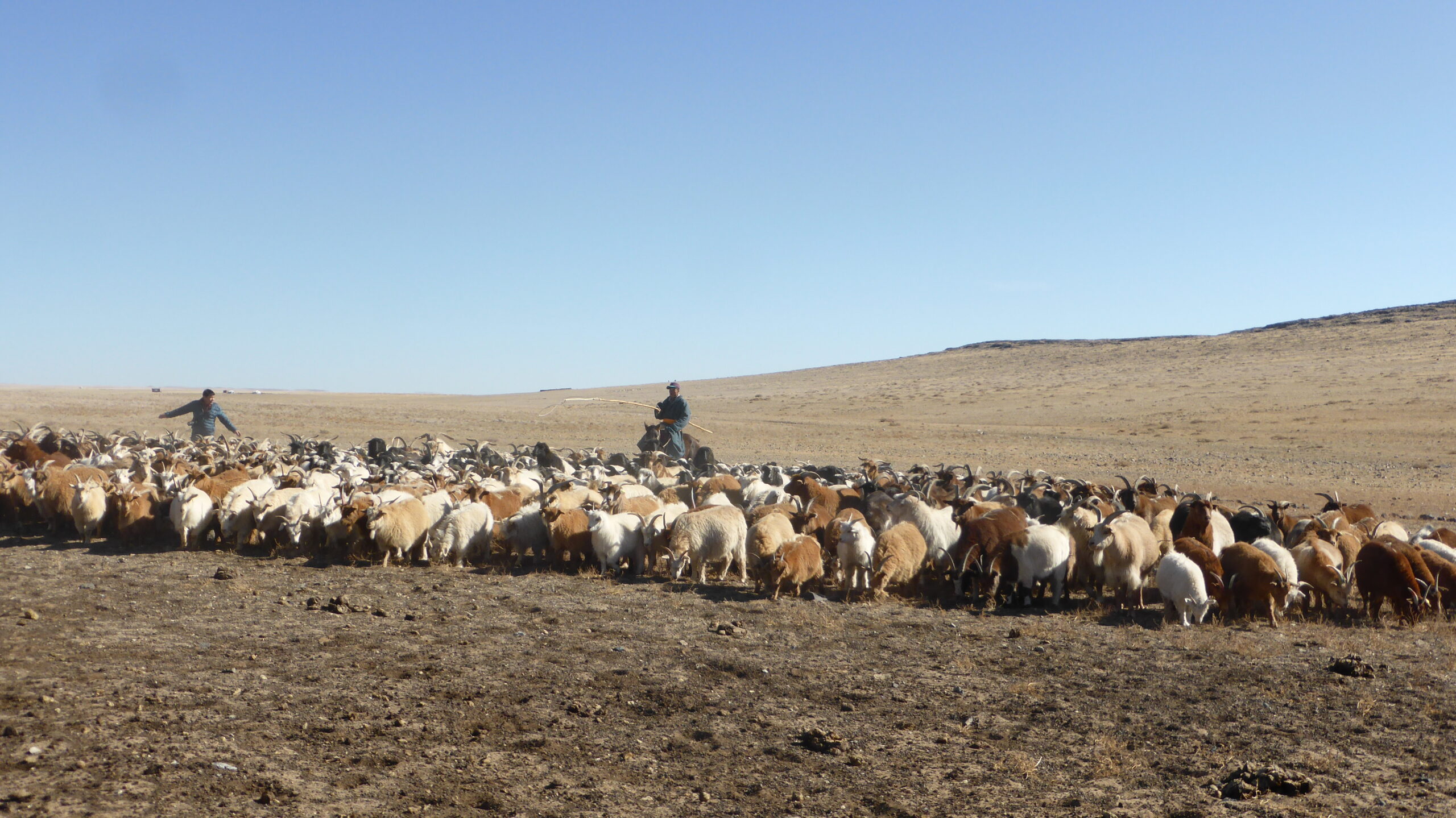 Financing the transition to more sustainable value chains is a key objective of the CGIAR Research Initiative on Livestock and Climate. As a contribution to this, Senior Scientist and Lead of the Initiative, Fiona Flintan joined the Natural Fibre Connect Conference in Biella, Italy 28-29 September where she presented the need for harnessing commercial sector financing for rangelands, a land use system that has fallen victim to the success of livestock fibre value chains such as cashmere encouraging overstocking and pasture degradation.
Ecologically, rangelands cover 54% of global terrestrial surface area. Multi-functional in nature they support the livelihoods of up to 500 million pastoralists around the world as well as other land users for example, honey producers, tappers of gums and resins and tourist companies. Rangelands also provide important ecosystem services such as carbon sequestration, biodiversity, and soil and water retention.  When they become degraded these functions and services are lost.
The rangeland, its health and productivity are vital for the sustainability of livestock value chains. Where mistakes have been made and degradation has occurred, restoration is required. Livestock value chain actors and particularly those that are making significant profits at the high-end of the value chain should take greater responsibility for protecting and restoring rangelands as needed. Convincing the commercial sector to do this, however, is a challenge.

In response to this, the Livestock and Climate Initiative is collaborating with a GEF-funded project implemented by IUCN and executed by the International Livestock Research Institute (ILRI), with support from the Alliance of Bioversity and CIAT, CIFOR-ICRAF and ICARDA. To be launched later this month the project Sustainable Investments for Large-Scale Rangeland Restoration (STELARR) will work with the commercial sector and high-end profit-making actors to establish mechanisms to facilitate and develop proposals for investments in rangelands restoration through sustainable livestock value chains. The project will work closely with the Sustainable Fibre Alliance who are developing a standard and certification for rangeland products produced in a sustainable way including restoration of the resource base.
The Natural Fibre Connect Conference was an opportunity to start engaging with the commercial sector including big livestock fibre-using brands such as Schneider, Hermes and Burberry, and to get feedback on the approach.
'Working on fibre is a new area of focus for ILRI and our CGIAR partners. However, it is vital if we are to harness some of those high-end profits made on such as cashmere, angora and mohair for rangeland restoration,' said Flintan. 'Research can play an important role in developing an approach that facilitates this. The conference allowed me to start engaging with companies interested in working with us, as well as to learn more about the sector. Working closely with the Sustainable Fibre Alliance, I believe we can succeed.'
—
Banner photo: Mongolia's rangelands have been degraded due to overstocking encouraged by increasing demands for cashmere. Photo ILRI/Barbara Wieland