Empowering Smallholder Farmers: The Benefits of Bundling Agricultural Recommendations with Insurance, Credit, and Climate Advisory Services
From
Published on

09.11.23

Impact Area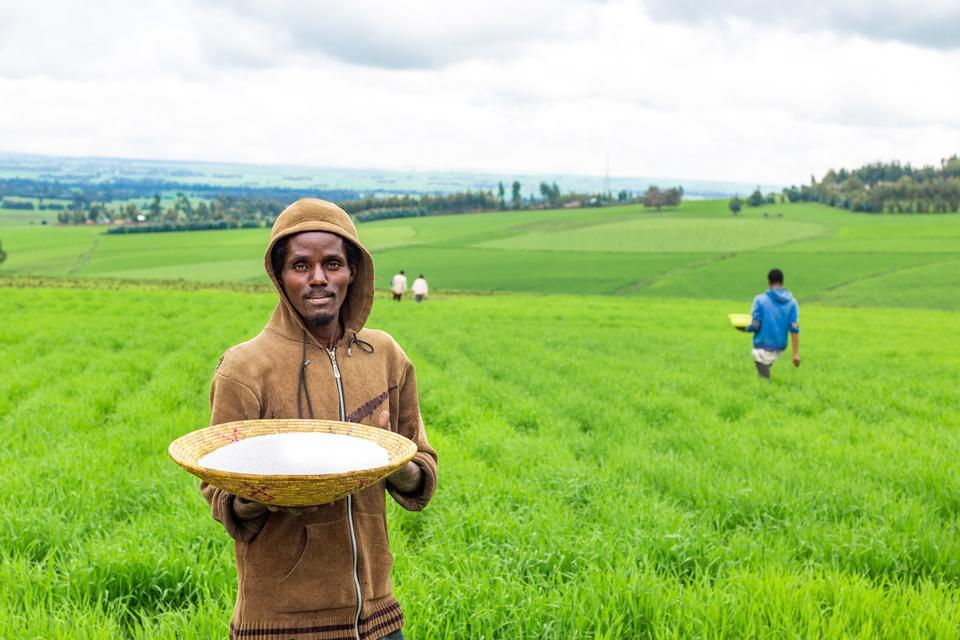 Limited and blanket application of fertilizer is one of the main yield limiting factors of wheat in the Ethiopian highlands. Blanket recommendation of fertilizer application without considering soil, landscape, agro-ecology, and specific season leads to lower production and inefficient productivity. To address this problem, the Alliance of Bioversity and CIAT has designed a site-specific and season-smart agroadvisory system called NextGen Advisory that guides optimal fertilizer application for wheat in Ethiopia, which also incorporates improved agronomic practices, climate information services, and ​​agricultural investments.
Validated across 277 farmers, the NextGen advisory showed grain yield gain of up to 30% compared to national and local blanket applications (Feyera, et al. 2022). When compared with local farmers' practices the NextGen advisory showed grain yield gains of up to 38%. While tremendous grain and biomass yields have been observed and other efficiencies are better when the NextGen advisory is compared with the existing recommendations and farmers' practices, a human-centered design analysis showed that wider adoption of the NextGen advisory is constrained by the availability and affordability of fertilizer for smallholder farmers.
Evidence shows that the price of 100 kg of fertilizer has increased from 1800 to 4000 ETB between 2021 and 2023. This more than twofold fertilizer price increase has challenged smallholder farmers' input purchasing capacity and led to insufficient input application, resulting in a reduction in crop yield harvest. The price increment and the demand for fertilizer are also increasing over time,
making it increasingly unaffordable unless innovative strategies are designed to cater to the needs of farmers, including access to financial services.
Considering the above reality, the CGIAR Excellence in Agronomy (EiA) Initiative and the Sustaining Soil Health Initiatives (SSHI) project being coordinated and implemented by the Alliance of Bioversity and CIAT have forgeed collaboration with the Green Agro Solution PLC, (with their agri-tech platform called Lersha), to bundle the NextGen agroadvisory with insurance and credit services to provide funding access for smallholder farmers and enable them apply the recommended advisory. Such endeavor is also expected to facilitate scaling and dissemination of the recommended agroadvisory system. The Lersha and Alliance team have collaborated to piloting the agroadvisory system in two regions of 10 Woredas, namely Oromia (Hetosa, Digeluna Tijo, Munnesa Woredas, and Gadab Asasa Woreda), and Amhara (Moretena Jiru Woreda, Wonberma Woreda, and Gozamine Woreda)
Lersha extracts agroadvisory recommendation via API and translates to advisory to its agents. Using the Lersha Mobile App, Lersha agents create digital farmer profiles that include farm locations to provide location-specific fertilizer recommendations via SMS, audio calls, and follow-ups. Accordingly, 837 (724 men and 113 women) farmers received the location specific fertilizer recommendation of which 725 (615 men and 110 women) of them are enrolled for area yield index agriculture insurance from Oromia and Abay Insurance through the Lersha platform. 42 out of the 725 farmers accessed micro-loan for procurement of farm inputs.