Conceptualizing a multidimensional index to measure gendered social norms in agri-food systems
From

CGIAR Initiative on Gender Equality

Published on

05.06.23

Impact Area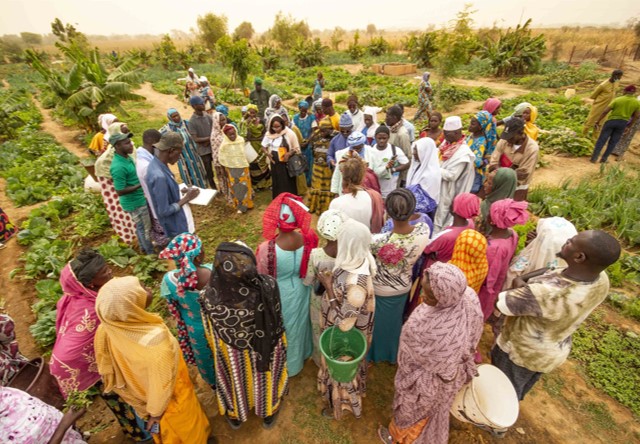 Gendered social norms in agri-food systems play a crucial role in influencing stakeholder behavior. Addressing the complexity of gendered social norms in agriculture requires a multifaceted approach and a collaborative effort.  Researchers at IFPRI,  IITA, FHI 360 and KIT Royal Tropical Institute are working together to develop a Multidimensional Social Norms in Agri-food Systems Index that will assess prevailing norms among actors with a focus on norms that constrain women's economic resilience to climate change challenges. The development of this Index is being carried out by the CGIAR Initiative on Gender Equality, and aims to reduce normative constraints in agri-food systems.
The Index will be piloted later this year in the Initiative's focal countries and agri-food systems (e.g. Nigeria and Tanzania in cassava production, livestock and fisheries) to assess norms among men and women producers, processors, traders (amongst other agri-food system actors) and measure the extent to which they constrain women (and men) from coping with climate change impacts. The Index will help governments and development partners identify where gendered social norms are obstacles women's economic resilience and inform the design of gender transformative approaches.
Gendered social norms in agri-food systems – and how to change them
Social norms are widely accepted, informal, typically unspoken, and unwritten rules of acceptable, appropriate and obligatory behavior. Gender norms are a sub-set of social norms. To conceptualize gendered social norms in agri-food systems, we consider three main components:
Agri-food system actors: producers, processors, traders, consumers, and other relevant value chain, support service and political actors.
Levels where norms operate household, community, and systemic.
Norm domains: the domains of life where norms operate that are most relevant for agri-food systems, including: influence and decision-making; productive autonomy; participation, leadership and representation; gendered division of labor and workload; mobility and decorum; and bodily autonomy and freedom from violence.
Toward an Index: Conceptualizing gendered social norms
As a first step in the Index development process, we undertook an extensive literature review to understand how social and gender norms operate, and specifically how they manifest in agri-food systems. We  identified, coded and reviewed  more than 100 resources, among them particularly relevant resources such as Advancing Learning and Innovation on Gender Norms; the Guide to formulating gendered social norms indicators in the context of food security and nutrition, as well as the Gendered Agrifood Systems framework developed in A review of evidence on gender equality, women's empowerment, and food systems, amongst others. From the literature review we developed a conceptual framework to visualize how these three components interact: the dynamics of gendered social norms in agri-food systems.
The framework includes agri-food system drivers as identified in the review mentioned above: biophysical and environmental; technology and infrastructure; political and economic; sociocultural; and demographic. These drivers, particularly macro-economics, national agendas and polices, and rules and legislation may impact how and where norms manifest in an agri-food system.
Input from stakeholder consultations
Based on the literature review, we drafted a conceptual framework and presented it during a stakeholder consultation on February 23rd 2023. In addition to the core IFPRI, IITA, KIT and FHI360 team, 11 experts working on gender (norms) in agri-food systems contributed. The consultation was rich with input, feedback and reactions to the draft conceptual framework, including the following considerations:
Differences in the types of norms prevalent in different agri-food systems.
Differences in the norms prevalent amongst different actors and at the different levels in agri-food systems.
Variations in the prevalence of different norms within the same community.
Norms in smallholder agricultural households may be harder to change than those in the productive work environments or the marketplace.
Institutions (e.g. embedded in government policies and organizational regulations) influence normative thinking at the systemic level, as well as shaping norms at community and household levels.
This last point is particularly important for Gender Equality as a CGIAR Initiative within the Systems Transformation Action Area, as such, assessing normative constraints not only at local levels (e.g. household, community) but also within institutions at the systemic level will be critical. Structural barriers and interests that give power to norms are important to acknowledge and capture in the conceptual framework. Much of the literature reviewed described the manifestation of gender norms and related implications, at individual and household levels. Our Index for measuring multidimensional social norms in agri-food systems, will take into account how norms operate at community (local) and systemic (structural) levels, recognizing that norms can impact actors differently at each level and nodes of value chains.
Written by: Rebecca Hallin (Gender Advisor) and Rhiannon Pyburn (Gender Team Lead), KIT Royal Tropical Institute, Amsterdam