Co-creating a Timeline for Agroecological Transition in Tunisia
From

CGIAR Initiative on Agroecology

Published on

14.10.23

Impact Area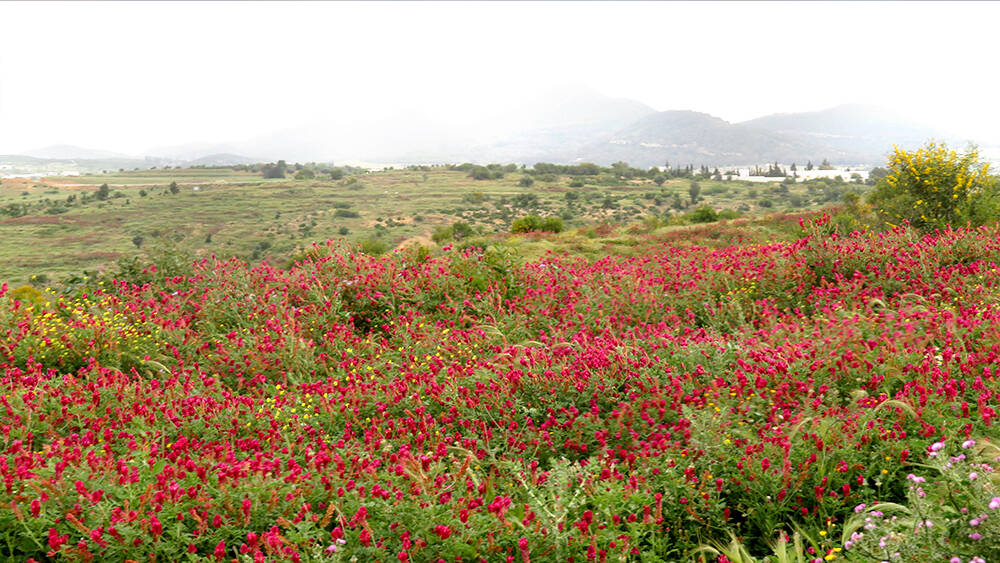 Unraveling Behavioral Drivers, Agency, and Behavior Change in Agroecological Transformation
Authors: Véronique Alary, Aymen Frija, Zied Idoudi, Guillaume Lestrelin, Houssem Braiki.
The effectiveness of agroecological transition pathways heavily relies on stakholders' understanding of behavioral changes, agency, and collective decision-making. The CGIAR Initiative on Agroecology attends to build a comprehensive timeline of initiatives and actors that have impacted progress towards the 13 agroecological principles in the Tunisian Agroecological Living Landscape (ALL) in order to successfully enable future transitions.
ICARDA, in collaboration with national and international partners in Tunisia, including 23 participants from the Tunisian Institution of Agricultural Research and Higher Education (IRESA), the Bureau of Livestock and pastures (Office de l'Elevage et des Pâturages), the French Agricultural Research Centre for International Development (CIRAD), as well as development initiatives like the GIZ ProSol Program, and other research institutes and universities, organized a workshop with the purpose to: i) to complete and validate a preliminary timeline of major events and players that have influenced Tunisia's agroecological transformation, drawn from a preliminary list of 26 projects and initiatives implemented since 2000, and ii) to identify interventions and actors that had a significant impact on promoting agency, behaviour change and representation of various stakeholders in the agroecological domain.

During the exercise, three distinct perspectives emerged regarding the way farmers were perceived by the key R4D projects in Tunisia, and these perspectives evolved over time:
1) In the 2000s, "Influencer Farmers" were at the forefront. These were often medium to large farmers with the ability to embrace risks and own their physical as well as social assets. Renowned for their wisdom, education, and experience, they played a central role in driving best agricultural practices.
2) The prominence of "Market-connected Farmers"  became apparent in the 2010s. These farmers benefited substantially from farmer business schools  (FBSs) and connections through strategic alliances and public-private partnerships, which were frequently established through farmer cooperatives such as Agricultural service companies or development groups (in French: Sociétés Mutuelles de Services Agricoles, SMSA or Groupements de Développement Agricoles, GDA). Their engagement in market networks not only strengthened their influence in the agroecological landscape but also enabled them to become key change catalysts in the farming community.
3) Starting 2017, the focus shifted towards "knowledge hubs" and participatory approaches, giving rise to the emergence of "Farmers Co-creators of Knowledge". This newly formed type of farmer groups eagerly engaged in a cooperative knowledge-sharing process, enabling farmers including small ones to gain essential insights into technology that matched their interests. Through collective efforts using cooperative structures such as GDA or SMSA including a diversity of farm size types, they lifted their capacity to embrace these technologies and practices, thus empowering agricultural innovation system actors to scale up innovative solutions in a sustainable and inclusive manner.
The workshop delved deeper into the agroecological transition organizing two working groups to explore main factors, barriers, interventions, and capacities to engage different types of farmers along two identified transition pathways in the ALL. Group-1 (G1) focused on the national autonomy  of the feed value chains, while Group-2 (G2) addressed the enhancement of marketing local products and commodities (such as fig, olive oil, or honey). Although both transition pathways faced common barriers, such as the lack of information and market value, G2 also highlighted the lack of awareness of hand-made products and networking.
Despite these shared challenges, the strategies to mobilize actors and organizations varied between the two pathways. For G1, the emphasis was on public services and support for the animal feed value chain. In contrast, G2 proposed innovation platforms and partnerships, with a specific focus on involving women farmers in enhancing the marketing of local products. Both groups recognized the significance of developing business models that include environmental opportunities, as well as fostering flexible partnerships with and between researchers and developers to synergize capacities towards the desired change.

The workshop was valuable in establishing key drivers of behavioral change, taking into account the political environment as well as the existing development tools and approaches that have been in use for rural investment programs over the last two decades. Recent research and development initiatives and projects have strongly emphasized the active participation of farmers in all stages of the innovation process, ranging from conception to implementation and monitoring. The emergence of novel cooperative models, such as knowledge hubs, innovation platforms, or living labs has shown promise in fostering farmers as co-creators of knowledge.
Moving forward, the next steps will be to refine the research approach that accompanies behavior change throughout the Agroecology Initiative and generate evidence to support a broader committee of stakeholders actively engaged in agroecology.