Changing the game: Experiential learning for triggering large scale change towards sustainable water management in India
From
Published on

10.11.23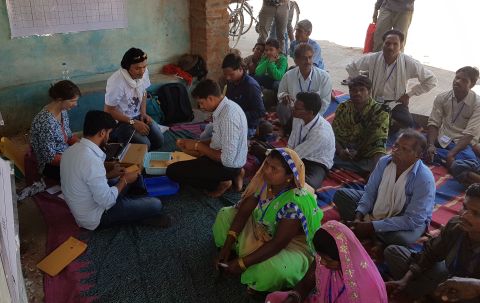 OPEN ACCESS | CC-BY-4.0
Daku Bai Gayatri lives in the village of Rawaliya Khurd Panchayat in Udaipur, Rajasthan state, India. She reports that residents there face water shortages every summer. Despite groundwater depletion, community members believe that every farmer requires a borewell. Gayatri sees the need for rules over groundwater extraction and ponders how they can be put in place.
Shuklambara Pradhan lives in Angapada Panchayat in Angul District, Odisha state. In Angapada, farmers who have fields downstream of a channel only receive water for irrigation if those upstream allow it to flow. Pradhan believes that without coordination between upstream and downstream farmers, the latter group will face water shortages—leading to conflicts. (Hear their original voices here).
Both touch upon the core issue facing water resources in India and globally: The lack of mechanisms for effective governance. The issues they highlight are widespread in India. Nearly half of all wells show falling water tables, and current trends of over-extraction will put at least 25% of agricultural production at risk within 20 years. While the need for effective groundwater governance is well established; how best to achieve that goal is not—particularly on the scale necessary to address widespread depletion of fresh water resources.