CGIAR's ClimBeR Initiative launches with partners in six countries
From

CGIAR Initiative on Climate Resilience

Published on

15.12.22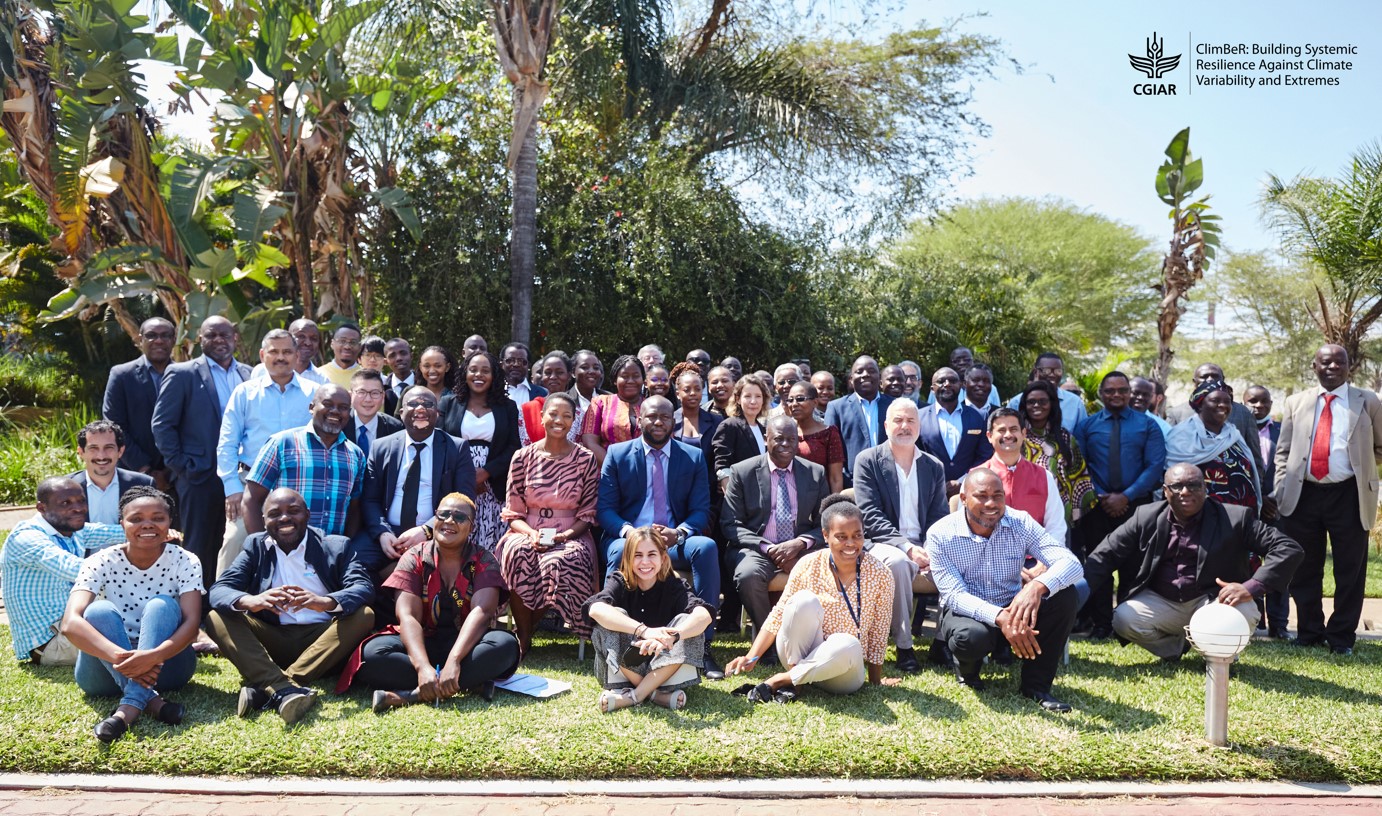 CGIAR's Climate Resilience Initiative kicked off in six countries. Many of the Initiative's 130-plus partners attended. The Initiative focuses on collaborative work to improve smallholder resilience to climate change, and much of ClimBeR's on-the-ground work is underway
Lusaka, ZAMBIA – As the Deputy Director of an organization that works with 75,000 smallholder farmers, Noel Simykonde is a firsthand witness to the havoc the climate crisis is causing. Floods, droughts, unpredictable rainfall and pests and diseases are hammering production in this Southeastern African country that relies heavily on maize grown on small plots of land to feed its people. 
"There are quite a number of things that are really affecting farmers in regard to climate change and shocks," said Simykonde while attending the Zambia launch of the CGIAR Initiative ClimBeR: Building Systematic Resilience Against Climate Variability and Extremes, or the Climate Resilience Initiative. "The interventions are needed like yesterday." 
Zambia is one of six partner countries for the Initiative. CGIAR scientists and collaborators launched the initiative in all of them this year: Guatemala, Kenya, Morocco the Philippines, Kenya and Zambia. These countries were selected due to their high vulnerability to climate change, strong government commitment to research for development in food systems and a successful track record in working with CGIAR, including the recently concluded CGIAR Research Program on Climate Change, Agriculture and Food Security (CCAFS). 
The inception meetings were coordinated with local authorities and stakeholders, which will help ensure that ClimBeR makes its short-term target of reaching 300,000 farmers with climate information services by 2024. For example, in Zambia, two government ministries co-hosted the launch. Participation of local stakeholders is central to the Initiative's plans. 
Inception meetings also served for ClimBeR scientists to discuss collaboration with several other CGIAR initiatives, including Ukama Ustawi, AgriLAC Resiliente and Livestock and Climate. 
We spoke to many partners who reiterated the importance  of CGIAR and the Initiatives to address their needs in relation to climate and agriculture 

Zambia's Ministries of Agriculture and Green Economy and Environment co-hosted ClimBeR's inception meeting. Learn more about ClimBeR's collaborations in Zambia in this video from the inception meeting. 
Strong willingness to collaborate 
Successful collaborations with CGIAR and CCAFS were frequently mentioned by partners at the inception meetings, giving them impetus to continue collaboration with CGIAR's climate-related Initiatives. 
CGIAR has collaborated closely with Morocco through the Adaptation of African Agriculture Initiative (AAA), launched during COP 22 held at Marrakech. 
"We collaborated since that time and together we developed climate-smart investment plans for several African countries to translate their NDCs into bankable projects," said Riad Balaghi, the Director of Projects at the AAA Initiative Foundation, during ClimBeR's launch in Morocco. (NDCs are the Nationally Determined Contributions to greenhouse gas emission reductions and adaptation efforts that countries voluntarily pledge.) 
Through ClimBeR, CGIAR will help define priorities in Morocco and other African nations for climate change adaptation and identify critical projects, said Balaghi, formerly Head of the Agronomy and Agricultural Machinery Department at Morocco's National Institute for Agronomic Research. 
"It's a challenge, but it's exciting the work we want to do together," he said. "We're in close contact with CGIAR, which is our main scientific partner. We try to amplify the synergies between us and each time there is something we could do together, we do it." 
Convening, coordinating and unifying for the climate challenge 
Many CGIAR Initiatives work in the same countries and launched Initiatives together, and that was well-received by partner organizations. 
"After hearing about all the Initiatives that (CGIAR) is promoting, we see an interest in the climate actions that they are prioritizing, especially on the cross-cutting axes such as gender and youth," said Candida Tacam, the Coordinator of Climate Change for Guatemala's Ministry of Agriculture, Livestock and Food. 
In ClimBeR focus countries, many policies exist to support the agricultural sector and to make sure food systems hold up to shocks stemming from climate, among others. Still, stakeholders pointed out that a lack of coordination between different organizations operating in the country hinders scaling-up activities. Through the inception meetings, ClimBeR positioned itself as one of the actors that could help improve coordination. 
ClimBeR and other Initiatives would allow farmers to adapt to climate change and lead to food production that is more sustainable, environmentally friendly and will improve food security and rural family incomes, said Edgar Lemus, the Director General of Guatemala's  Regional Farmer Association of Ch'orti. 
"There are many challenges to facing the problems that climate change is bringing us," Lemus said. "The distortions in weather patterns no longer fit within the traditional knowledge that producers have." 
Edgar Lemus, the director general of the Regional Farmer Association of Ch'orti' in Guatemala
Aligned with national priorities 
ClimBeR and other Initiatives are largely aligned with national priorities related to climate action. In Senegal, for example, this includes strengthening climate information services, testing different adaptation strategies that are specific to different contexts of farmers, using a systemic approach to address climate and security issues, and improving governance to enhance resilience.  

Giriraj Amarnath (center), the leader of ClimBeR's Governance for Resilience research area, visits the International Institute of Rural Reconstruction (IIRR)'s campus in the Philippines in December with Initiative colleagues to discuss collaboration opportunities and visit field sites
"We are very happy because we have many partners who have expressed their interest in  co-delivering these innovation packages that are going to help Senegalese people to build resilience against climate variability and extremes," said Ana María Loboguerrero, the Initiative Lead and scientist at the Alliance of Bioversity International and CIAT. 
Loboguerrero said key discussions included how to reach farmers with digital tools and climate information and how the Initiative will contribute to implement specific long-term policies. ClimBeR will also work with public and private sector actors to help mobilize the funds needed to make farming more resilient. 
"We are not alone," said Aliou Faye of the Senegalese Agriculture Research Institute, pointing to collaborations with IFAD, USAID, the World Bank and CGIAR's AICCRA. "We have to work together … to make sure that all the delivery we are putting in place is considered and taken by the farmers and for the better of Senegalese agriculture." 
Faye said the work could provide a beneficial model to other West African countries, including Mali, Burkina Faso and Niger. "These kinds of initiatives are really very, very, very relevant." 
Aliou Faye of the Senegalese Agriculture Research Institute speaks at the ClimBeR launch in Senegal in July
Migration and climate security come to forefront 


The ClimBeR team and partners at the Initiative launch in Kenya
One key area of ClimBeR is climate security, which points to the growing amount of evidence that climate change and maladaptation to climate change can lead to unrest, migration, social tension and conflict. 
"Migration is a key aspect that is missing in some of (climate action) areas and I would be very excited to be part of that process of research," said Linda Oucho, who runs the African Migration and Development Policy Center, a research think tank based in Nairobi, Kenya. 
Oucho's organization emphasizes community-level work to understand potential drivers of migration and to help develop "sustainable solutions to their issues so they don't have to migrate because of climate change." 
Linda Oucho of the African Migration and Development Policy Center, a research think tank based in Nairobi, Kenya
International Alert, a global peacebuilding nonprofit, is poised to collaborate with ClimBeR using data it has on 25,000 security incidents it has tracked in the Philippines to better understand the role climate has in issues related to conflict. Maladaptation – such as poorly planned relocation of communities – and climate change are already shown to have strong links to conflict in the Southeast Asian country, said Francisco Lara, Jr., a Senior Peace and Conflict Advisor to International Alert, and professor of economics, sociology and violent conflict at the University of the Philippines. 

Francisco Lara, Jr., a Senior Peace and Conflict Advisor to International Alert in the Philippines, speaks at a ClimBeR inauguration event
"The workshop has been for me a discovery of the sort of networks, connections that ClimBeR and CGIAR already have made on the climate front," Lara said. "This is the first time I've seen how far their networking actually reaches and it's good that they're working with government." 
Social equity issues resonate 
One of ClimBeR's two crosscutting themes is social equity; the other being climate finance.) Building ClimBeR  through a social equity lens is critical to success – and many partners agree. 
"I think Kenya is privileged to be part of  ClimBeR," said Nancy Omolo, a gender, social inclusion and climate change expert. "ClimBeR is a very interesting project. It's focusing on climate change issues and, most important, it's focusing on the gender issues. Most projects, when they start, there's not that gender focus. They start the project and then the gender issues emerge." 
Nancy Omolo, a gender, social inclusion and climate change expert at the ClimBeR inauguration in Kenya
Omolo pointed to how ClimBeR addresses gender and access to climate finance, gender and decision-making, and gender and access to climate information. She highlighted the Initiative's work with government and the private sector and the challenges Initiative scientists and partners will tackle concerning agricultural transformation in Africa. 
"This is going to be a very rich project," she said. 
In all, the initial workshops showed a strong desire among stakeholders across the agri-food systems to move quickly on climate adaptation for smallholder farmers. With a dedicated effort by CGIAR's Climate Resilience Initiative and the commitment of partners, there's growing optimism that more resilient systems will be a reality in the near future.