CGIAR strengthens ties with Brazil's Embrapa to further collaboration on reforming agrifood systems
From
Published on

07.07.23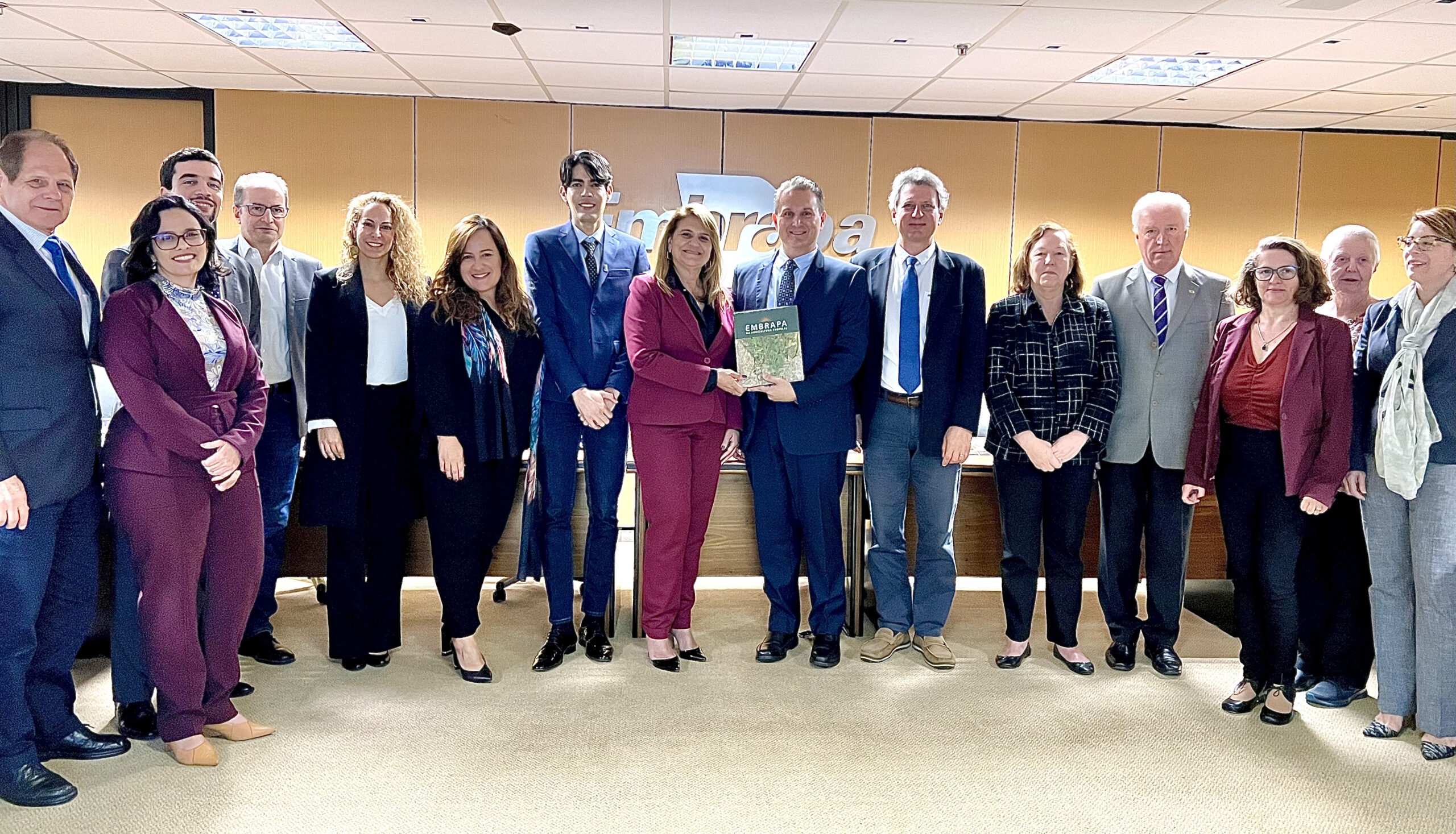 Delegations from CGIAR and Embrapa together. ©CGIAR
Brasilia/Lima, 7 July 2023. This week, at the end of a visit of a CGIAR's delegation headed by the Latin America and the Caribbean (LAC) Regional Director, Joaquín Lozano, to the Brazilian Agricultural Research Corporation (Embrapa) headquarters in Brasilia, both institutions agreed to strengthen ties to further collaboration on reforming agrifood systems through research, technology and innovation
CGIAR and Embrapa highlighted the wide array of potential synergies and shared goals between both institutions and committed to set up an interinstitutional mechanism for strategic collaboration which will be defined and formalized in the upcoming months.
Embrapa is a public company established by the Brazil's federal government in 1973 and has an impressive record of achievements on agricultural research and South-South Triangular Cooperation (SSTC) initiatives. The visit took place in a very timely moment, only months after the new Lula administration's inception and weeks after the appointment of the new Embrapa's president, Silvia Massruhá.
"She is the first woman in heading this flagship institution and a more-than-well seasoned researcher, which very much facilitated the dialogue with her and her teams. The union of our institutional capacities and talents will greatly impulse the much-needed reform of agrifood systems, particularly in LAC" said CGIAR's LAC Regional Director, Joaquín Lozano.

Silvia Massruhá, President of Embrapa and Joaquín Lozano, CGIAR LAC Regional Director. ©CGIAR
CGIAR-Embrapa interinstitutional mechanism would allow both institutions to strengthen collaboration in common priority areas, some of which were already identified during the meeting: tropical wheat improvement, cryopreservation, genebanks, digital innovation, production systems, modeling and data analysis -with the great ambition of creating standardized metrics and indicators-, multifunctional landscapes and food security.
Both institutions made clear the list is not exhaustive and collaboration could be deepened or expanded to other areas as progress is made.
CGIAR and Embrapa delegations highlighted the importance of South-South Triangular Cooperation (SSTC) within and beyond Latin America and the Caribbean, particularly with Africa. In this regard, CGIAR proposed leveraging on its Capacity Sharing for Development mechanism (Capsha).
Another possible field of collaboration refers to monitoring and forecasting on key indicators related to trends that affect agrifood systems at the regional and global levels. In this regard, CGIAR presented the Foresight Initiative, one of its current global thematic initiatives, inviting Embrapa to become a partner on it.
The global agricultural research network also offered technical and scientific support for Brazil's G20 presidency next year and for the COP 30, which will be hosted by the country in 2025.

Fruitful discussions took place during the visit of the CGIAR delegation to Embrapa headquarters. ©CGIAR
Embrapa and CGIAR have been major agricultural research and innovation forces since the 1970s and, over the years, there have been bilateral or punctual agreements between Embrapa and some CGIAR´s centers. For example, with the International Centre for Tropical Agriculture (CIAT, now part of the Alliance Bioversity International-CIAT), an MoU was originally signed in 2011 and it's been renewed until 2027. With the International Potato Centre (CIP), there have been a number of collaborative projects, especially on sweet potatoes, seed certification and seed banks, software development, genetic resources preservation and environmental management in the Amazon basin.
"Now, both Embrapa and CGIAR want to expand their collaboration to take it to a more comprehensive and systemic level. This was the rationale behind this visit, which has opened the gate for a new whole world of partnership between our two institutions," said Lozano.
The foreseen agreement will allow for more intense cooperation between Embrapa and CGIAR research centers, particularly those with more focus on Latin America.

Members of CGIAR and Embrapa delegations exploring the facilities of the Brazilian corporation. ©CGIAR
Precisely, the CGIAR delegation included representatives from the three CGIAR centers head-quartered in the region: Vania Azevedo, Leader of the Biodiversity for the Future Program and Genebank Head at CIP; Wendy Francesconi, Senior Scientist on Ecosystem Services and Environmental Impacts at the Alliance of Bioversity–CIAT; Diego Pequeno, Associate Scientist at the Wheat Crop Modeler Program at CIMMYT; as well as Hector Zevallos, Advisor to the CGIAR LAC Director.
Embrapa's delegation was headed by its president, Silvia Massruhá, and was formed by Clênio Nailto Pillon, Director of Research and Innovation; Maria Cleria Valadares Inglis, Director General of Embrapa Genetic Resources and Biotechnology; Jorge Lemainski, Director General of Embrapa Wheat; Cristina Maria Monteiro Machado, General Manager of Projects of Research, Development and Innovation (RD&I); Sabrina Castilho Duarte, General Manager of Cooperation on Research Development and Innovation (RD&I); Pedro Machado, Researcher of Embrapa Rice and Beans and Brazil's representative  at CGIAR's System Council; Sibelle de Andrade Silva, Advisor of the President; Roselis Simonetti, Representative of the Director of Strategic Business; Maria Jose Amstalden Sampaio, from the Global Policies Department; and the Deputy Head Office of International Relations of Embrapa, Paulo Roberto Galerani.
"CGIAR is grateful to Embrapa and President Massruhá for their hospitality, the very productive agenda and the promising results of this milestone encounter" concluded Joaquin Lozano.