CGIAR Makes Commitment at UNFSS for Food Systems Transformation
From
Published on

20.10.21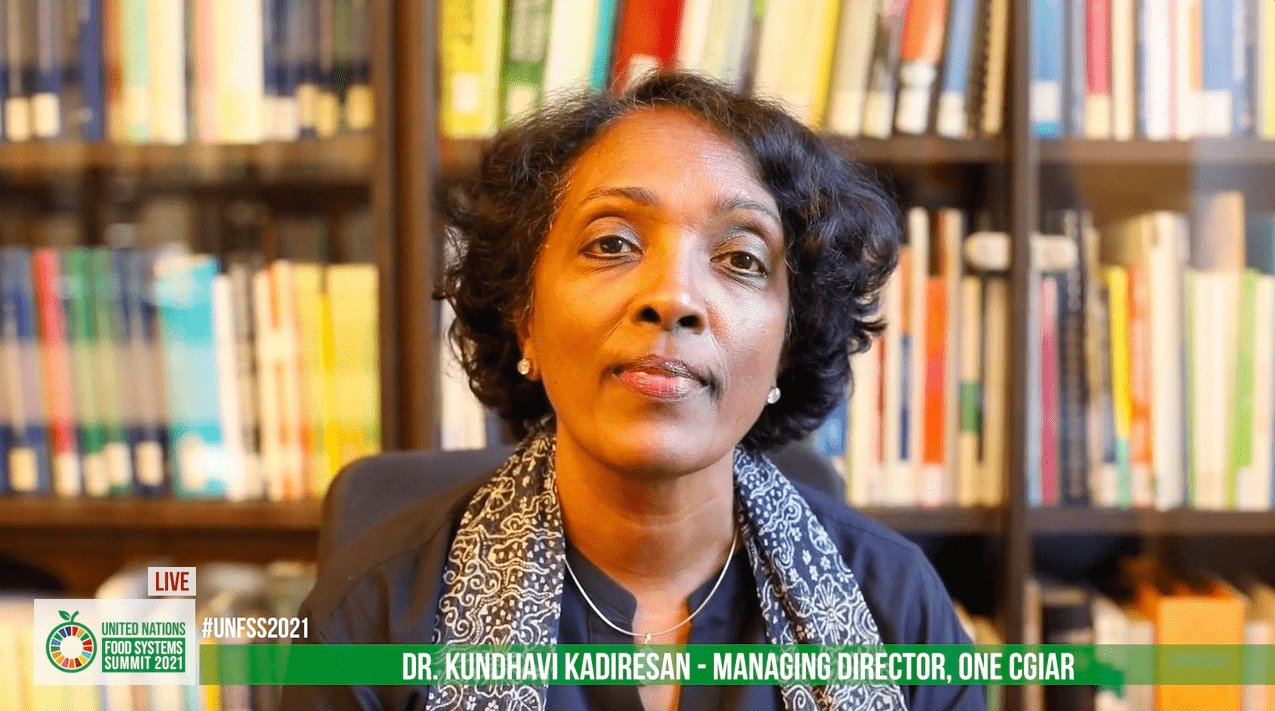 CGIAR Managing Director of Global Engagement and Innovation, Kundhavi Kadiresan, joined heads of state and global leaders on the UN Food Systems Summit (UNFSS) main stage to announce CGIAR's commitment to UNFSS's mission of leveraging food systems to help achieve the 2030 Sustainable Development Goals.
"The Summit is a once in a lifetime opportunity to future-proof food systems, an opportunity to radically reset how we achieve our shared development goals," Kadiresan said in her address. "The ambitions of the Summit are also at the core of CGIAR's new mission to transform food, land and water systems in a climate crisis."
The first commitment Kadiresan shared was that CGIAR would support UN Member States in the planning and implementation of national and regional pathways for food systems transformation.
The related second commitment was the One CGIAR reform process, a dynamic reformulation of CGIAR's partnerships, knowledge, assets, and global presence to deploy scientific innovations for food, land and water systems faster and more cost effectively for a bigger impact. One CGIAR is driven by the 2030 Research and Innovation Strategy and a new Portfolio Prospectus of initiatives that build on CGIAR's track record of collaborating with partners to deliver impacts for more than 50 years and create solutions for the present that balance human needs without exhausting natural resources.
Known as a "people's summit," UNFSS is the cumulation of 18 months of lead-up events and discussions worldwide focused on identifying tangible and positive solutions for food systems and global recovery efforts from the Covid-19 pandemic.
"Applied agricultural research provides the evidence for the best innovations to end global hunger and sustainably feed a projected 9.7 billion people by 2050, and this research and these innovations are the new CGIAR's driving force and our commitment to the sustainable transformation of global food, land and water systems in a climate crisis," Kadiresan said.
Header photo: Kundhavi Kadiresan, Managing Director, Global Engagement and Innovation, CGIAR, appears at UNFSS. Photo by the UN.