CGIAR launches Digital Agriculture diploma to transform agri-food systems and rural communities in Latin America and the Caribbean
From

CGIAR Initiative on Digital Innovation

Published on

20.12.22

Impact Area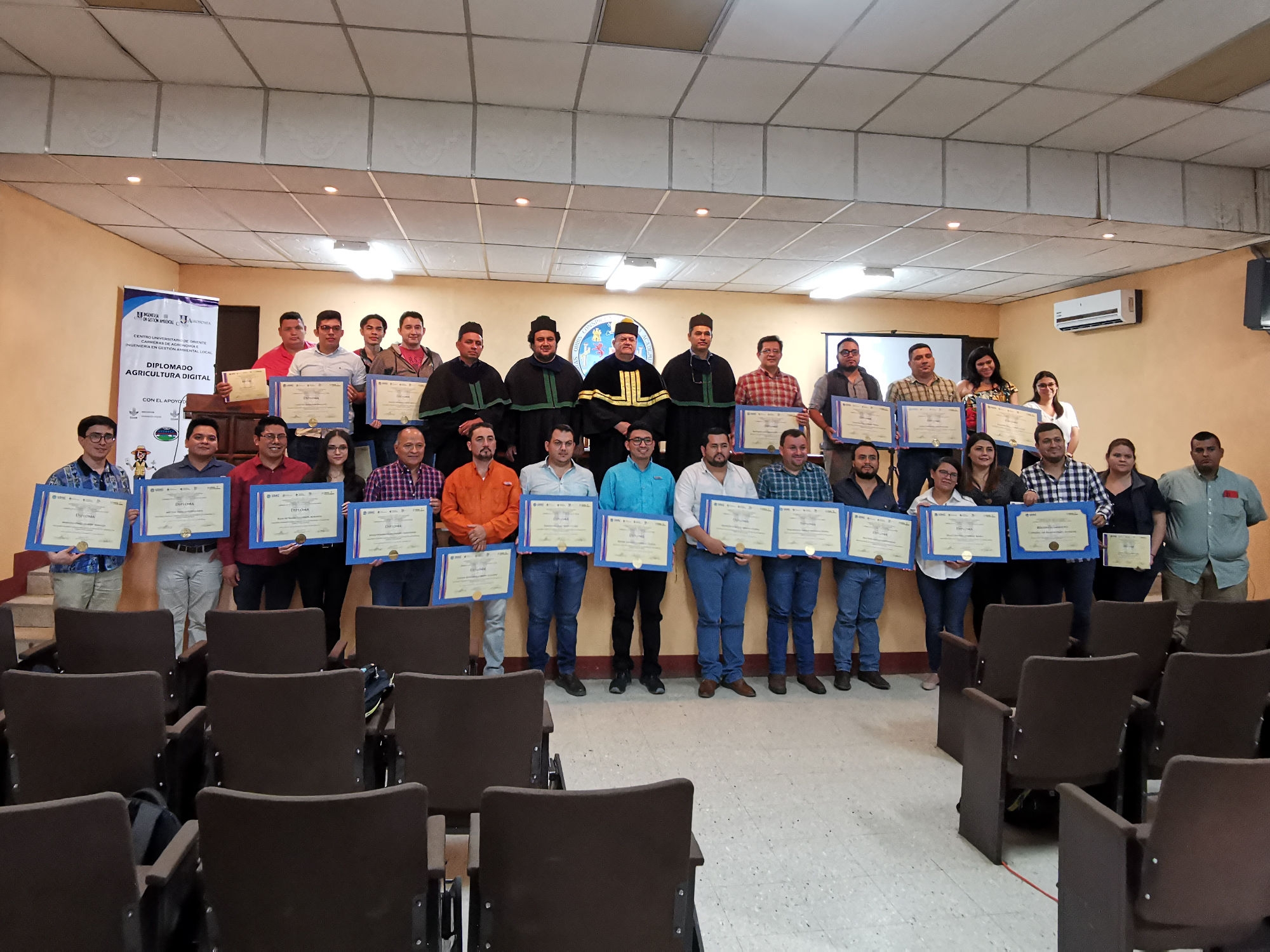 The CGIAR Research Initiatives on Digital Innovation and AgriLAC Resiliente have collaborated with stakeholders to develop digital agriculture professionals in critical locations along the Central American Dry Corridor. A total of 26 agricultural professionals completed a new Digital Agriculture university diploma course, created to strengthen regional technical capacity in digital agriculture to enable better informed, data-driven decisions in agri-food systems.
The agricultural sector in Latin America and the Caribbean (LAC) region has been encumbered by climate change, accelerated degradation of natural resources, a significant increase in overweight and obesity rates, and decreased agricultural productivity. These require a transformation toward more productive, sustainable, profitable and resilient agri-food systems, generating healthier food so that the region can continue to be a pillar of food security worldwide.
Digital innovations in agriculture offer opportunities to support the transformation of agri-food systems while improving livelihoods and the climate-resilience of rural communities. Driven by the development of Information and Communication Technologies (ICT), these innovations contribute to more efficient agricultural processes, reliable decision-making and better management of risks.
Many innovations are now being used in digital agriculture, including drones, satellites, GPS, Internet of Things (IoT) on-site and remote sensors, smart devices, voice and text messages, multispectral cameras, robots and unmanned ground vehicles, Big Data, advanced analytics, and blockchain, among others. These innovations can be applied to data collection, monitoring, real-time analytics, and deployment and dissemination of information.
The initial university course for the Dry Corridor of Guatemala aims to strengthen the technical capacity of technicians and agricultural professionals in digital agriculture. The new cohort of students will contribute to better decision-making and optimization in regional agri-food systems. In Guatemala, at least 73% of municipalities are within the Dry Corridor where smallholder farmers mainly grow basic grains combined with cash crops on hilly areas, and fruits and vegetables in the valleys.
The 90-hour diploma course is organized in five modules: (i) Human-centered design and digital inclusion, (ii) Data collection, data management, and data integration, (iii) Data science, (iv) Crop modeling, and (v) Scaling digital innovations. A total of 26 agricultural professionals completed the course on 16 December 2022. The students belong to a wide range of institutions from government, non-government organizations (NGOs), growers' associations, educational institutions to the private sector.

26 agricultural professionals took the first Digital Agriculture diploma course in Guatemala.
As part of the 2030 CGIAR Research and Innovation Strategy in Latin America, an alliance with the academic world to train local technicians is needed to scale concepts, tools, approaches and practices in digital agriculture. Key organizations in the region include the University Center East (CUNORI) of the University of San Carlos of Guatemala, and the Ch'orti' Regional Farmers Association (ASORECH) in Chiquimula. CUNORI is responsible for analyzing and disseminating the concepts, tools, approaches, and technologies in working together with both governmental and non-governmental organizations across different careers and offers short courses designed for professionals (diploma courses.)
Through its various diploma courses, CUNORI combines face-to-face and virtual learning sessions in delivering knowledge about the key concepts, practices and technologies. In addition, CONURI collaborates with ASORECH which brings in its extensive experience in implementing internationally funded projects. ASORECH also provides logistical support in the implementation of these postgraduate courses and related activities.
With the creation of the Diploma on Digital Agriculture, CGIAR continues to seek to achieve an economically viable, environmentally friendly, and socially just agriculture.