CGIAR expertize to feature at ICTforAg 2023, 7-9 November
From

CGIAR Initiative on Digital Innovation

Published on

31.10.23

Impact Area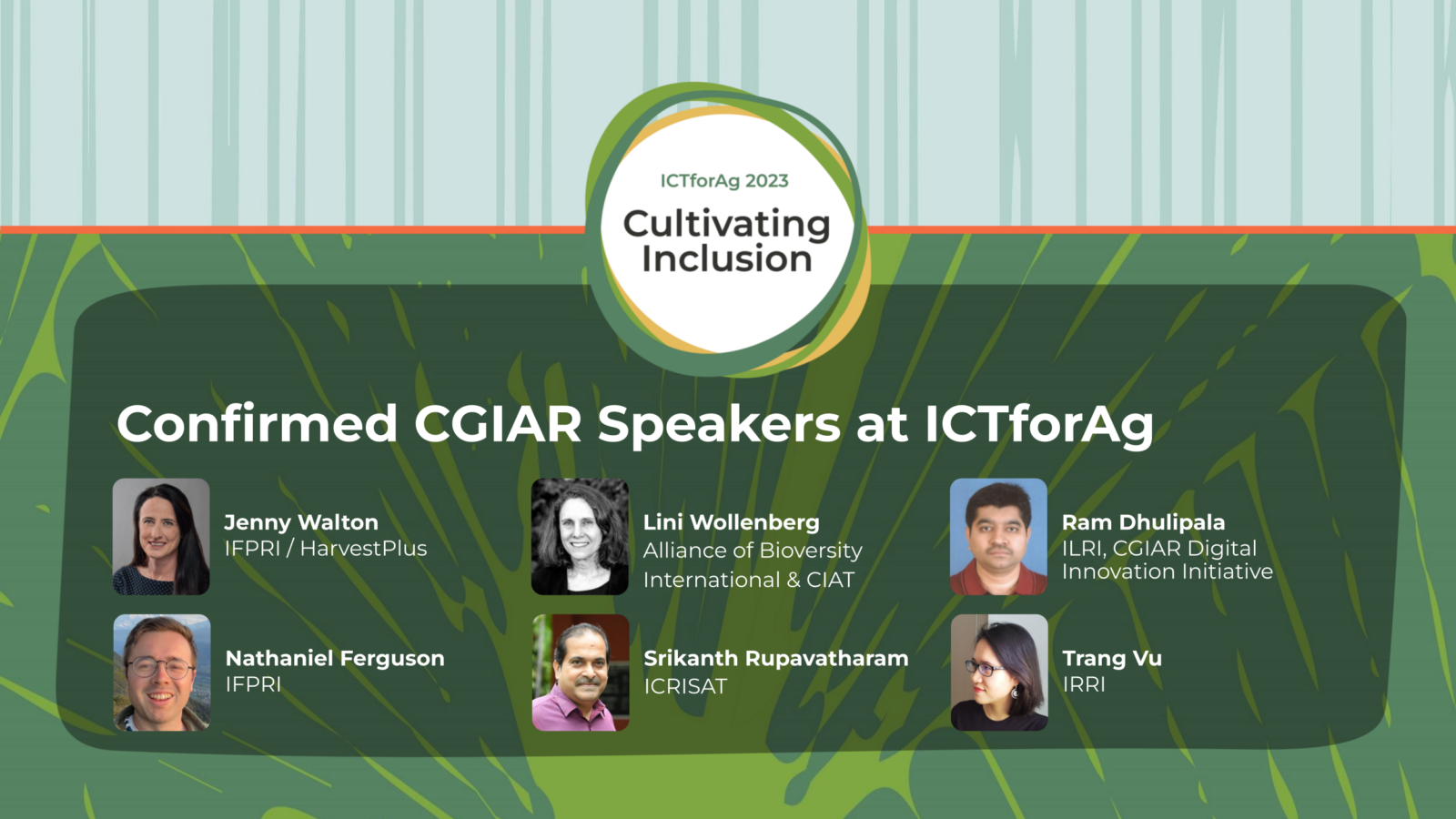 Several CGIAR experts have been confirmed to speak at the upcoming ICTforAg 2023 conference, taking place 7-9 November (registration open).
ICTforAg is an online event where agrifood system stakeholders, technology experts, and enthusiasts gather to share knowledge, find solutions, and form partnerships to address challenges in agrifood systems across low and middle-income countries. Under theme of cultivating inclusion, 9 keynote speeches, 28 breakout sessions, lightning talks and a technology expo will be featured, with closed-caption translation into different languages.
It is common to see digital innovations that provide recommendations to farmers, but how many services actively include farmers in the co-creation of this information? Lini Wollenberg (Alliance of Bioversity International & CIAT), Trang Vu (IRRI), Guy Faure (European Commission) and Violaine Laurens (Solidaridad) will join a breakout session to share and discuss inclusive innovations in rice and livestock farming.
Nutrient-enriched crops are a cost-effective intervention that can improve health across entire populations, but how can ICTs accelerate scaling out? Jenny Walton (IFPRI, HarvestPlus) will join a breakout session of multidisciplinary thinkers from around the globe to share strategies, inclusive tools, case studies and a vision for the future.
Over the last year, generative AI tools such as ChatGPT have offered a glimpse at a transformed future. Ram Dhulipala (ILRI) will participate in a panel discussion of case studies demonstrating the use of generative AI for agriculture advisory and extension.
In the lightning talks format, Srikanth Rupavatharam (ICRISAT) will present on ' Farmer centric digital technologies for transforming smallholder agriculture', and Nathaniel Ferguson (IFPRI) on the 'Gender digital divide in rural Kenya'.
Visit the Zoom event page to see the full agenda in your timezone and register.
ICTforAg 2023 is hosted by USAID as part of Feed the Future, CGIAR under the Digital Innovation Initiative, and DAI.