Building Resilience: Insights from Cross-Country Research and Practices
From

CGIAR Initiative on Foresight

Published on

03.10.23

Impact Area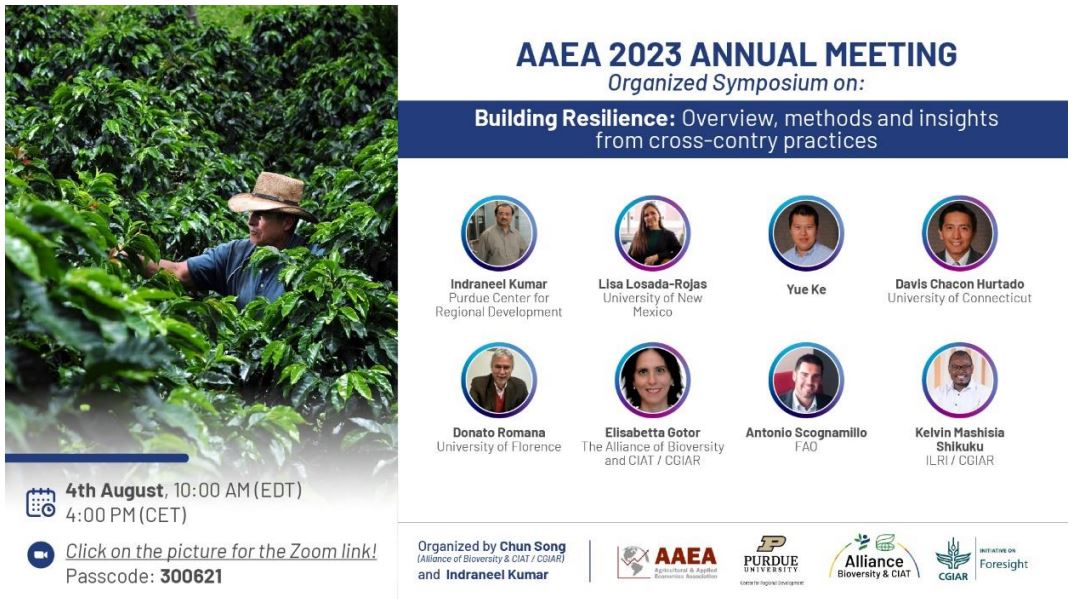 Extreme events, economic shocks, and other drivers of vulnerability have become increasingly intertwined, negatively affecting economic development and food systems around the world. In this context, the topic of building resilience has been attracting substantial attention globally as a pathway to better prepare individuals, communities, regions, and food systems for various disruptions.
There are currently many efforts in both resilience research and implementation. However, knowledge and practical gaps remain, including questions about how to make the broad goal of resilience into a more specific concept for research and decision-making. How should we define and measure resilience at different places and across different scales? What are the drivers of resilience? Are there trade-offs between increasing resilience to the growing number of shocks and achieving SDGs? How do we integrate evidence on resilience into decision-making processes?
To address some of those gaps, on August 4, 2023, the Alliance of Bioversity and CIAT, the CGIAR Initiative on Foresight, and Purdue University co-hosted a virtual symposium "Building Resilience: Overview, methods, and insights from cross-country practices" as part of the Annual Meeting of the Applied and Agricultural Economics Association.
Eight panelists shared their insights on resilience research and implementation challenges. Around 50 participants from research institutions and regional and international organizations attended the event. The event was chaired by Chun Song, Spatial Econometrician at the Alliance of Bioversity and CIAT.
Indraneel Kumar, principal regional planner at the Purdue Center for Regional Development, introduced the different concepts and measurements of economic resilience as well as the importance of resilience on the regional level during and after disaster, recession, or industry loss. Indraneel stressed that building economic resilience in a regional economy requires anticipating and evaluating risk and developing response capacity.
Expanding on measuring economic resilience, Davis Chacon-Hurtado, assistant professor from the University of Connecticut, discussed in more detail how to measure economic resilience and how it can guide development plans. Davis used a case study from the US Great Lakes region to demonstrate the measurement of economic resilience through a regional competitiveness indicator and the impact of transportation infrastructure on building regional economic resilience.
Lisa Losada-Rojas, assistant professor at the University of New Mexico, discussed the drivers affecting economic resilience and how disentangling these drivers can support regional policymaking. Lisa presented a dashboard tool that helps in understanding the role of socioeconomic factors (such as labor markets) and physical infrastructure (especially transportation) in building more resilient communities.
Yue Ke, Researcher from Purdue University, discussed anticipatory actions and the practical challenges involved in implementing them. He emphasized that pre-emptive interventions based on forecasted shocks can help systematically protect communities and assets ahead of a hazard. However, the effect of course depends on the precision of the forecast – highlighting the importance of continued improvement in forecasting data and methods.
Donato Romano, professor from the University of Florence, discussed resilience concepts in the context of international development. Donato pointed out the need to clarify the relationship between resilience and vulnerability. Empirical research on resilience should focus not only on the shocks but also slow-onset stressors and the role of cultural norms in shaping resilience and vulnerability. He also emphasized that there may be a conflict between theory and practice: theoretically sound concepts are crucial, but they often increase the amount of data required for rigorous analysis, and such data is not always available.
Antonio Scognamillo, economist at FAO, discussed a new method to better measure resilience. Antonio emphasized that interaction among neighboring households can affect the household's well-being. Accounting for such interactions in measuring resilience can contribute to integrating different definitions of resilience, leading to more accurate targeting and resource allocation.
Kelvin Shikuku, economist at the International Livestock Research Institute, shared insights on interventions in the pastoral community to build resilience. Kelvin discussed livestock insurance and women's financial inclusion for resilience building among pastoralists and the need to combine women's asset building with asset protection in pastoralist areas. He stressed that monitoring drought impacts using high frequency data can help in designing effective interventions for early and anticipatory action.
Elisabetta Gotor, principal scientist at the Alliance of Bioversity International and CIAT and co-lead of the CGIAR Initiative on Foresight, highlighted the importance of crop variety diversification to buffer against climate shocks for smallholders. Building on findings from her research and field experience working with smallholders in Bihar, India, and Ethiopia, Elisabetta pointed out that in the face of climate change, the on-farm varietal diversification of crops can be an effective and environmentally friendly option to improve the capacity of smallholder farmers to respond to shocks and contribute to the sustainable development of marginalized agricultural systems.
During the panel discussion and Q&A sessions, the participants shared their insights and elaborated on several common challenges on resilience studies and practices, both in the developed countries, such as the United States, and in the Global South. For example, it was pointed out that the variety of approaches and contexts makes it difficult to communicate clear messages to decision-makers. The panel also shared their views on how geospatial methods, together with economic analysis, have helped resilience research.
The symposium highlighted the complexity of resilience as a concept and the multiple challenges of building resilience in practice. To address those challenges, the research and development community must promote multidisciplinary cross-cutting efforts to inform policymakers about pathways toward a more resilient agrifood system in the face of different disruptions in the future. It is also critical that decision-makers receive information that is coherent and clearly explains the differences between diverse approaches and local contexts.
---
This post was written by Chun Song and Evgeniya Anisimova with contributions from Keith Wiebe and Elisabetta Gotor. To learn more about the CGIAR Initiative on Foresight, visit www.cgiar.org/initiative/foresight/.