Book launch: Agricultural extension evolves to address a rapidly changing world
From
Published on

20.10.20

Challenges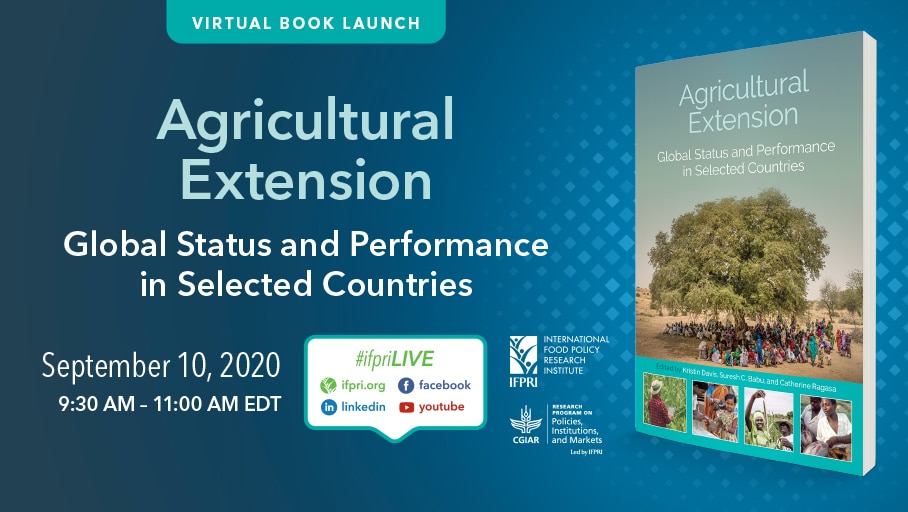 BY FRANCESCA EDRALIN
Through its programs that educate farmers and apply scientific research in the field, agricultural extension plays an important role in improving rural livelihoods and increasing food security around the world. A new IFPRI book, Agricultural Extension: Global Status and Performance in Selected Countries, gives a global overview of these benefits and explores how extension services work in Brazil, the Democratic Republic of the Congo (DRC), Ethiopia, Malawi, and Uganda.
A Sept. 10 virtual event, co-organized with the IFPRI-led CGIAR Research Program on Policies, Institutions, and Markets (PIM), explored the findings of the book—edited by Senior Research Fellows Kristin Davis, Suresh Babu, and Catherine Ragasa—and the current challenges extension systems face. In opening remarks, PIM Director Frank Place emphasized the importance of extension research in shaping global agricultural transformation. "The topic of this book is as important now as it has ever been," Place said.
The book adds to the growing conversation on extension by providing a comprehensive comparison of approaches across countries, Davis said. Agricultural extension and advisory services should follow a "best-fit" approach, she explained, because considering unique country conditions is essential to a successful extension system. The book fills three main gaps in extension knowledge, Davis said: The lack of a common extension framework across countries, minimal up-to-date global extension data, and no comparative performance data that links both primary and secondary sources across countries.