Can Agroecological Living Landscapes (ALLs) solve Food, Land and Water system challenges?
From

CGIAR Initiative on Agroecology

Published on

28.12.22

Impact Area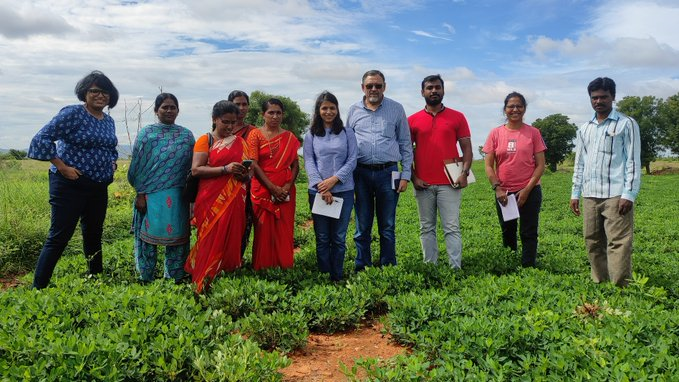 Establishing ALLs in Andhra Pradesh for developing innovations, strategies and policies could  help address the challenges in India.
Authors: Sudharsan Malaiappan1, Swati Renduchintala2  and Alok Sikka1 (1 International Water Management Institute, 2  CIFOR-ICRAF)
Globally Food, Land, and Water Systems (FLWS) are being degraded rapidly. Indian agriculture is heavily dependent on natural resources. Agriculture plays a significant role in India's $3.5 trillion economy, employing 43% of the available labor force. The share of agriculture and allied sectors in total gross value added (GVA) of the economy is 18.8% during 2021-22.
The agriculture sector consumes a large portion of available natural resources, utilizing 90% of freshwater resources. Overexploitation of natural resources is leading to depleted water resources, deteriorating soil health and land degradation. Land degradation alone is estimated to have an economic cost of 2.54% of GDP and 15.92% of GVA from agriculture and forestry. It is critical to manage the available resources for achieving livelihood, water, food, and nutritional security of the country.
The CGIAR initiative on Agroecology aims to develop and scale agroecological practices and innovations with small-scale farmers and other agricultural and food system actors by establishing Agroecological Living Landscapes (ALLs).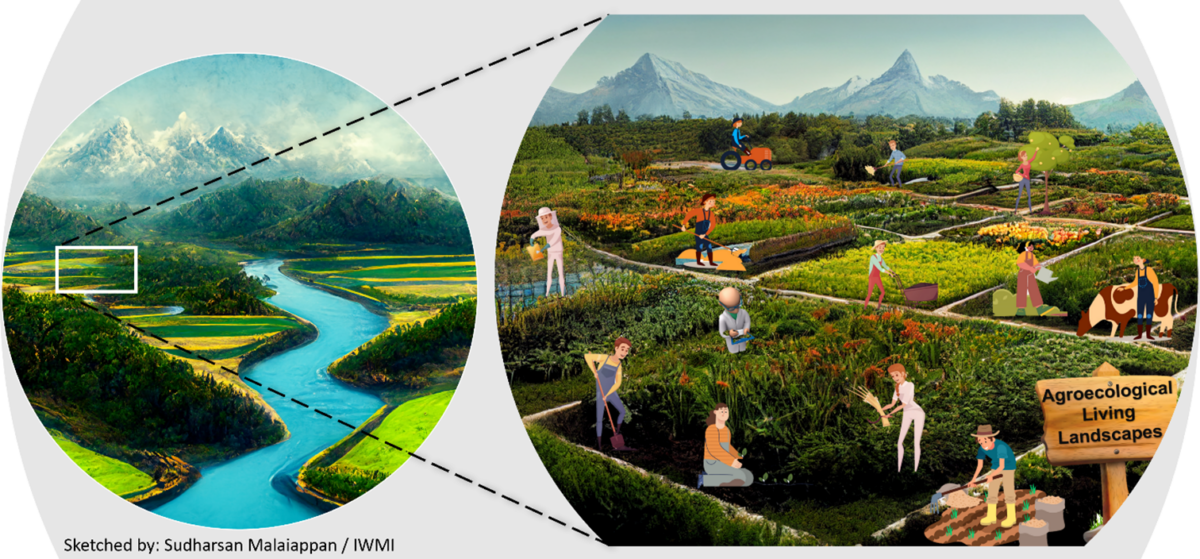 Through ALLs, the initiative is engaging with diverse stakeholders with the objective of
Co-creating agroecological innovations
Identifying business opportunities and financial mechanisms for local enterprises
Determining the most suitable policies and mechanisms of policy integration
Developing strategies and action plans.
In India, ALL sites have been selected based on the presence of two typical soil types (red and black soil), proportion of farmers using natural farming methods, a variety of farmers who are at various stages of converting from conventional to natural farming methods, landless households, and cropping systems, including horticulture and agroforestry.
Agroecology has gained momentum in recent years in India. Central, as well as several state governments, are promoting agroecological principles based farming including natural farming (natural farming comes under the broad umbrella of Agroecology) in its various form. The state of Andhra Pradesh through the Andhra Pradesh Community-Managed Natural Farming program (APCNF) is pioneering it since 2016.
The CGIAR initiative on Agroecology in India has chosen to establish two ALLs in Anantapur district of Andhra Pradesh, a state with a well-established natural farming system (APCNF).  The universal principles of natural farming by APCNF program are: "Provide 365-day crop cover, crop diversity, minimum disturbance of soils and provide soil cover with crop residues, use indigenous seeds, integrate animals into farming, bio-stimulants as a necessary catalyst, pest management through better agronomic practices and botanical extracts, and no synthetic fertilizers, pesticides, herbicides, weedicides."
APCNF program has currently enrolled 630,000 farmers until 2022, which makes APCNF the largest agroecological program in the world in terms of enrollment of farmers. The program has a landscape approach and has established package of practices and exemplar landscapes for scaling of agroecology based natural farming.
Anantapur is also ground zero for the breakthrough innovation called Pre-Monsoon Dry Sowing (PMDS), which has changed the narrative of Agroecology in Andhra Pradesh, leading to the 365 Days Green cover and helping for drought proofing arid areas.


Within Anantapur district, the mandals (sub-district units) of Tadipatri and Bathalpalli in the districts of Anantapur and now Sri Sathya Sai respectively were chosen for establishing ALLs.  Within these mandals, a contiguous area that encompasses a cluster of villages that is currently under the APCNF program was selected. Selection of the locations also considered the boundaries of the Village Organizations (federations of SHGs).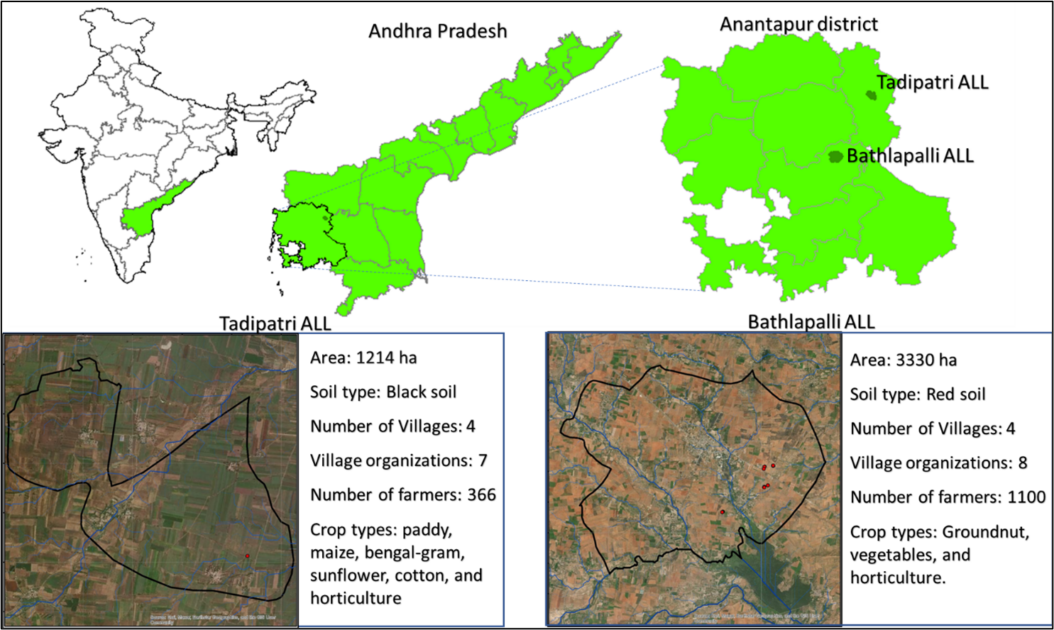 Within the ALLs, 286 (78%) farmers out of 366 are practicing natural farming in Tadipatri and 500 (45%) farmers out of 1100 are practicing natural farming in Bathalpalli. These farmers are at various stages of transformation – some have fully adopted natural farming practices, while others are in different stages of transition.
The remaining farmers use traditional chemical farming systems, providing an opportunity to compare and contrast the two systems. These varying biophysical characteristics, availability of social capital, farmers practicing natural farming, presence of civil society, involvement of the state government in the transformation process are ideal for establishing ALLs.
Mr. Vijay Kumar Thallam, Executive vice chairman of Rythu Sadhikara Samstha (A farmers empowerment organization under Government of Andhra Pradesh) implementing APCNF said,
"The ALLs are representative of Agroecology as both an art and science. They are symbolic of the potential that Agroecology holds in transforming the lives of farmers and farms."
Establishing the ALL in Anantapur district, Andhra Pradesh would help in understanding various facets of agroecology better and help in answering several research questions. With the ALLs the focus will be on developing innovations, strategies, and policies that can help address the FLWS challenges in India.
The overarching message of the initiative is "adapting agroecological-based natural farming practices is critical for achieving livelihood, water, food, and nutritional security".