2020 China and Global Agricultural Policy Forum: Building up food systems with inclusiveness and competitiveness
From
Published on

18.06.20

Impact Area
Funders

China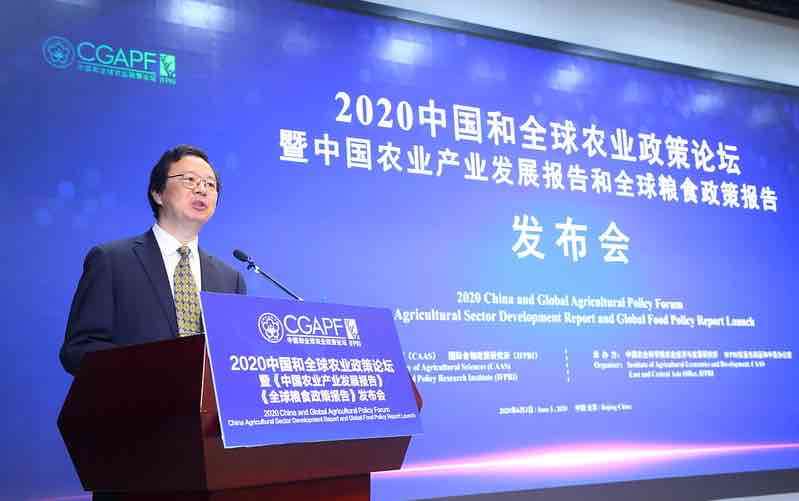 By Donghe Li
The COVID-19 pandemic has created huge uncertainties for public health and economies around the world. How do we develop policies to face these evolving challenges? The 2020 China and Global Agricultural Policy Forum grappled with these questions. The event, co-organized by the Chinese Academy of Agricultural Sciences (CAAS) and IFPRI on June 3 in Beijing, launched the annual China Agricultural Sector Development Report (CASDR) and IFPRI flagship 2020 Global Food Policy Report (GFPR).
This year's CASDR focuses on competitiveness, while the GFPR centers on inclusiveness. While those themes might seem contradictory, the two reports are actually variations on the same idea: We should build up the global food system to reach its potential not only in reaching social, economic and environmental goals, but also to face enduring risks and withstand emerging challenges.
Food system inclusiveness goes beyond equity
As IFPRI Director General Johan Swinnen has noted, the poor and vulnerable are too often excluded from the existing food system. A more inclusive food system that benefits everyone is not only a moral imperative, it is a matter of life and death, as poor people suffer disproportionately from crises such as the COVID-19 pandemic.
For China, 2020 marks the deadline for its goal to end poverty. But the COVID-19 crisis is having a major impact on China's economy that creates challenges for reaching that goal. "We ensured people had enough food and agricultural products when COVID-19 threatens food security, but efforts still should be made to solve the deep-seated problems in agricultural development, especially protecting the poor and vulnerable," said CAAS President Huajun Tang.
Rural incomes, especially those of the rural non-farm population, have been hit hard. According to data from China National Bureau of Statistics, China's GDP shrank by 6.8% in the first three months in 2020. The urban population's per capital disposable income fell 3.9%, and the rural population's by 4.7%.

Photo Credit: IFPRI