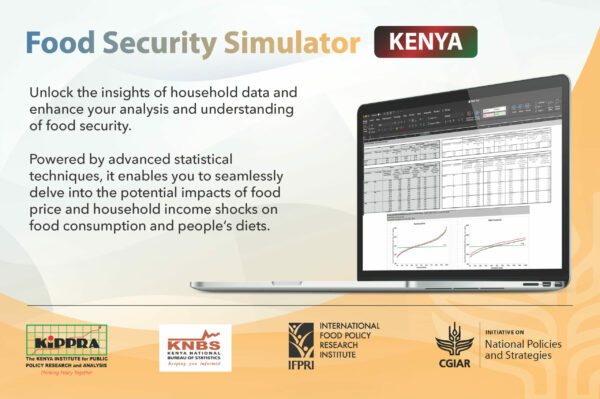 The New Kenya Food Security Simulator: A Practical Demonstration and Announcement of a Blog Competition
Date

19.07.23

Time

03:00 pm > 04:30 pm

UTC+03:00
​

The Food Security Simulator (FSS) has been developed by KIPPRA, KNBS, and IFPRI under the CGIAR Initiative on National Policies and Strategies and launched during KIPPRA's Annual Regional Conference in June 2023. It is an innovative and easy-to-use, MS-Excel-based tool for assessing the potential short-term impacts of food price or household income shocks on food security and people's diets. The Simulator is an ideal tool for a quick forward-looking evaluation of direct, household-level outcomes of economic crises and policy responses in a timely manner. Key indicator results are summarized in concise overview tables and visualized in graphs. The underlying data include estimates from representative household survey data and rigorous, sophisticated food demand models to capture consumer behavior.
Why participate?
Participants will be enabled to use the Kenya Food Security Simulator to conduct scenario analysis related to price shocks and household income changes.
Participants will be eligible to participate in the FSS blog writing competition. The winner will be eligible for short-term industrial attachment/ mentorship at IFPRI's Kenya office.
The top three blogs will be published under the CGIAR Initiative on National Policies and Strategies.
Who is eligible for the training?
Students (Undergraduate/Masters) pursuing a degree in Economics, Agricultural Economics, Nutrition, and other related studies.
Young Professionals in the relevant fields of Economics and Nutrition.
What do you need before joining the training?
Who is eligible for the blog writing competition?
All the participants of the online training.
Agenda (tentative):
Welcoming remarks
Rose Ngugi, Executive Director, KIPPRA
Martine Oleche, Chairperson Department of Economics and Development Studies, University of Nairobi
Clemens Breisinger,

Lead, CGIAR Initiative on National Policies and Strategies and Country Program Leader, Kenya, International Food Policy Research Institute
Overview and demonstration of Kenya Food Security Simulator
Questions and answers
Announcement of FSS Blog Writing Competition
Moderator
---
Individuals attending this event may be audio taped, videotaped, or photographed during the course of a meeting, and by attending grant permission for their likenesses and the content of their comments, if any, to be broadcast, webcast, published, or otherwise reported or recorded. Questions? Please contact nps@cgiar.org
---
The Food Security Simulator Kenya was jointly developed by Kenya Institute for Public Policy Research and Analysis (KIPPRA), the Kenya National Bureau of Statistics (KNBS), and the International Food Policy Research Institute (IFPRI),under the CGIAR Initiatives on National Policies and Strategies (NPS). We would like to thank all funders who supported this research through their contributions to the CGIAR Trust Fund.