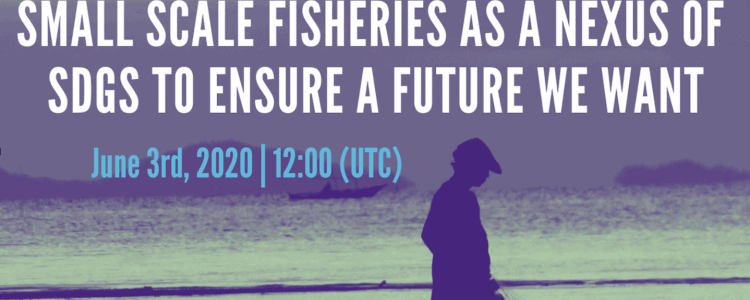 Small is Bountiful: Small-scale fisheries as a nexus of SDGs to ensure a future we want
Date

03.06.20

Location

Virtual
A live webinar on "Small-scale fisheries as a nexus of SDGs to ensure a future we want" as part of the Small is bountiful series of webinars from 1-8 June.
Date: Wednesday, 3 June 2020
Time: 20:00 – 21:30 (UTC+8).
Lead organizations: WorldFish, OFI/Memorial University
Supporting organizations: PLAAS, University of Aveiro
Click here to watch the event recording
This live webinar was moderated by WorldFish's Resilient Small-scale Fisheries Program Leader, Pip Cohen, with the participation of Nereus Program fellow Gerald Singh, small-scale fisheries social scientist Paul Onyago and other small-scale fisheries experts.
This webinar took us across seas and sectors, illustrating that globally, SSF exemplify the focus of the SDG aim to "leave no one behind". Experts spoke on the key opportunities to work with SSF to progress multiple SDGs amidst three imminent transformations; food system transformation, Blue Economy and climate change.
The speakers provided compelling arguments on known risks that sustainable and equitable development will face if the rights, values and flexibility of SSF are eroded. We heard about how SSF rights and livelihoods are instrumental in achieving other SDGs, but also how SSF sustainability is dependent on other SDGs being achieved.
Second, they examined the role, risks and opportunities for small holders (fisheries and agriculture) in addressing SDG2 on food and nutrition security.  Third, they examined SDG5 on gender equality within SSF, and a presentation on SDG 13 with respect to SSF preparedness for climate change.
Key discussion points:
Tenure systems in Africa: most countries have created an authority responsible for providing opportunities for SSF to continue with their activities;
Priority actions for African SSF: they include optimizing production of SSF, increasing accessibility of nutrient-rich fish to local communities, increasing utilization and consumption of fish and fishery products, and strengthening institutional arrangements and partnerships at local, national and national levels;
Key differences within SIDS: fishers in the Caribbean probably have more advanced fishing technologies and boats. On the other hand, Pacific Island countries have strong community-based fisheries management, which may not be the case in other SIDS;
Overfishing and subsidies: within the context of SDGs, the relationship between overfishing, subsidies and SSF is complicated as most subsidies are given to industrial fleets and less so to SSF. Subsidies given to industrial fleets, which, among others, keep them in proximity of SSF and give them unfair advantage, mean additional pressure on SSF; and
Gender equity: Some progress on SDG 5 is being made with space being created for women to participate and make decisions in all SDGs. Yet, more efforts are required to address underlying causes for the lack of participation and gender inequality, such as lack of education and social and cultural norm.
Some take-home messages:
Interdependence of SSF & SDGs: there are three key ways in which SSF relate to SDGs (1) millions of women and men in SSF intersect with all aspects of the SDGs on a daily basis, (2) SSF are the foundation of food security and many of the SDGs, and (3) working with fishers and fish workers provides pathways to achieving progress towards SDGs;
SDGs – integrated and indivisible: more attention is needed in navigating these interconnections and in figuring out the best ways forward;
Having a stake in the climate change actions: the voices of small-scale fishers can be easily forgotten in global climate change action dialogues. Thus, it is critical to continue working with SSF in ensuring their realities, concerns and voices are heard and addressed; and
Gender needs and capacity development: SSF exist within gendered social and cultural systems that perpetuate disparities between men and women. The SSF Guidelines implementation process requires