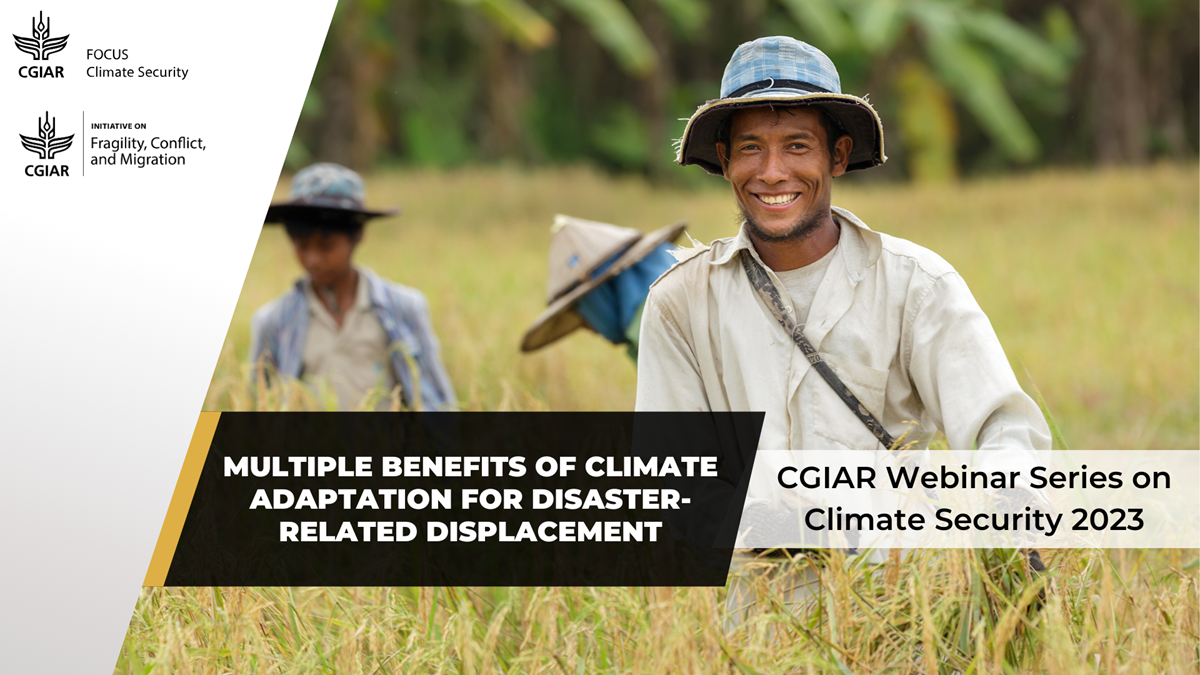 Multiple Benefits of Climate Adaptation for Disaster-Related Displacement
Date

15.11.23

Time

03:00 pm > 04:00 pm

UTC+01:00

Registration
Climate change is transforming our world, with increasingly severe climate hazards threatening both nature and humanity. The consequences for biodiversity, ecosystems, and human well-being are significant. Compound climate hazards are on the rise, leading to interconnected environmental and socioeconomic crises.
Are you concerned about the impacts of climate change on vulnerable populations and displacement? Don't miss our upcoming webinar!
🗓️ Date: Wednesday, 15th November 2023
🕓 Time: 16:00 – 17:00 CET
Displacement due to disasters is a growing challenge, affecting millions of people worldwide. As of 2023, there are over 110 million displaced individuals globally, with 76% hosted in low- and middle-income countries. These regions often grapple with poverty, political inequality, and reliance on natural resources.
Join us as we delve into the critical topic of climate adaptation for disaster-related displacement.
Our webinar will:
🌱 Explore practical challenges and opportunities in climate adaptation
🌏 Share diverse global experiences and success stories
🤝 Discuss ways to enhance policies and programs for more effective outcomes
Speakers
Michelle Yonetani, Senior Policy Officer, Office of the Special Advisor to the High Commissioner on Climate Action, UNHCR
Sandra Ruckstuhl, Senior Researcher, International Water Management Institute and Co-lead, CGIAR Fragility, Conflict and Migration Initiative
Tasneem Siddiqui, Professor, University of Dhaka and Founding Chair, Refugee and Migratory Movements Research Unit (RMMRU)
Raphaela Schweiger, Yale World Fellow, Yale University
Peter Laderach, Principal Scientist, Co-lead CGIAR Focus Climate Security, The Alliance of Bioversity & CIAT (Host)
This event is especially relevant for response and development agencies working with the world's most vulnerable groups, including refugees, internally displaced persons (IDPs), asylum seekers, and stateless people. We'll address the urgent need for tailored information to support these communities in the face of escalating climate risks.