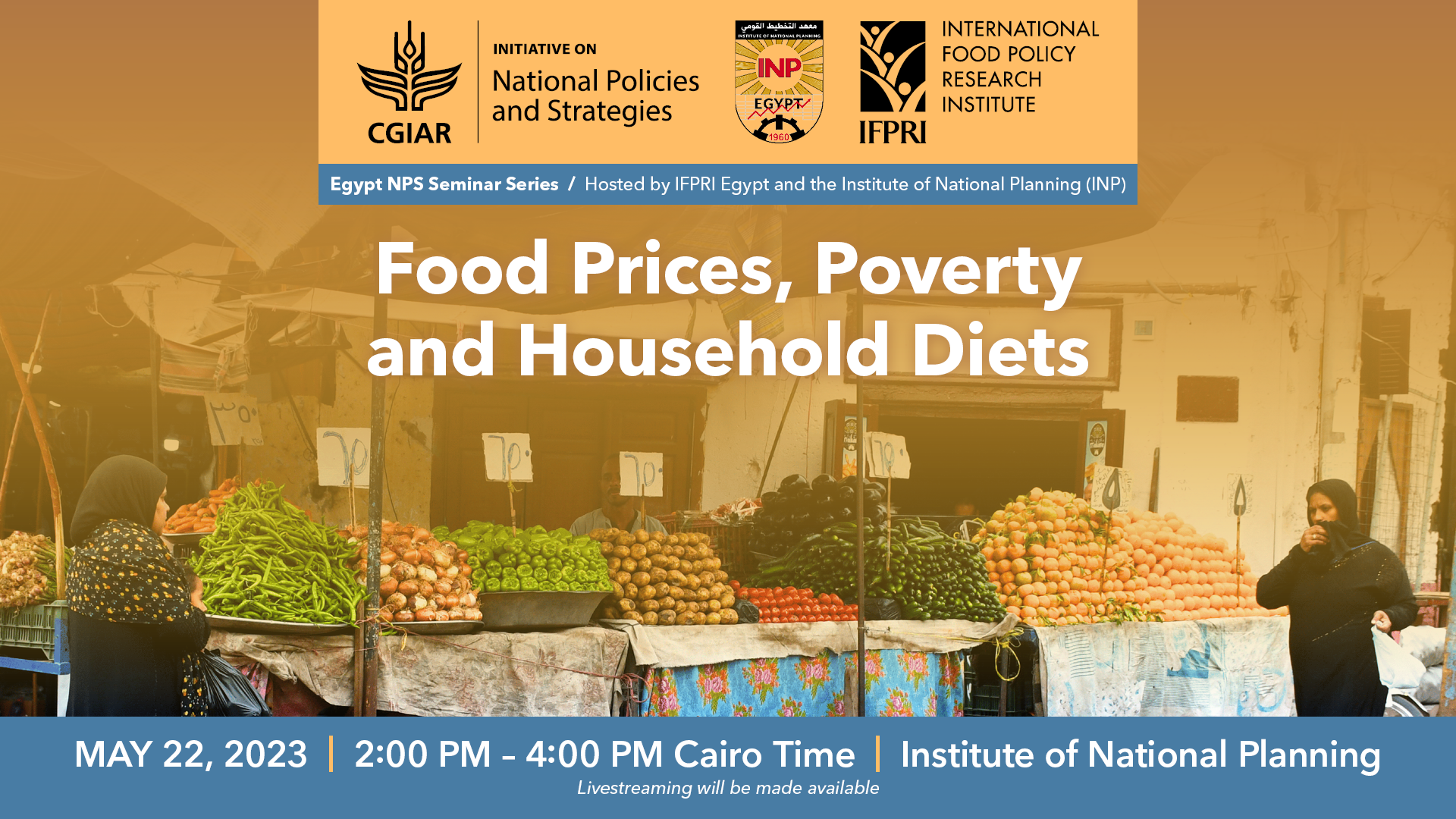 Food Prices, Poverty and Household Diets
Date

22.05.23

Time

02:00 pm > 04:00 pm

UTC+03:00

Location

Institute of National Planning, Salah Salem intersection with Al tayran Nasr City, Cairo, Egypt

Registration
​Over the last few decades, the world has experienced recurring food crises characterized by rampant inflation and spikes in food, fertilizer, and fuel prices. Most of these major spikes in food prices are triggered by major events, including the COVID-19 pandemic and the Russia-Ukraine war. More recently, the Russia-Ukraine crisis and associated trade shocks have caused significant disruptions in global markets and hence immediate surges in global food, fuel, and fertilizer prices.
The impact of food inflation varies across countries and households, depending on their vulnerability to food prices and trade shocks. The Middle East and North Africa (MENA) region in general, and Egypt in particular, are particularly vulnerable to shocks to world food prices and trade because of their heavy dependence on food imports. Indeed, the trade shocks triggered by the Russia-Ukraine conflict have caused major inflationary pressure on the Egyptian economy. The overall annual inflation, which was six percent in January 2022, soared to 34 percent in March 2023. This is the highest inflation rate in five years and food inflation is the major driver reaching 62 percent in March 2023.
This Egypt NPS Seminar aims to highlight important lessons and research-based findings on how countries and markets are responding to unfolding multiple crises. This seminar will feature recent studies on the implications of food price shocks on poverty and household diets using household data from Egypt and other MENA countries. The event also brings relevant policymakers to share major lessons in programming social protection and crisis responses.
Read full agenda from IFPRI Egypt site
---
Please note that, spaces on-location, at INP, are limited to 70 participants to be filled on a first come, first served basis. Once all spaces have been filled up, remaining participants will be directed to the livestream link to follow online
---
This work is part of the CGIAR Research Initiative on National Policies and Strategies (NPS). CGIAR launched NPS with national and international partners to build policy coherence, respond to policy demands and crises, and integrate policy tools at national and subnational levels in countries in Africa, Asia, and Latin America. CGIAR centers participating in NPS are The Alliance of Bioversity International and the International Center for Tropical Agriculture (Alliance Bioversity-CIAT), International Food Policy Research Institute (IFPRI), International Livestock Research Institute (ILRI), International Water Management Institute (IWMI), International Potato Center (CIP), International Institute of Tropical Agriculture (IITA), and WorldFish. We would like to thank all funders who supported this research through their contributions to the CGIAR Trust Fund.
---
Individuals attending this event may be audio taped, videotaped, or photographed during the course of a meeting, and by attending grant permission for their likenesses and the content of their comments, if any, to be broadcast, webcast, published, or otherwise reported or recorded. Questions? Please contact nps@cgiar.org