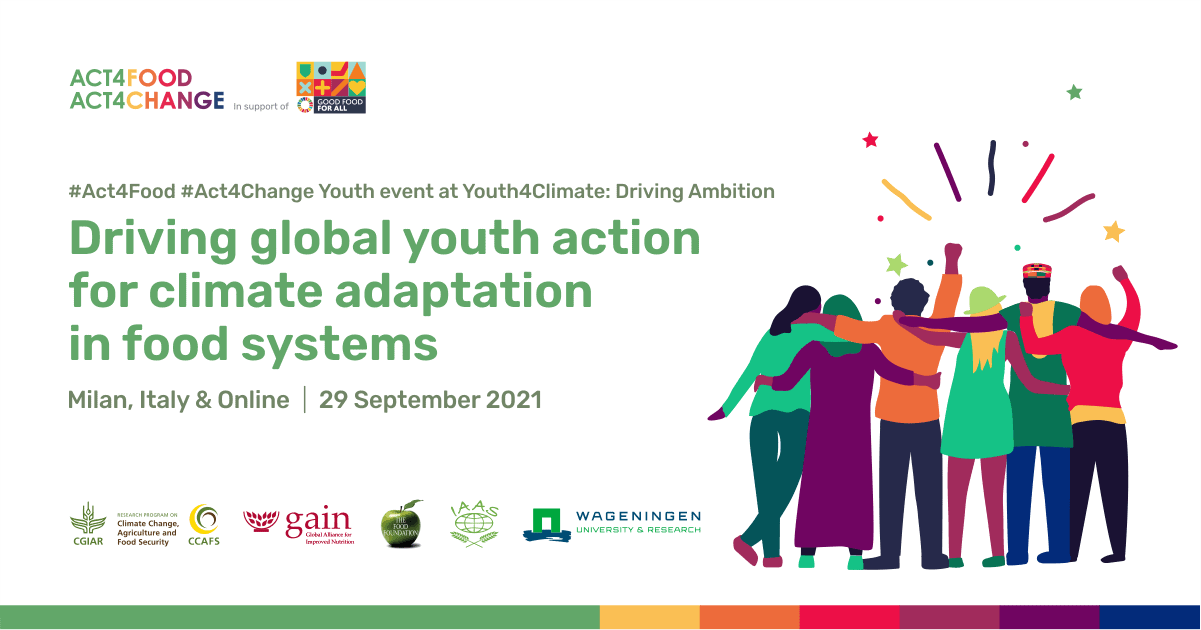 Driving global youth action for climate adaptation in food systems
Date

29.09.21

Time

01:00 pm > 04:00 pm

Location

Milan & online, Italy
A year after the launch of the landmark CCAFS-led 
Actions to Transform Food Systems Under Climate Change 
report, we continue to deliver on the 11 transformative actions we called on the international community to implement, particularly around driving social change for more sustainable decisions.
Climate change will affect the ability of young women and men to secure livelihoods, incomes and food availability. Action 4.3 from the Transformation Initiative report outlines the importance of involving youth in science-based social movements to transform food systems under climate change. That is why engaging youth in long-term climate adaptation is a key focus of CCAFS, the Global Alliance for Improved Nutrition (GAIN), The Food Foundation (FF), the International Association of Students in Agricultural and Related Sciences (IAAS) and Wageningen University & Research (WUR).
As a collective force, young people have extraordinary potential to mobilize and influence global movements, which can be initiated in the form of a simple pledge. The Pledge is a youth-led promise galvanising action to defeat hunger, improve health and heal the planet. The Pledge brings together young people from around the world to highlight their personal action as a contribution to wider systemic change, and to urge governments and businesses to act boldly and urgently.
The #Act4Food Youth event is an official side-event of the 'Youth4Climate: Driving Ambition' — a landmark youth event hosted by the Italian Government just prior to Pre-COP26 — https://all4climate2021.org/.
This event will contribute to Action 4.3, through driving social change and generating social movements by reaching out to youth and encouraging young people to be part of the discussion. Youth from all around the globe are invited to participate and engage in efforts and movements around food security under a changing climate. This event also aims to create awareness of the Pledge initiative.
For more information, the program and registration, go here.