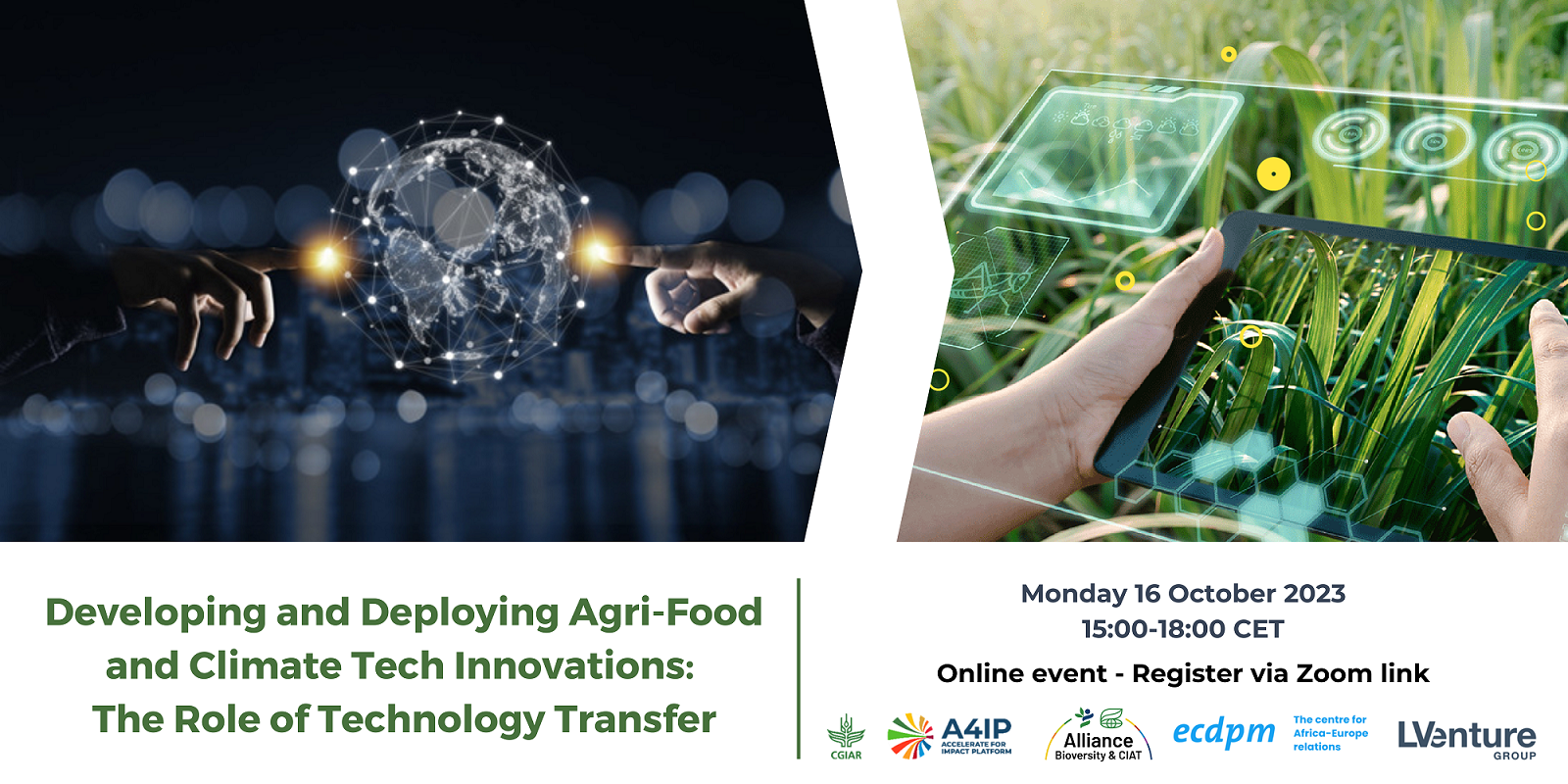 Developing and Deploying Agri-Food and Climate Tech Innovations: The Role of Technology Transfer
Date

16.10.23

Time

03:00 pm > 06:00 pm

UTC+01:00

Registration
Research and development are the engine of growth and economic development, and as such, the effective use and commercialization of knowledge and intellectual assets – built inside a country or shared from abroad – can fuel value creation while addressing complex challenges. That said, the journey from innovation to impact is often hindered by a critical bottleneck—inadequate technology transfer mechanisms.
Robust tech transfer and entrepreneurial mechanisms for venture building can guide the scaling process, bridge labs to markets, connect collaborators for open innovation, manage intellectual property, source opportunities to scale including investments, reduce the impact of brain drain from emerging economies, and more.
Effective mechanisms will ensure that research and development actors can derive optimal value and impact from innovations, both equitably and sustainably. This will undoubtedly require a concerted level of international cooperation, in policy engagement and diplomacy, as we move forward through an ever-evolving and increasingly digital world.
To explore these topics, The CGIAR Accelerate for Impact Platform, European Centre for Development Policy Management, and LVenture Group are conducting a high-level event entitled "Developing and Deploying Agri-Food and Climate Tech Innovations: The Role of Technology Transfer" on Monday, 16 October 2023.
The high-level event aims to highlight the need for robust tech transfer, entrepreneurial and investment mechanisms to valorise agri-food and climate tech innovations, which will be key for achieving sustainable, equitable, efficient, and resilient food systems.
Panels will discuss how research and development actors can derive optimal value and impact from innovations and the role of international and development actors in facilitating these efforts, drawing on emerging insights from key players within this space.
AGENDA
Time

 

Session

 

15:00

 

Welcome address

 

Kevin Dowling, Knowledge and Communications Specialist for the Accelerate for Impact Platform, The Alliance of Bioversity International & CIAT / CGIAR 

15:05

 

Opening remarks

 

Javier Mateo Vega, Global Director Partnerships & Communication, The Alliance of Bioversity International & CIAT; Senior Director, Partnerships Intelligence, CGIAR 

 

Introductions – Kevin Dowling

 

15:10

 

Keynote address

 

Mark Mann, Managing Director, Mark Mann OÜ and Co-Founder, Divine Ox 

15:20

 

Panel

 

How will technology transfer unlock the potential for impact of early-stage agri-food innovation? [What is the opportunity?] 

Moderator: 

Gianpiero Menza, Senior Manager Partnerships & Innovative Finance, The Alliance of Bioversity International & CIAT; CGIAR Accelerate for Impact Platform 

Panellists: 

Antonella Zullo, Head of Innovation & Corporate Venturing, LVenture Group 

Giovanni Stanghellini, Project Manager at the Italian PRIMA Secretariat, PRIMA (Partnerships for Research and Innovation in the Mediterranean Area)    

Caroline Legros, Deputy Director, Innovation and Knowledge Management Division (INK), World Food Programme (WFP) 

Gaspard Lepine, Partnerships Advisor, INRAE & Med Vallee IIH 

Alessandro Fazio, Head of the Joint Research Centre's Competence Centre on Technology Transfer, European Commission 

Shiva Loccisano, CEO, BeHold; Senior Project Manager, Netval 

16:15

 

Break – Success Stories – Sand to Green

 

 

Introductions – Kevin Dowling

 

16:25

 

Keynote address

 

Hangyul Song, Research and Data Associate, Briter 

16:35

 

Panel

 

How can policymakers and international institutions seize the opportunity to incentivize and support the transfer of agri-food technologies? [Tech Transfer as a mechanism, for cooperation, diplomacy, and development] 

Moderator: 

Francesco Rampa, Head- Sustainable Food Systems, European Centre for Development Policy Management (ECDPM) 

Panellists: 

Gladys H. Morales, Senior Officer, Global Head of Innovation Change Delivery and Innovation Unit, IFAD 

Marie Brueser, Corporate Venture Manager, European Institute of Innovation & Technology (EIT) Food 

Olalekan Akinbo, Supervisor, Centre of Excellence in Science, Technology and Innovation, AUDA-NEPAD 

Delgermaa Chuluunbaatar, Agricultural Research Officer, FAO 

Daniel Adeniyi, Policy Officer, Sustainable Food Systems, ECDPM 

17:30

 

Takeaways

 

Kevin Dowling, Knowledge and Communications Specialist for the Accelerate for Impact Platform, The Alliance of Bioversity International & CIAT / CGIAR 

17:35

 

Closing remarks

 

Amb. Stefano Gatti, Special Envoy for Food Security, Italian Ministry of Foreign Affairs and International Cooperation