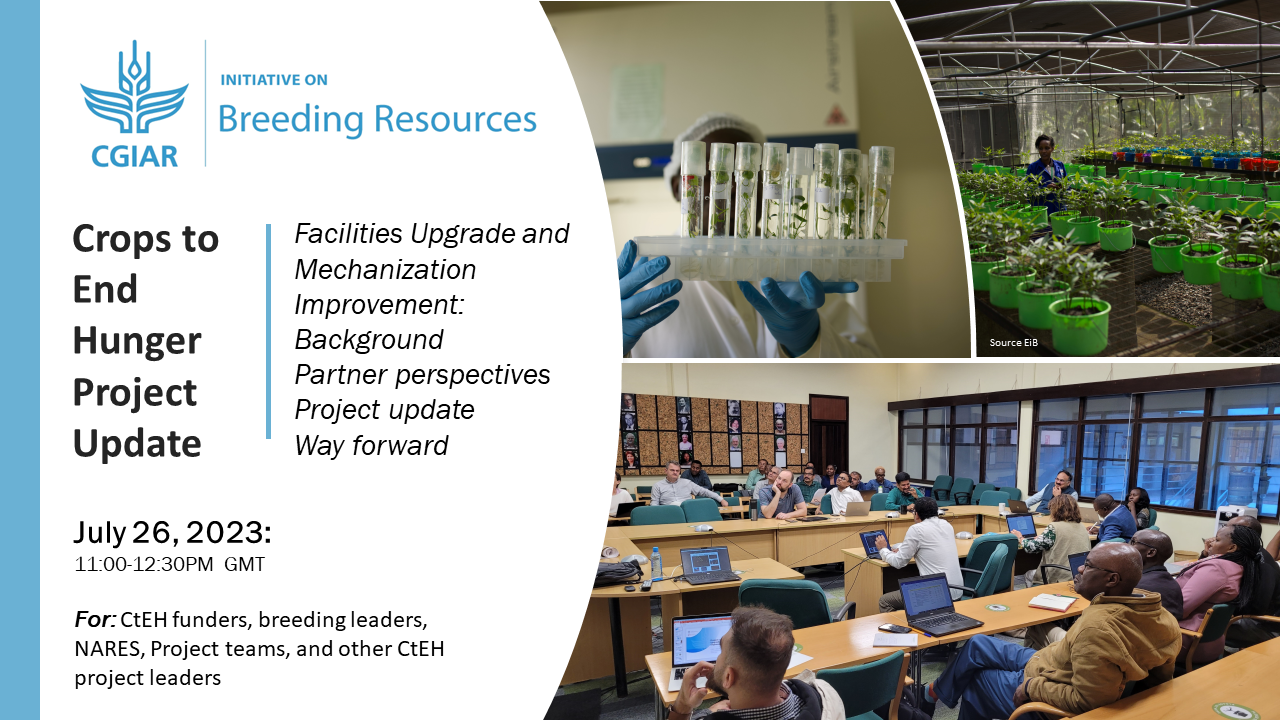 Crops to End Hunger Project Update: Facilities Upgrade and Mechanization Improvement
Date

26.07.23

Time

11:00 am > 12:30 am

UTC-11:00
Date: Tuesday, July 26, 2023
Time: 11aM UTC (5AM Mexico City, 2PM Nairobi/EAT). 90 minutes
For: CtEH funders, breeding leaders, Accelerated Breeding and Breeding Resources Initiatives, NARES, Project team and other CtEH project leaders
Crops to End Hunger (CtEH) is a CGIAR initiative to accelerate and modernise the development, delivery and wide scale use of a steady stream of new crop varieties. 
There is evidence that the rate of adoption of new CGIAR's varieties has slowed. CtEH supports the acceleration of breeding cycles and application of modern breeding methods needed for both productivity gains and climate change adaptation.
About the webinar
This webinar is the first in a series aimed at presenting the different projects of the GIZ-sponsored CtEH breeding modernization grants. Projects' teams, along with centres' representatives will provide all relevant stakeholders with an update of the status of the various CtEH's projects. Particular attention will be given to how the projects connect with the Breeding Resources Initiative.
The webinar series is inaugurated by the presentation of the CtEH's project: "Facilities Upgrade and Mechanization Improvement".
The objective of this webinar is to help participants: 
Understand the progress of this CtEH project so far;

Grasp the timeline and when equipment and infrastructure will be available at different centers/stations to better plan for use;

Identify collaboration areas where participants may support the project team.
Perspectives of beneficiaries will be heard, highlighting the relevance of the initiative. Participants will also be able to provide feedback to the project team, via a Q&A. 
Agenda
Topic
Duration
Speaker(s)

Introduction and Project Background

15 minutes

Gustavo Teixeira – Project Lead

CtEH investment impact: Partners Perspective

40 minutes

Kenya Agricultural and Livestock Research Organization (KARLO):
Godwin K. Macharia, PhD – Centre Director & Small Cereals Breeder
Food Crops Research Centre – Njoro
Crop Research Institute (CRI/CSIR):
Dr. Maxwell Darko Asante – Deputy Director
AfricaRice:
Dr. Nana Kofi Amoah – Rice Breeder
International Institute for Tropical Agriculture (IITA)
Dr. Alick Mulenga –

Head of Farm Management

Project update
20 minutes

Amer Najm, West and Central Africa – Breeding Operation Support
Vinicius da Rocha, East and South Africa – Breeding Operation SupportDie
Diego Castanon, Project Manager

Q&A
15 minutes
About Crops to End Hunger (CtEH)
In 2017-2018, a multi-Funder group, including the United States Agency for International Development (USAID), the Bill & Melinda Gates Foundation (BMGF), the UK Department for International Development (DFID), the German Federal Ministry for Economic Cooperation and Development (BMZ) and the Australian Centre for International Agricultural Research (ACIAR), agreed to launch a modernization program for public plant breeding in lower-income countries, called "Crops to End Hunger (CtEH)". The CtEH initiative will invigorate breeding for the staple crops most important to smallholder farmers and poor consumers. The initiative is made up of different projects which will be presented successively in the coming months.
With this new initiative, CGIAR will enhance its contributions to the Sustainable Development Goals towards 2030 through high-priority staple crops tailored for the specific needs of targeted regions and their populations.
This webinar is

the first in a series aimed at presenting the different projects of the CtEH initiative

. All recordings of this webinar can be watched later online.