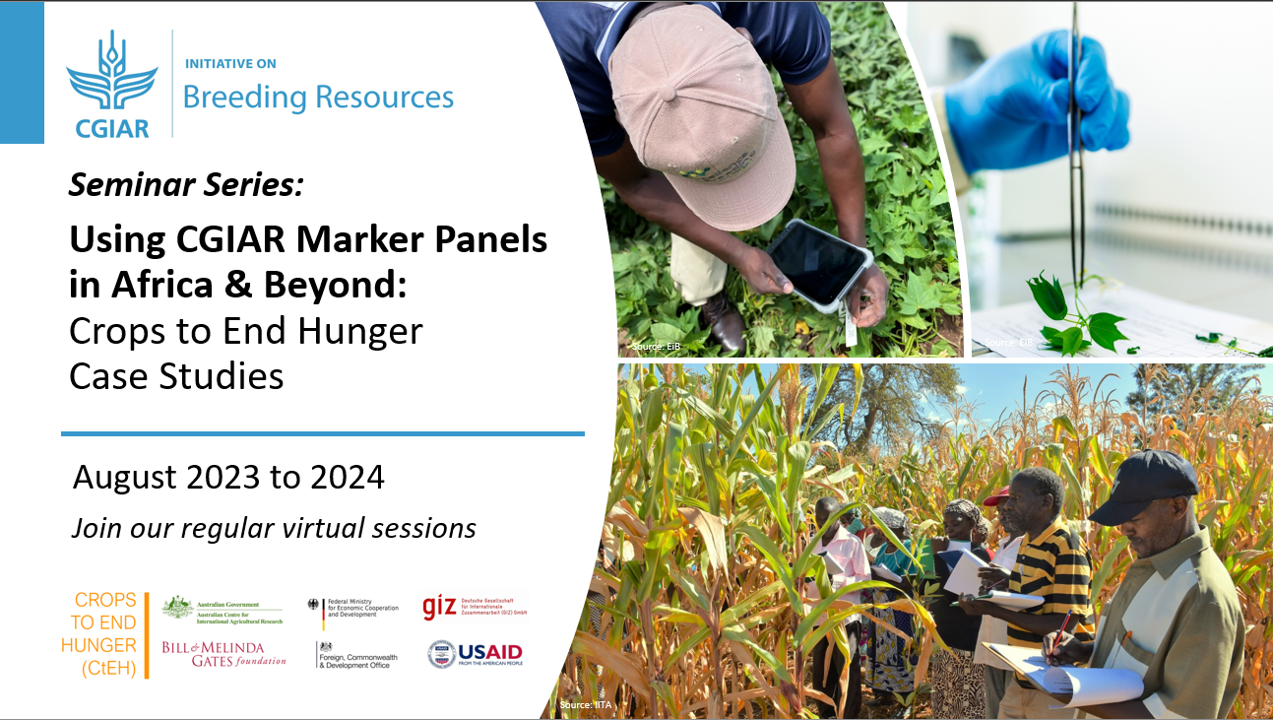 Crops to End Hunger Case Studies in Africa and Beyond: Supporting CGIAR Partners through Genotyping Services
Date

04.08.23 > 31.01.24

Time

03:00 pm > 04:00 pm

UTC+03:00

Registration

Check your inbox for an invitation, or join the Zoom link below just before scheduled sessions.
Date: August 14, 2023 to May 31, 2024
This seminar series presents an in-depth overview of Crops to End Hunger breeding modernization projects and its significant role in supporting all CGIAR partners through genotyping services from 2021 to 2023. Participants will gain a comprehensive understanding of the projects that our partners are currently working on, how the allocated funds were utilized, and future plans and possibilities.
Join us in this informative and enriching series to gain insights into the impactful projects undertaken by our CGIAR partners, understand the efficient utilization of resources, discuss lessons learned, and explore the path ahead for further advancements. Together, we can create a brighter future and make a significant difference in global agriculture and food security.
To join:

 

Check your inbox for an invitation, or join this Zoom link just before scheduled sessions:

 

Virtual Zoom Meeting Zoom
Presenter/s:

 

Various CGIAR partners, genotyping experts, leaders
Target audiences:

 

CGIAR/NARES crop breeding staff and experts and other interested parties
Date/time/duration:

 

Weekly or biweekly at 5pm (Nairobi Time). Approx 45 minutes per session
Objectives:
The webinar will help participants understand or be able to do the following:
Provide an overview of CtEH projects and how they support or impact particular crops
Understand how technologies such as genotyping are being employed in crop breeding, and supporting breeding decisions, particularly in Africa
Increase engagement within CGIAR partnerships and improve understanding on how CGIAR genotyping services can contribute
Foster collaboration and knowledge-sharing, within a platform that explores innovative strategies and best practices in achieving our common goal of ending hunger
More info: a.oliveira@cgiar.org
Schedule: (Details may change. Please check back for adjustments.)
#
Timing

 

Date
Title
Presenters & Speakers
Crop(s)
Institute
Country
0
2nd week of August

 

  10th
Overall Introduction
Eng Hwa 
 
CIMMYT 
 
1
2nd week of August
10th
Seminar 1

 

Intro: Hugo Campos 
Potato/ Sweetpotato 
CIP 
Peru 
Presentation
Using KASP markers for QC in potato and sweet potato, lessons learned and perspectives

Kante Moctar

Guilherme da Silva

Potato/ Sweetpotato
CIP/

UMG

Peru/ Brazil
2
4th week of August
24th 
Seminar 2 
Intro: Robert Asiedu 
Yam 
IITA 
Nigeria 
Harnessing the potential of highly informative KASP and middle density SNP markers panel for yam breeding

Agre Paterne
Yam
IITA
Nigeria
3
1st week of September
7th 

 

Seminar 3 
Intro: Joaquim Mutaliano
Sorghum 
IIAM
Mozambique 
Presentation

Understanding drought tolerance and validating Stay-green KASP markers in sorghum

Damaris Odeny

Sorghum

ICRISAT

Kenya
4
3rd week of September 
21st 
Seminar 4 
Intro:

Melaku Gedil

Maize 
IITA 
Nigeria 
Genetic and morphological characterization of maize landraces for heat tolerance

Charles Nelimor
Maize
CSRI
Ghana
5
1st Week of October 
5th 
Seminar 5 
Intro: Timothy Close 
Cowpea 
UC Davis 
USA 
Usage of cowpea low and mid-density panels

Patrick Ongom
Cowpea
ITTA
Nigeria
6
3rd week of October
19th 
Seminar 6 
Intro: David De Koeyer 
Potato 
AAFC 
Canada 
Accelerating Genetic Gains through Genomics-Led Breeding in Potato

Salej Sood
Potato
ICAR
India
7
1st Week of November 
2nd 

 

Seminar 7 
Intro: Claudia Teixeira 
Maize 
EMBRAPA 
Brazil 
Advances in breeding climate-resistant maize varieties for West Africa and Central Africa: a review of current tools available to plant breeders

Gloria Adu
Maize
CSRI
Ghana
8
4th week of November 
30th 
Seminar 8 
Intro: Kevin Pixley 
Maize & Wheat 
CIMMYT 
Mexico 
Integration of the CGIAR consolidated genotyping services into the CIMMYT Global Wheat Program

Susanne Dreisigacker
Wheat
CIMMYT
Mexico
9
2nd week of December 
14th 
Seminar 9 
Intro: Rodomiro Ortiz 
Musa, Potato, etc. 
SLU 
Sweden 
KASP markers for efficiency in Musa
improvement
Brigitte Uwimana

Delphine Amah

Banana/plantain
IITA
Uganda/Nigeria
Download the Schedule 2023-2024_Crops to End Hunger Case Studies in Africa and Beyond