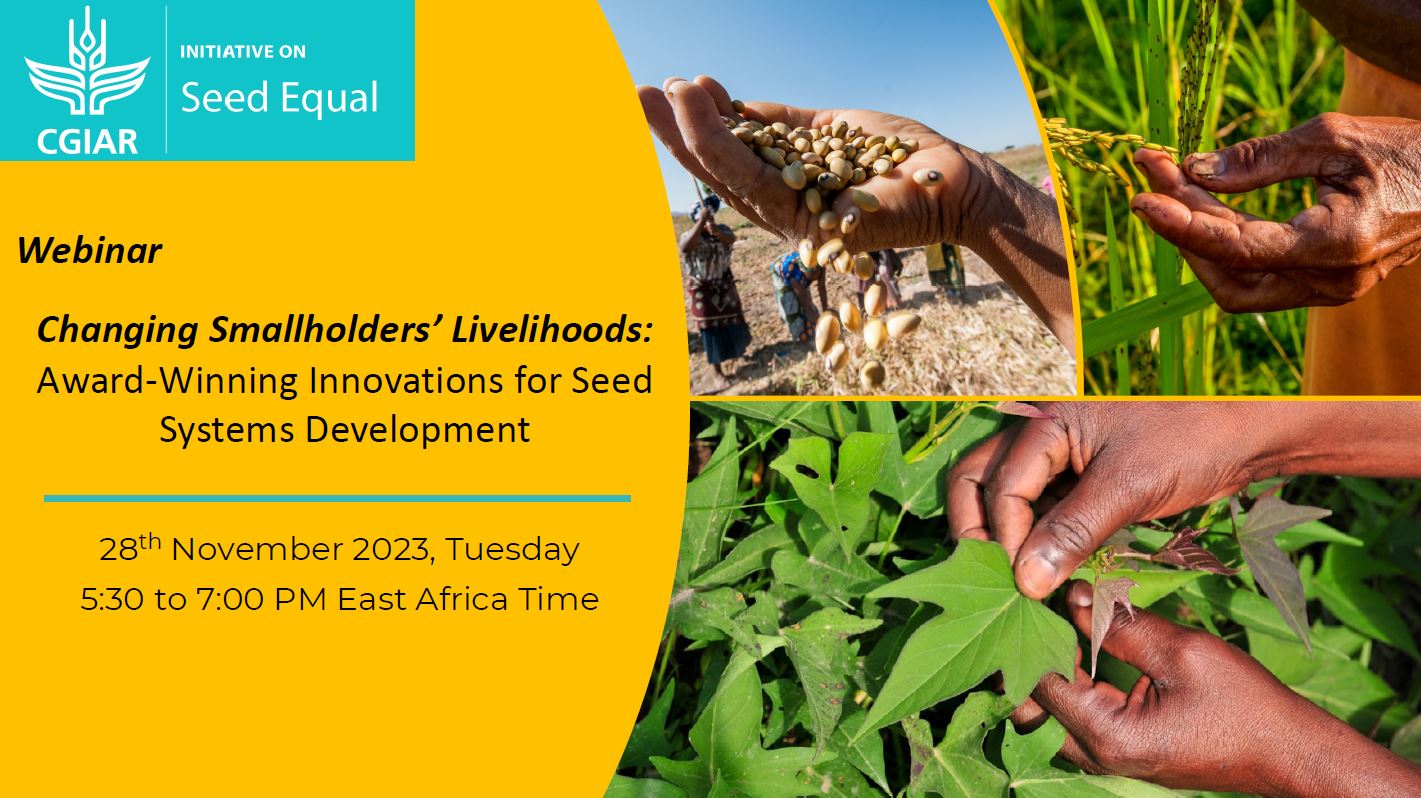 Changing Smallholders' Livelihoods: Award-Winning Innovations for Seed Systems Development
When: Tuesday, 28 November 2023: 1730-1900 East Africa Time / 1430-1600 UTC
Who: The webinar will be open to the CGIAR network and Seed Equal partners from both public and private sector, non-governmental partners, and key donors.
Event description: The CGIAR Seed Equal Initiative is starting a monthly webinar series with the first webinar on award winning innovations for seed system development to be presented by Jean Claude Rubyogo, Global Bean Program Leader and Director of the Pan Africa Bean Research Alliance (PABRA), winner of the 2023 Africa Food Prize award and Dr. Swati Nayak, recipient of the 2023 Borlaug Field Award for her work as Seed System and Product Management Lead for South Asia at the International Rice Research Institute.
Objectives: The webinar will help participants:
Engage seed systems stakeholders in the value chain and provide key updates on seed system innovations developed through the Initiative
Share latest research findings on seed system development in line with the invited participants topic of interest
Develop new collaboration opportunities and maintain strong connection with seed systems stakeholders.
Agenda:
Introduction: Ajay Panchbhai, International Rice Research Institute (IRRI)
Welcoming Remarks: David Spielman, CGIAR/International Food Policy Research Institute (IFPRI)
Impactful Bean Seed System Models: Experiences from the Pan-Africa Bean Research Alliance: Jean Claude Rubyogo, Alliance of Bioversity International and CIAT
Linking Market and Society –A case of inclusive & targeted seed scaling and access for smallholders: Swati Nayak, IRRI
Moderated Panel Discussion with Q&A: Ajay Panchbhai, IRRI
Summary and Concluding Remarks: Ian Barker, CGIAR
To join: Click to join a few minutes before the event begins: https://us02web.zoom.us/j/88495522798
In case you are requested, passcode is: 918559