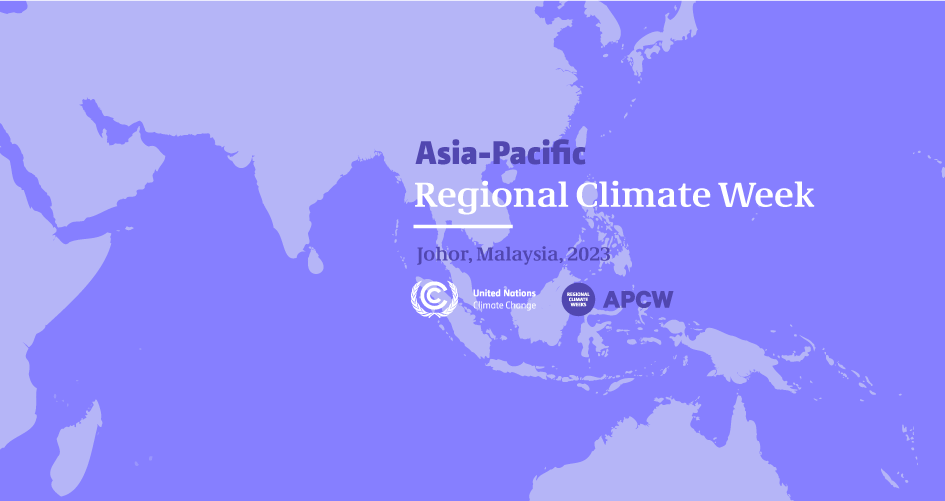 Asia-Pacific Climate Week 2023
Discussing climate solutions for the Asia-Pacific region ahead of COP28
Date

13.11.23 > 17.11.23

Time

09:00 am > 06:00 pm

UTC+08:00

Location

Johor Bahru, Malaysia

Registration
The government of Malaysia will host the Asia-Pacific Climate Week 2023 in the city of Johor Bahru from 13-17 November, 2023.
The Asia-Pacific Climate Week 2023 provides a platform for the continent's policymakers, practitioners, businesses and civil society to come together in advance of COP28 and discuss climate solutions, barriers to implementation, and regional opportunities.
The event is one of four Regional Climate Weeks that will be held this year to build momentum ahead of the UN Climate Change Conference COP28 in Dubai and the conclusion to the first global stocktake, designed to chart the way towards fulfilling the Paris Agreement's key goals.
The Weeks consider four major systems-based tracks with a view to providing region-focused contributions to inform the global stocktake, inlcuding energy systems and industry; cities, urban and rural settlements, infrastructure and transport; land, ocean, food and water; societies, health, livelihoods, and economies.
CGIAR's Involvement in the Asia-Pacific Climate Week 2023
Details on CGIAR participation will be added as more information becomes available.