Digital disruption is changing all industries, and agriculture is no exception. This is due in part to a common business model: the digital platform. A platform is a multi-sided, technology-enabled network that facilitates the interaction of stakeholders. The CGIAR Platform for Big Data in Agriculture (BIG DATA) is both a cross-cutting program to better integrate CGIAR and a digital platform strategy for transforming our global organization through its three modules: Organize, Convene and Inspire. 
Organize 
The Organize module builds fundamental technologies and data standards to support CGIAR's digital strategy. In 2019, the module's data discovery and analysis flagship data harvesting tool – the Global Agricultural Research Data and Innovation Network (GARDIAN) – pointed to more than 155,000 publications and 23,000 datasets from several partners alongside all CGIAR Centers. Organize contributed to leveraging semantic standards for describing agronomic, socioeconomic and survey data; updating the CGIAR metadata standard; and enabling digital collection of standards-compliant agronomy data. A secure analytic environment for researchers to find data and collaborate on analyses was created in the GARDIAN ecosystem, integrating single sign-on (SSO) technology with Globus, a secure data-sharing service. The new Expert Finder showcases CGIAR research, fosters new collaborations, and creates visualizations of institutional partnerships and expertise by location. Building community and tools around data discovery and standards realizes a key component of a digital platform strategy for CGIAR.
Convene
Digital platforms are multi-sided and driven by communities. In 2019, the Convene module made significant strides in developing CGIAR's digital partner networks. Six Communities of Practice (CoPs) dramatically increased their communications output, growing to 3,500 CGIAR and non-CGIAR members. The CoPs released important community-driven outputs including an early warning system for wheat blast; draft ground data standards to facilitate machine learning analysis of satellite data; and a survey of CGIAR digital extension efforts. Convene culminated in the annual BIG DATA Convention, where 700 public, private, and non-profit actors assembled to examine digital models relevant for global collective action, and the CoPs organized technical meetings on livestock data, geospatial analysis, data-driven agronomy, socioeconomic data, crop modeling, and ontologies. During the event, the Platform showcased a reference Internet of Things architecture for agronomy and breeding, groundbreaking gender research methods that leverage telecom data, and technology standards for managing sensitive data.
Inspire
The Platform provided four start-up grants to data-driven partnerships under its Inspire Challenge innovation initiative, and four scale-up grants to winning projects from 2018 and 2017, awarding USD 1.025 million. Its growing portfolio, totaling 14 projects in 2019, demonstrated impressive early-stage results. For example, one advisory service, which uses crowd-sourced smartphone images, reached 33,000 Indian wheat farmers, and increased crop insurance efficacy and knowledge on agricultural practices by 78%. A project tracing informal food flows by leveraging free Wi-Fi collected data from more than four million smartphones and was adopted at a national scale in Vietnam. A near real-time small-scale fisheries monitoring system is being scaled to seven countries in Africa and Asia. The Inspire Challenge, attracting interest from funders and partners, generated USD 200,000 in external commitments in 2019.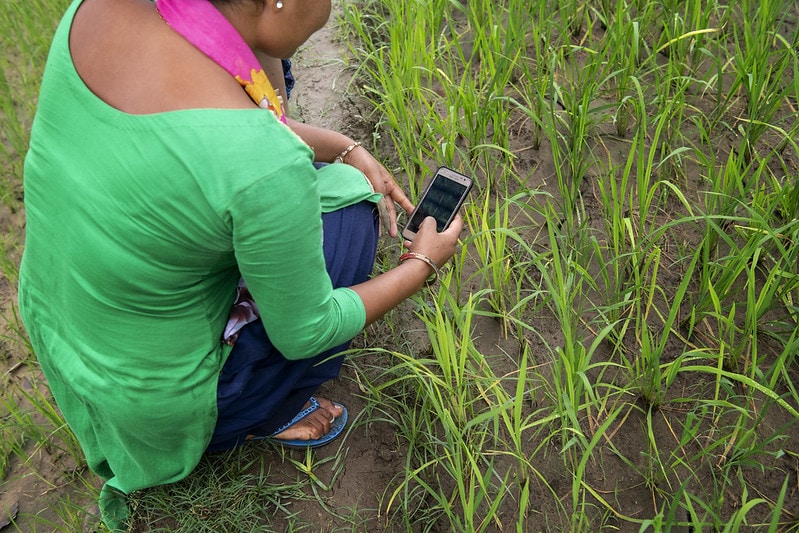 Cross-cutting digital inclusion
Gender 
Since 2018, the Platform has made effective progress in including a gender dimension in the Inspire innovation challenge using a rubric and scoring matrix to explicitly assess whether and how proposals deal with gender issues. These efforts manifested in 2019 with 80% of Inspire Challenge participants including a gender component, up from 70% in 2018.
While gender review has been effective in detecting and averting potential biases in digital innovation projects supported by this module, through collaborative research with the Gender Platform further opportunities to build upon and use the Challenge process as a source of insight and positive action for mainstreaming gender equality have been identified. In 2019, the team decided to modify the digital innovation challenge process to include key points related to gender mainstreaming. Specifically, these included requesting a gender balance of proposal teams and detailing a gender equality mainstreaming hypothesis for proposed projects. It is anticipated that this will result in positive action for mainstreaming gender equality and will highlight the role of digital innovation in achieving gender parity in the agricultural research space.
Youth 
In 2019, GARDIAN provided access to approximately 2,500 publications and 380 datasets addressing youth. Of these 380 datasets, most were from the World Bank's Living Standards Measurements Survey (LSMS); however, there were 40 datasets from CGIAR Centers with a youth component, up from just three in 2018.
The Platform built upon its Youth in Data initiative, which was created in 2018 to engage with young digital innovators in a digital agriculture workshop during that year's Convention in Nairobi. This model proved very successful and was expanded in 2019 with the launch of the Youth in Data Connect platform. More than 80 applications were received for the 2019 workshop, in which 30 youth were enrolled to learn about the basics of big data-applied digital agriculture and how to report on it using digital media tools. The 2019 Youth in Data group consisted of students from engineering and journalism universities local to Hyderabad, as well as doctoral scholars from the International Crops Research Institute for the Semi-Arid Tropics (ICRISAT) campus. These young digital innovators interacted with and interviewed experts and participants at the Convention and were key in the platform's success in reaching a combined potential audience of 20 million across its social media platforms and through global media coverage during the event.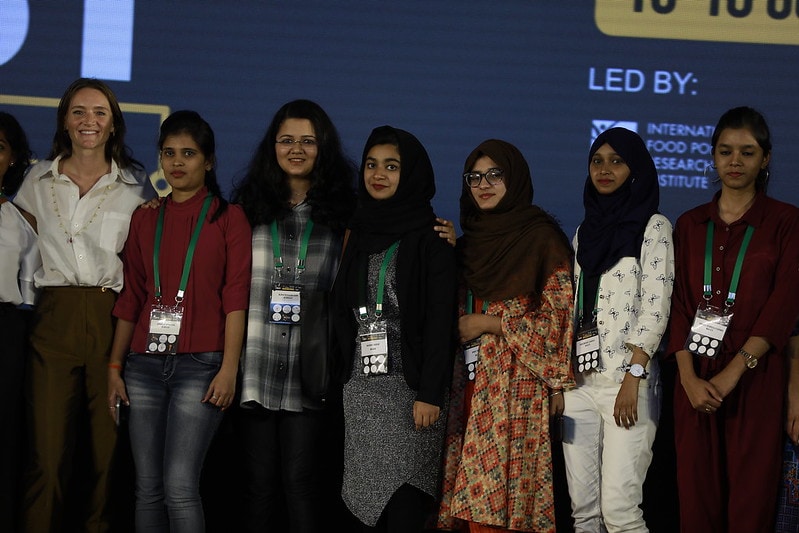 Header photo: Pratima Baral, researcher at the International Maize and Wheat Improvement Center (CIMMYT), demonstrates the use of a farming app to Nepali farmers. Photo by C. de Bode/CGIAR.