Between 2017 and 2019, the CGIAR Collaborative Platform for Gender Research was built on the System-wide gender network established in 2011. This collaborative gender platform was based at the CGIAR Research Program on Policies, Institutions and Markets (PIM), and served all CRPs and Centers. This collaborative gender platform was based at the CGIAR Research Program on Policies, Institutions and Markets (PIM), and served all CRPs and Centers. During 2019, it coordinated work on gender dynamics in seed systems, feminization of agriculture, gender transformative approaches (GTAs), and a synthesis of CGIAR gender research in agriculture; fostered several gender communities of practice; and co-organized the Seeds of Change Conference in Canberra, Australia, where nearly 60 CGIAR scientists drove the global agricultural research for development agenda forward.
Research on GTAs was a key focus for the platform and CRPs in 2019. The platform published a discussion paper on GTAs in agriculture to support a European Commission project that aims to embed GTAs in policy dialogue, programs and working modalities of the Food and Agriculture Organization of the United Nations (FAO) the International Fund for Agricultural Development (IFAD), and the World Food Programme (WFP).
Further work in 2019 on GTAs across CRPs included the CGIAR Research Program on Water, Land and Ecosystems (WLE) supporting official and non-governmental stakeholders in Myanmar to address socially inclusive and transformative approaches that can reduce exclusions in wetlands management. WLE integrated capacity strengthening and policy outreach on GTAs into its collaboration with the Government of India and other partners to scale out an inclusive watershed restoration program in Bundelkhand. The CGIAR Research Program on Maize (MAIZE) published a collection of articles on GTAs for enhancing the adoption of improved maize seed in Africa. Gender researchers at the CGIAR Research Program on Fish Agri-food Systems (FISH) provided expert resources on GTAs to a diverse set of partners, including the United States Agency for International Development Oceans and Fisheries Partnership (USAID Oceans), the Coral Triangle Initiative and Helen Keller International. FISH also cooperated with Catholic Relief Services, West Africa Region to integrate GTAs into microcredit programs.
On women's empowerment, in 2019 the CGIAR Research Program on Agriculture for Nutrition and Health (A4NH) entered the second phase of the Gender, Agriculture, and Assets Project (GAAP2). GAAP2 is developing a project-level Women's Empowerment in Agriculture Index (pro-WEAI), with integrated quantitative and qualitative work, to measure women's empowerment and inclusion in agricultural development projects. Following the launch of the pilot version of pro-WEAI in 2018, two papers on pro-WEAI development and validation were published in World Development in 2019. Since the original WEAI was launched in 2012, A4NH and PIM researchers have developed a suite of WEAI tools with external partners, and more than 106 organizations in more than 56 countries have fielded and adapted versions of the index. 
While research on gender is an important component of CGIAR work, the recognition and presence of intersectionality in social inclusion research and activities was evident across CRPs in 2019, with research conducted on women, youth and marginalized people, and the intersection of multiple factors considered.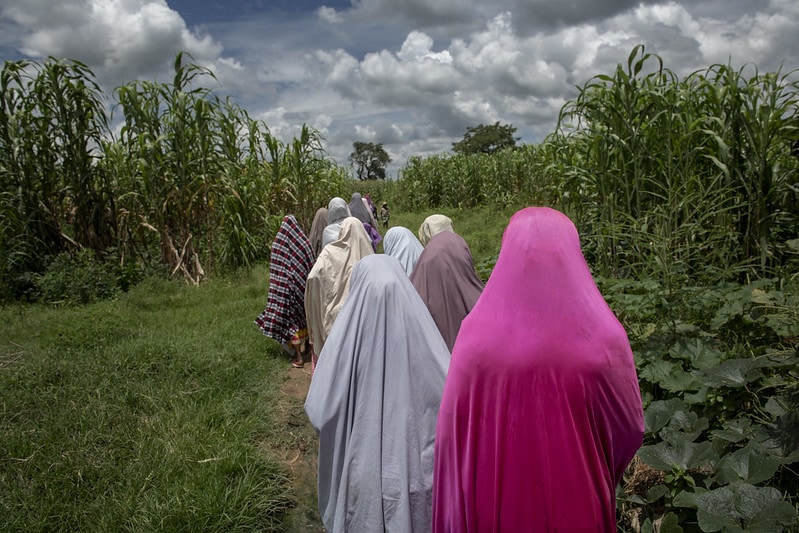 Youth research in 2019
Youth employment was a prominent focus in 2019. At the CGIAR Research Program on Rice (RICE), to promote youth employment in the rice value chain within the PEJERIZ project, 103 youth business plans were developed (52 business plans for Senegal and 51 for Mali, with women comprising 38% and men 62%).
The CGIAR Research Program on Roots, Tubers and Bananas (RTB) published a comprehensive review to identify and map the outcomes of interventions related to youth engagement in agribusiness. Results showed that interventions implemented by governments and development partners across Africa produce more favorable outcomes when they integrate capacity development, financial support for startups, and continuous mentorship.
PIM and the CGIAR Research Program on Livestock (LIVESTOCK) supported participatory rangeland management approaches in Ethiopia and Tanzania which provided mechanisms for inclusion in land-use planning of pastoralists, who often belong to marginalized ethnic groups. An analysis of India's National Rural Employment Guarantee Scheme found that the benefits of the program are most pronounced for scheduled castes/scheduled tribes, especially households with family members with disabilities.
In 2019, data on youth increased significantly. The number of datasets held by the Global Agricultural Research Data Innovation & Acceleration Network (GARDIAN) increased tenfold from the previous year. In addition, the Big Data Platform released a new tool in 2019 for harmonizing well-annotated socioeconomic research surveys, called 100Q, which includes key youth-related indicators.
As an example of primary dataset production, in 2019 the CGIAR Research Program on Grain Legumes and Dryland Cereals (GLDC) produced datasets on youth realities, aspirations, transitions and opportunity structures in Uganda, Ethiopia and Tanzania and on youth engagement in seed systems in Mali and northern Nigeria.
Header photo: Farmer carrying fodder for her cattle, in Muzaffarpur, Bihar, India. Photo by Metro Media/IWMI.