CGIAR Research Program
CGIAR Research Program on Livestock (LIVESTOCK)
Partners
International Center for Agricultural Research in the Dry Areas (ICARDA)
International Livestock Research Institute (ILRI)
Geographic scope
Ethiopia
Contact person
Barbara Wieland, ILRI
Community conversations, developed by CGIAR Research Program on Livestock (LIVESTOCK) partners — the International Center for Agricultural Research in the Dry Areas (ICARDA) and the International Livestock Research Institute (ILRI) — have provoked behavioral change in gender norms at household and community levels among 1,600 farmers in Ethiopia. 
Gender inequalities and zoonotic diseases (those transmitted between animals and people) are problems in smallholder livestock production systems, particularly in low– and middle-income countries where these systems predominate. The world's billion-plus poor small-scale livestock keepers are at high risk of contracting zoonotic diseases such as anthrax, bovine tuberculosis and brucellosis, due to direct and daily close contact with their food-producing animals. 
Risky practices include home slaughter, poor sanitation, handling sick animals, attending livestock births, handling milk and meat and preparing dishes from these foods, and consuming such foods in raw or undercooked forms. In developing countries in particular, gender differences in roles, access to resources, and power influence whether, and how, the risks of zoonotic disease transmission are managed.

Gender differences influence how the risks of zoonotic disease transmission are managed.
Using participatory action research, LIVESTOCK researchers at ICARDA and ILRI tested the effectiveness of community conversations to help shift gender relations and practices that expose livestock keepers to different zoonotic risks in three districts in rural Ethiopia. A total of 583 women and 1,005 men in the districts of Doyogena, Menz and Borana participated in these community conversations. Held between 2018 and 2019, the livestock-related knowledge and practices of participants were recorded before and after these facilitated community conversations were held. The participating farmers offered their perspectives on, and solutions to, common livestock-related issues — perspectives that often differed along gender lines. Any commitments made by household members to change their practices were recorded and then monitored by the scientists.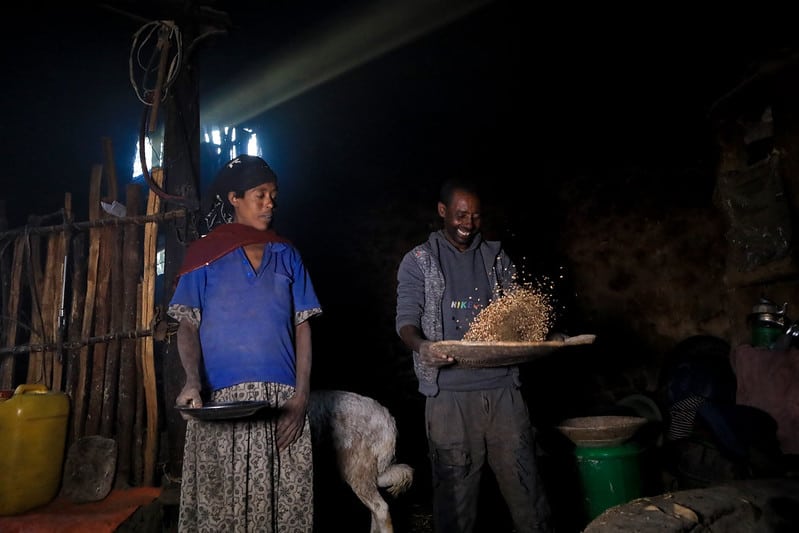 Researchers found significant attitude and behavioral changes throughout the CC process, including more equitable sharing of responsibilities in the homestead.
Findings from an evaluation study in Doyogena and Menz indicated that these community conversations were an effective way to begin shifting mindsets and practices regarding gender norms and livestock disease control. For example, the conversations led to households adopting some safer approaches to handling sick animals and to preparing and consuming milk and meat products. 
Researchers found significant attitude and behavioral changes, particularly regarding gender norms, throughout the community conversations. The new household attitudes and behaviors included adopting safer ways to handle sick animals, improving women's access to agricultural extension information; more gender-equitable sharing of livestock and other responsibilities in the homestead; more women becoming involved in non-traditional income-generating activities; increased community awareness of the risks of certain livestock practices leading to a rise in antimicrobial resistance in disease pathogens; and a better understanding of responsible antimicrobial use among local animal health service providers.
These observed changes occurred through a social learning and reflective process in which community members first recognized and analyzed a particular livestock-disease-related problem, then reflected collectively on their perceptions and how those perceptions inform their day-to-day practices. They then made shifts in their mental modes, and finally committed themselves to remedial action to solve the problems raised in the conversations.   
The level of engagement by the communities in these community conversations and the ensuing changes in community attitudes and behaviors have attracted the interest of livestock extension agents, veterinarians and other livestock service providers who are keen to embed such conversations in their national extension systems. ICARDA and ILRI researchers have since developed a training-of-trainer module to facilitate uptake and expansion of these facilitated conversations. This training-of-trainer module has been tested and is now embedded in a four-year European Union-funded development program called HEARD (Health of Ethiopian Animals for Rural Development), which was launched in 2019 to strengthen veterinary services, improve food safety and control zoonotic diseases in Ethiopia. Future LIVESTOCK activities include adding more topics in the community conversations and fully integrating the approach across Ethiopia's agricultural extension system. 
Header Photo: A woman asks a question during a community conversation. Photo by M. Ferrari/ILRI