The right time for the right place
From
Published on

30.09.22

Impact Area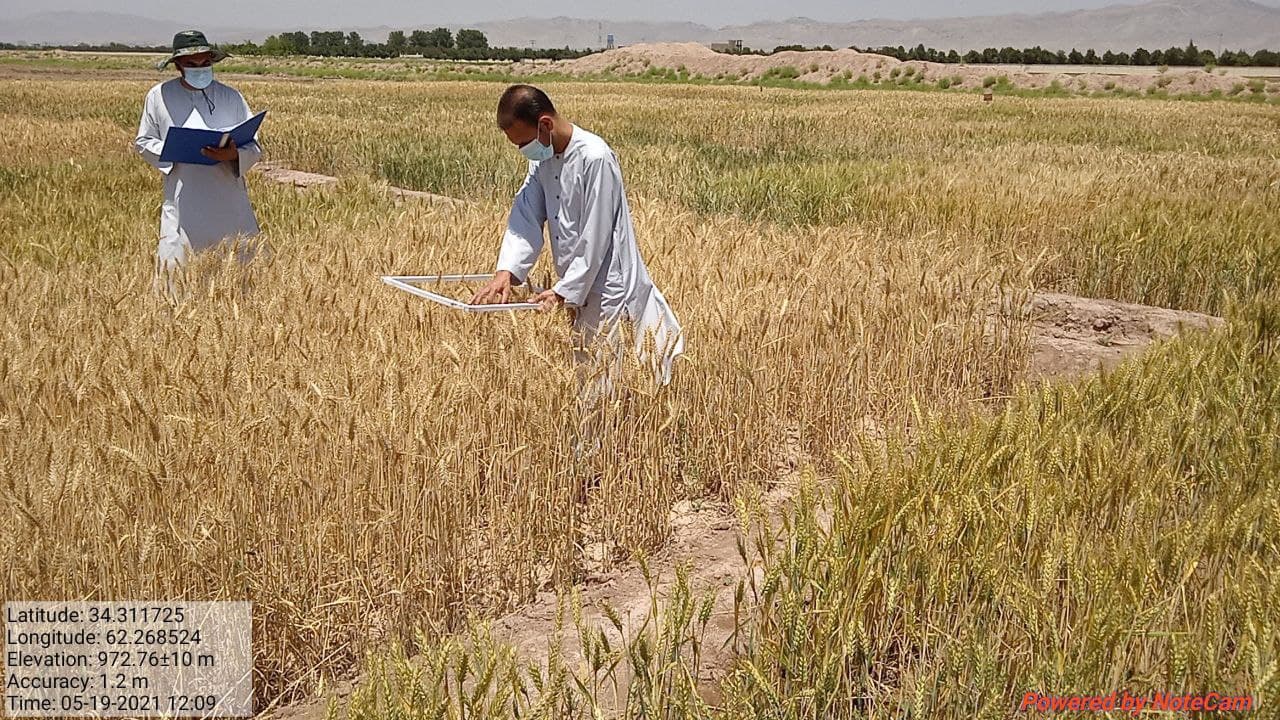 Wheat is a strategically important crop for Afghanistan because as a major source of nutrition — accounting for up to 60% of a family's daily caloric intake — it is linked directly to national food security. However, despite occupying over 2.5 million hectares of arable land across the country, Afghanistan does not currently produce enough wheat to meet the needs of a growing population. On average, annual production is estimated at around 5 million metric tons — 2 million metric tons less than needed — and as a result Afghanistan makes up this significant shortfall by importing wheat flour from neighboring countries where wheat productivity is significantly higher.
There is tremendous potential to increase national wheat productivity by introducing improved agronomic practices and making use of suitable farming technologies. However, given Afghanistan's vast agro-ecological diversity, it is essential that best practices are recommended based on local conditions, as these vary greatly across the country.
Take seeding, for instance. Sowing wheat seed at the optimum time has been shown to help maximize yields and significant research has been undertaken to determine the optimal sowing dates for winter and spring wheat in different areas. These times are governed not only by environmental requirements and growing cycles, but also by the need to avoid certain diseases and insect pests, which may be more prevalent at specific times of year.
But these can vary widely even within a season. For example, research shows that the best time to sow irrigated winter wheat in Afghanistan's hot and arid western provinces is from the second week of October up until the end of the month. However, the optimum window falls one month later in the more mountainous and forested provinces of the East, and even later for rain-fed wheat.
The same distinctions apply to seeding and fertilizer application rates, which can vary subtly between similar regions. Consider that the optimum seed rate for irrigated wheat sown using the broadcast method is the same in both the Northern and Central zones, 25-30 kilograms per jerib (approx. half an acre). One might expect the optimum rates for row cultivation to match, but in fact they differ by two kilograms. This might not seem like much, but given how significantly seed density and spacing influence crop yield and quality, these figures are vital knowledge for farmers looking to maximize their yield potential.
To help disseminate these research-based recommendations to farmers and local agricultural extension staff, researchers at the International Maize and Wheat Improvement Center (CIMMYT) have partnered with Afghanistan's Ministry of Agriculture, Irrigation and Livestock, Michigan State University's Global Center for Food Systems Innovation and the USAID to compile four new booklets featuring zone-specific advice for irrigated and rain-fed systems in each of Afghanistan's main agro-ecological zones.
Covering between four and ten provinces each, these guides include localized recommendations for the best sowing dates, nutrient management, weed management, and best practices in irrigation, arming wheat farmers with the key information they need to effectively increase production in their area and support the country's wider food security needs.
More information is available in the booklets below:
Zone-Specific Recommendations for: Northern Region
Zone-Specific Recommendations for: Central Region
Zone-Specific Recommendations for: Eastern Region
Zone-Specific Recommendations for: Western Region
Cover photo: The optimal time for wheat sowing in Afghanistan varies by region according to the country's vast agro-ecological diversity. CIMMYT recommends a localized approach. (Photo: Rajiv Sharma/CIMMYT)