Innovation Packages: CGIAR's Transformative Strategy for Scaling Agricultural Solutions
From
Published on

25.04.23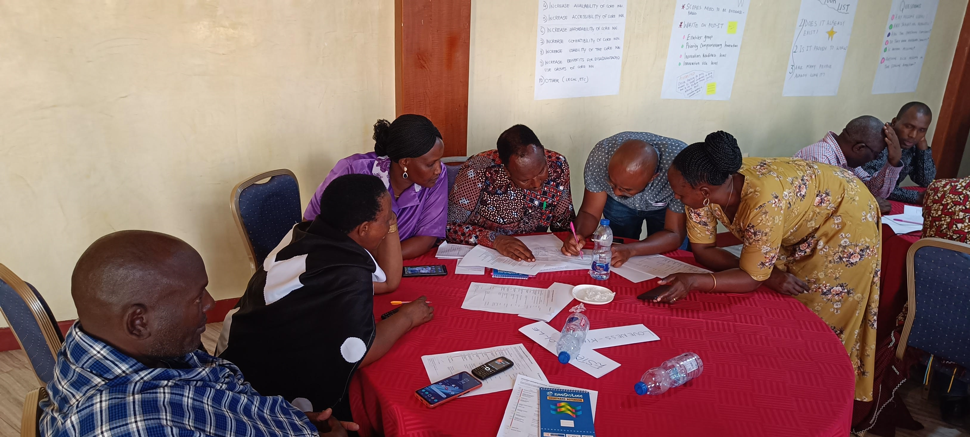 By Edwin Kangethe, Marc Schut and Iddo Dror (ChatGPT was used to edit the contents of this blog. The final blog was carefully reviewed by the authors).
With a rapidly growing global population and increasing pressure on agricultural systems, scaling impactful innovations is crucial for addressing food security and sustainable development. CGIAR has developed Innovation Packages and Scaling Readiness (IPSR), an approach to ensure that promising agricultural solutions reach their full potential. This agile and human-centered approach is transforming the way agricultural innovations are scaled, fostering excitement and enthusiasm among stakeholders and researchers alike.
IPSR builds on the Scaling Readiness approach, a collaboration between CGIAR and Wageningen University. Rooted in agricultural innovation systems, network, and management theory, this approach which builds on NASA's Technology Readiness Level provides step-by-step guidance for innovation teams and research and development organizations to improve their innovation and scaling performance. It focuses on four main objectives: 
Keeping an overview and tracking CGIAR innovations in an evidence-based way;

Promoting collaboration in agricultural innovations through Innovation Packages;

Developing fit-for-purpose strategies to tackle bottlenecks and achieve impact at scale;

Enabling innovation portfolio management across all levels of CGIAR.
IPSR's success lies in its emphasis on context-specific innovation packages, which combine the core innovation with the necessary enabling conditions for scaling. These packages address factors such as access to information, finance, and markets, as well as capacity and policy support. By identifying these critical enablers, CGIAR and its partners can develop, implement, and monitor targeted scaling strategies.
Innovation Package = Innovation + Enablers
The first stage of the IPSR process involves mapping all innovations under development. CGIAR has been working on a new portfolio of initiatives for the 2022-2024 cycle since 2022. The IPSR approach was also initiated in the same year and currently, 477 Innovations have been reported in the CGIAR Results Dashboard. These innovations range from technologies to policies, tools, and capacity development innovations. Once innovations reach a certain level of readiness (Innovation Readiness Levels infographics), they are packaged with the necessary enablers for scaling.
The IPSR Journey: Gaining Valuable Insights from Three Pilot Workshops
IPSR workshops play a crucial role in identifying scaling challenges and solutions, and in developing the Innovation Package. These workshops actively engage stakeholders such as farmers, government, public, and private partners. In 2022, the IPSR team conducted three workshops to pilot and finetune the approach with CGIAR Initiatives in Tanzania, Kenya and Zambia.  Based on this experience, the IPSR team engaged learning and facilitation experts to develop detailed materials for both Training of Trainers and IPSR workshops, and a first cohort of 50 IPSR workshop facilitators will be trained in May 2023 to serve a broader range of initiatives and projects. Given high demand from CGIAR Initiatives and partners, further training events are being planned for later in 2023.
The IPSR workshops have successfully delivered context-specific innovation packages for different types of innovations, providing a starting point for developing scaling strategies with partners and for monitoring progress along the innovation and scaling pathway at the portfolio level. Some key learnings and insights from the pilot workshops include the importance of having the right people in the room, using clear and concise language, taking a step-by-step approach, having well designed learning aids and maintaining a focus on the current (real) innovation readiness and use while considering aspirations and resources.
How does IPSR empower Initiatives and innovation teams?
You're probably thinking… "all very nice, but why should I start doing or promoting this in my Initiative or project…?" Valid question, the IPSR approach offers several benefits to initiatives and innovation teams:
1. Clarity on innovation and scaling ambition
Most projects want their innovations to achieve impact at scale, but many have not systematically examined "what is it that we are trying to scale?" and "what do we define as successful scaling?" IPSR supports teams in answering those questions.
2. Starting point for evidence-based scaling strategy co-creation and implementation
The IPSR workshop identifies key bottlenecks and opportunities for achieving a scaling ambition that allows CGIAR and partners to develop solutions and interventions to overcome those bottlenecks. This is a great opportunity for leveraging partnerships and investments to reach a shared goal or ambition.
3. Innovation Use reporting and monitoring improvements
The information generated in an IPSR workshop matches 1:1 with the information required to report "Innovation Use" in the CGIAR Performance and Results Management System (PRMS). As this data will be updated regularly, this allows innovation teams to track innovation and scaling progress along an impact pathway, and to leverage the rich data contained in the PRMS. 
4. Metrics that can be aggregated to support innovation portfolio management
IPSR generates evidence-based metrics on (changes in) current and aspired scaling readiness, scalability potential and actual use of the innovation (e.g., number of farmers reached, nutritional and NRM outcomes, etc.) that can inform strategic decision-making at the project or Initiative level. These can also be used also for strategic communication about the project of the Initiative, and to identify partnerships that can enhance scaling potential.
What's next?
With the IPSR process developed and validated with early adopters, and detailed training materials prepared, the IPSR team will now focus on enabling dozens of CGIAR colleagues and partners to be familiar with the approach and methodology, to enable hundreds of innovation packages to be reported in the PRMS in 2023 and be available publicly via the CGIAR dashboard.
The agile and human-centered approach of the IPSR is already generating excitement and enthusiasm among stakeholders and researchers in the CGIAR community. As more workshops are conducted and the process is mainstreamed across CGIAR, the potential for scaling impactful agricultural innovations will only continue to grow, contributing significantly to global food security and sustainable development.
More information
For more information on IPSR, feel free to contact Marc Schut (m.schut@cgiar.org) or Iddo Dror (i.dror@cgiar.org).
Header photo: Experts discuss key bottlenecks for scaling 'Participatory land use planning in pastoral areas in Tanzania' under the CGIAR Research Initiative on Livestock and Climate in Tanzania in October 2022. Photo by N. Buono/CGIAR.