Evaluation and Planning Workshop on Transforming Agrifood Systems in South Asia (TAFSSA)
From
Published on

19.07.23

Impact Area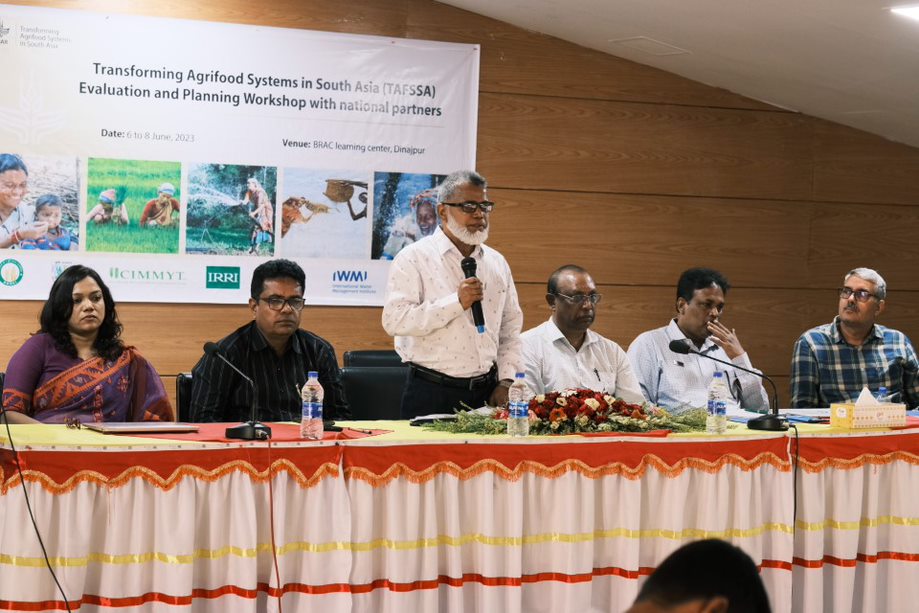 The Transforming Agri-Food Systems in South Asia (TAFSSA) Initiative held its Evaluation and Planning Workshop in Dinajpur, Bangladesh, from June 6 to 8, 2023. The purpose of this interactive workshop was to bring together people from diverse sectors to assess the progress and challenges and adjust future implementation of the Initiative's activities, which aim to improve South Asian agri-food systems to promote sustainable and nutritious foods for all. All three government partners participated in the three-day event: the Bangladesh Institute of Research and Training on Applied Nutrition (BIRTAN), Bangladesh Agricultural Research Institute – On-Farm Research Division (BARI-OFRD), and the Bangladesh Wheat and Maize Research Institute (BWMRI).
The primary goal of the first day was to visit the locations of TAFSSA's experiments and to interact with the farmers hosting the trials while they were taking place. Participants were divided into groups and visited several on-farm sites, viewing the trials and engaging in meaningful discussions with the farmers. These visits provided useful firsthand insights on the problems farmers confront while attempting to diversify their crops and improve their livelihoods. For example, visiting the research platform trial hosted by the BWMRI at its research station in Dinajpur allowed the participants to compare results from a broader set of diversified cropping patterns.
"More crops mean more money," said Mohammad Ali, one of the farmers. "I am delighted to produce a variety of crops and witness the increase in my earnings. By cultivating four crops in a single year, I have experienced firsthand the positive impact on my income. Crop diversification has opened doors to new opportunities and has brought greater satisfaction to my farming endeavors."
During the second day of the workshop, presentations were held to provide an overview of results from the activities TAFSSA implemented during the first seasons of the Initiative, including research platform trials, training sessions on nutrition, and on-farm activities carried out across the divisions of Rangpur and Rajshahi. These presentations emphasized TAFSSA's progress, obstacles, and preliminary results and were followed by a question-and-answer session to discuss the outcomes and efforts. This interactive workshop promoted information exchange and sparked more debate. Participants underlined the significance of market links between farmers and consumers, emphasizing the need to develop sustainable and lucrative value chains.
Future adjustments and improvements were discussed, which encouraged collaboration and problem-solving as a group. The method was inclusive and participative, ensuring that all opinions were heard and considered. The day ended with a dinner, during which participants were free to network and discuss ideas further with one another.
The third and final day began with a discussion on TAFSSA's beneficiaries, particularly those involved in altering agri-food systems in South Asia to promote sustainable and healthy diets for all in the region. Participants looked at the gender aspect of the Initiative and whether it was effectively reaching all of its target beneficiaries, including men, women, and other marginalized groups.
The workshop provided a forum for participants to share their experiences, address issues and collaborate together to reform South Asian agri-food systems. The evaluation and planning exercises aimed to create equal access to nutritious diets, boost livelihoods and resilience among farmers, and safeguard land, air and groundwater resources.
"It's crucial to acknowledge the lack of technical knowledge among farmers," said Dr. Mazharul Anwar, from the BARI. "Providing targeted training programs for specific crops like tomato, carrot, sorghum, and others can help bridge this knowledge gap and enhance farmers' capabilities in achieving better yields and sustainable practices."
Through its work in South Asia, TAFSSA can contribute to change in the region and continue its objective to develop more sustainable and equitable agri-food systems by obtaining useful information from field trials, interactive visits with farmers, presentations, and conversations. To that end, the workshop has set the stage for the Initiative to achieve its goals thanks to the collaborative efforts and collective passion of all the participants.