CGIAR meets the UAE to support COP28 goals
From
Published on

18.07.23

Impact Area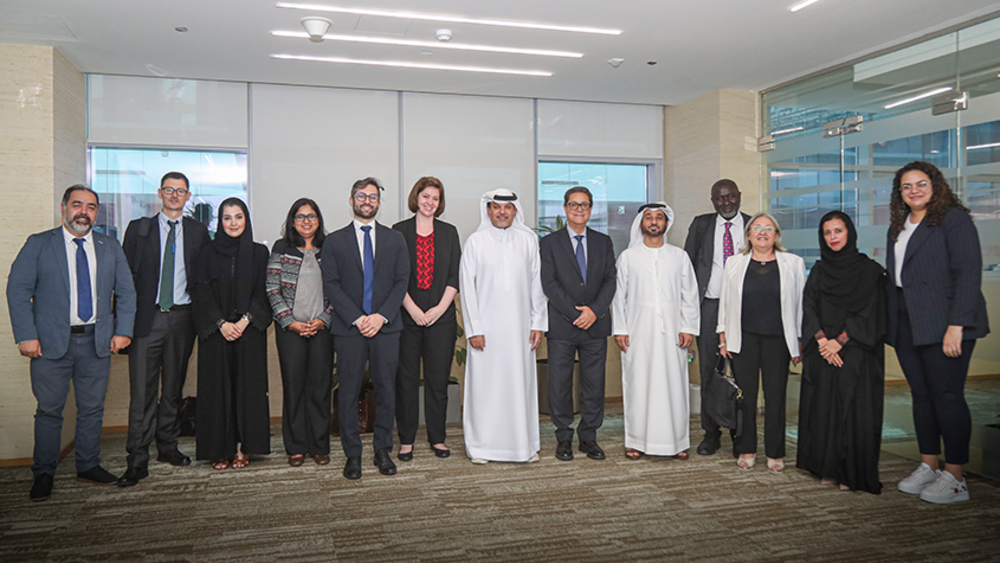 A recent mission to the United Arab Emirates (UAE) by a delegation from CGIAR led by Mr. Aly Abousabaa, Director General of ICARDA and CGIAR Regional Director for Central and West Asia and North Africa, underscored the importance of international collaboration at COP28 in tackling climate-smart transformation in food, land, and water systems for future global food security.  
The delegation's visit explored pathways for leveraging CGIAR's global agri-research expertise to support the UAE's aspirations for COP28 surrounding global food systems transformation and food security. The COP28 UAE Presidency aims to chart progress in climate action at the first Global Stock-Take since the Paris Agreement adopted in 2015 and drive negotiations on adaptation, finance, and loss and damage.

We must address climate change impacts – and fast
The UAE, located in a region facing extreme heat and scarce freshwater, has long recognized climate change as a serious threat that must be addressed. In recent years, the country has actively engaged in a wide-scale consultation process with diverse stakeholders and made significant commitments to climate-smart food systems transformation. This will culminate in a political declaration to be presented and signed by global leaders at COP28 after being tabled at the upcoming UN Food System Summit in Rome.
The  CGIAR delegation met with key UAE officials, including H.E. Adnan Admin, CEO of COP28, and Dr. Tarifa Al Zaabi, Director General of the International Center for Biosaline Agriculture (ICBA), discussing ways to leverage CGIAR's global agricultural innovation and expertise, and how to further the investment case for increased global funding in agri-research. With over 50 years of evidence-based agri-science expertise, CGIAR, a global research partnership for a food-secure future, offers unique advisory and feedback to inform and mobilize COP28 international negotiators.
Supporting UAE food systems transformation objectives

The delegation also met with H.E. Mohammed Al Nuaimi, Acting Undersecretary of the Ministry of Climate Change and Environment, and explored concrete actions to support UAE's Minster H.E. Mariam Almheiri's
extensive efforts to galvanize support from all actors to integrate synergies across COP26/27 initiatives and processes and generate real change in food system transformation. CGIAR also demonstrated considerable convening power at COP28 through its partnership with FAO, The Rockefeller Foundation, and IFAD at a planned COP28 Pavilion.
Unite. Act. Deliver.
The discussions between the UAE and CGIAR highlight the importance of alliances between international organizations and national stakeholders in addressing the global challenges resulting from climate change. As COP28 approaches, collaboration and teamwork will be crucial in achieving the ambitious goals tabled at past COP conferences. The CGIAR and UAE partnership serves as a testament to the importance of such alliances in generating the seismic shifts urgently needed in food, land, and water systems transformation and realizing real change for the future under an intensifying climate crisis.
——–
UAE Dignitaries: 
Mr. Adnan Admin, CEO of COP28

H.E. Mohammed Al Nuaimi, Acting Undersecretary of the UAE Ministry of Climate Change and Environment (MOCCAE)

Dr. Tarifa Al Zaabi, Director General of the International Center for Biosaline Agriculture
CGIAR Delegation: 
Mr. Aly Abousabaa – ICARDA Director General and CGIAR Regional Director of CWANA

Dr. Aditi Mukherji – Director, CGIAR Climate Impact Platform

Ms. Roula Majdalani – Climate Change Advisor, ICARDA

Dr. Abdoul Aziz Niane – Regional Coordinator of Arabian Peninsula Regional Programme and UAE Country Manager, ICARDA

Mr. James Stapleton, Senior Strategic Advisor, Advocacy for Impact, Partnerships and Advocacy, CGIAR

Mr. Nathan Birac, Director, Campaigns, Events & Stakeholder Communications, CGIAR

Ms. Mary Margaret McRae, Head of Partnerships and Resource Mobilization, ICARDA

Dr. Arash Nejatian, Covered Agriculture Expert