Food Security Simulator Kenya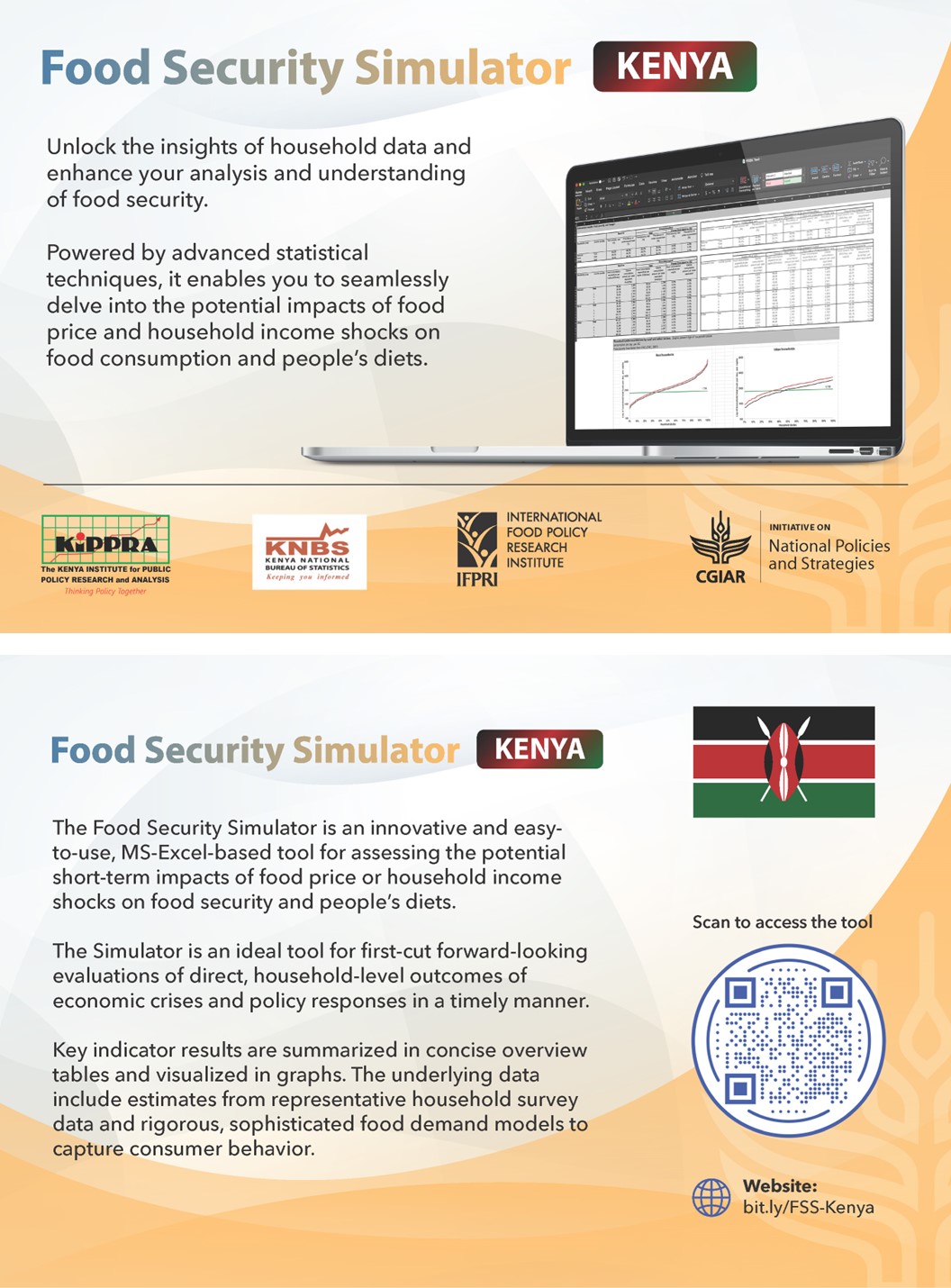 From

CGIAR Initiative on National Policies and Strategies

Published on

08.06.23

---
The Food Security Simulator is an innovative and easy to use, MS-Excel-based tool for assessing the potential short-term impacts of food price or household income
shocks on food security and people's diets.
The Simulator is an ideal tool for first-cut forward-looking evaluations of direct, household-level outcomes of economic crises and policy responses in a timely manner.
Key indicator results are summarized in concise overview tables and visualized in graphs. The underlying data include estimates from representative household survey data and rigorous, sophisticated food demand models to capture consumer behavior.
---
Download now! Food Security Simulator Tool*
*NOTE: You need to download the 2 files to run the tool.
---
Related Resources
Income and price elasticities of food demand (E-FooD) dataset: Documentation of estimation methodology.  Learn more about the methodology for estimating the income and price elasticities of food demand that are used in the Food Security Simulator for Kenya and other NPS focus countries.
A healthy diet is costly, but even with limited income Kenyans can eat better. Learn more about the causes of food insecurity and poor diet quality in Kenya. This IFPRI Policy Brief also highlights food policy issues that the Food Security Simulator can help to analyze and provide important insights for finding effective solutions.
Poverty, price and preference barriers to improving diets in sub-Saharan Africa. Learn more about dietary patterns, drivers of the demand for nutritious foods, and barriers to improving diets in Ethiopia, Kenya, Tanzania, and Uganda.
---
The Food Security Simulator Kenya was jointly developed by Kenya Institute for Public Policy Research and Analysis (KIPPRA) ,  the Kenya National Bureau of Statistics (KNBS) , and the International Food Policy Research Institute (IFPRI), under the CGIAR Initiatives on National Policies and Strategies (NPS). We would like to thank all funders who supported this research through their contributions to the CGIAR Trust Fund.