Water storages in Tana-Beles Sub-basin of Ethiopia: what do we know, and where should we go?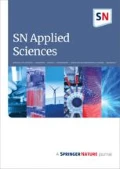 From
Published on

01.10.23

Challenges
Download
Water storages in Tana-Beles Sub-basin of Ethiopia: what do we know, and where should we go?
Assefa, T. T.; Taye, Meron Teferi; Ebrahim, Girma Yimer; Lautze, Jonathan; Seid, Abdulkarim Hussein
The Tana-Beles sub-basin, a strategic economic growth corridor in Ethiopia, relies on water storage to provide a suite of key services to agriculture, drinking water supply, energy, and ecosystems. While there are a range of storage options (e.g., from large dams to subsurface aquifers) that can be utilized to provide these services, a systematic stock-take of literature on water storage in the Tana-Beles has not been undertaken. This knowledge gap constrains the identification of the relative contribution of different storage types in the Tana-Beles. Accordingly, in this study, we conducted a systematic review of literature on the surface and sub-surface storages to examine key issues of the different storage types and their linkages in the Tana-Beles sub-basin. Peer-reviewed and grey publications from various databases were considered for the systematic review. The results indicate that literature in the Tana-Beles sub-basin is more focused on natural storage like wetlands and Lake Tana than built storage types like human-made reservoirs. Overall, the analysis revealed three key points. First, storage volume and water quality in those storages are declining. Second, the causal factors for storage loss and water quality deterioration are agricultural expansion, land degradation, sedimentation, and increasing water withdrawals. Third, the storage gap will increase because of climate change, population, and economic growth while current management options are fragmented. Therefore, the need for more integrated nexus approaches is paramount to optimize storage resources in water, food, energy, and ecosystems in light of population-driven growth in demand and the ongoing global climate crisis.
Assefa, T. T.; Taye, Meron Teferi; Ebrahim, Girma Yimer; Lautze, Jonathan; Seid, Abdulkarim Hussein. 2023. Water storages in Tana-Beles Sub-basin of Ethiopia: what do we know, and where should we go? SN Applied Sciences, 5:275. https://doi.org/10.1007/s42452-023-05499-1