Third Stakeholders Meeting: insect Resistant Maize for Africa (IRMA) project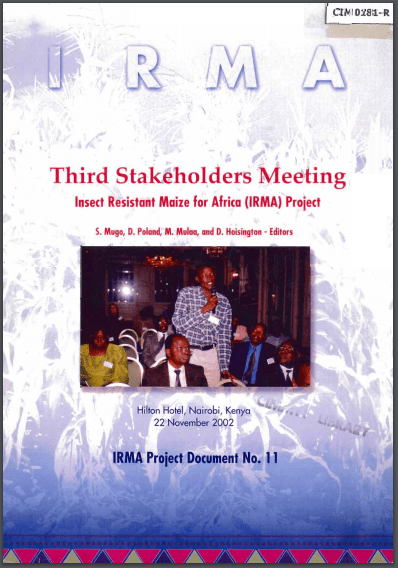 From
Published on

01.01.02

Download
The Insect Resistant Maize for Africa (IRMA) project is aims to produce stem borer resistant and locallyadapted maize for various Kenyan agroecological zones, using conventional and biotechnology-mediated methods, especially Bt technology. Transgenic maize containing Bacillus thuringenesis (Bt) is a focal point of the project, prompting project organizers to emphasize public involvement and awareness through events such as the Stakeholders Meeting.
The IRMA project was publicly launched on March 3, 2000 with the convening of the first Stakeholders' Meeting in Nairobi, Kenya. That meeting was attended by about 100 people, representing different stakeholder groups, including farmers' associations, women's groups, religious organizations, seed producers, regulatory agencies, NGOs, the media, and others. Representatives of the project collaborators, CIMMYT and the Kenyan Agricultural Research Institute (KARl), as well as the primary donor, the Syngenta Foundation for Sustainable Agriculture (at that time, the Novartis Foundation for Sustainable Development) were also on hand.
The specific objectives of the first stakeholders' meeting were to (1) introduce the IRMA project to stakeholders; (2) create awareness about the economic importance of stem borers in Kenyan agriculture; (3) create awareness about the control options for stem borers, including conventional and novel approaches like the Bt technology; and (4) solicit responses from stakeholders on the need for and processes of developing insect resistant maize for Kenya. The stakeholders expressed their desire that the project incorporate sound management strategies and that it follow the national regulations strictly during introduction and testing of Bt maize technology in the country. The near universal view was that we could only evaluate Bt maize technology if it is in the country. Bt maize was viewed as having high potential for closing the wide and increasing food deficit in Kenya.