The future of global river health monitoring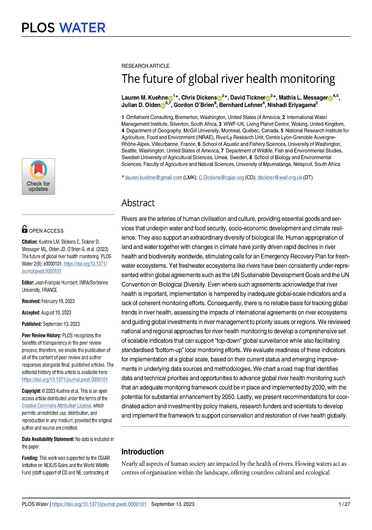 From
Published on

13.09.23

Challenges
Download
The future of global river health monitoring
Kuehne, L. M.; Dickens, Chris; Tickner, D.; Messager, M. L.; Olden, J. D.; O'Brien, G.; Lehner, B.; Eriyagama, Nishadi
Rivers are the arteries of human civilisation and culture, providing essential goods and services that underpin water and food security, socio-economic development and climate resilience. They also support an extraordinary diversity of biological life. Human appropriation of land and water together with changes in climate have jointly driven rapid declines in river health and biodiversity worldwide, stimulating calls for an Emergency Recovery Plan for freshwater ecosystems. Yet freshwater ecosystems like rivers have been consistently under-represented within global agreements such as the UN Sustainable Development Goals and the UN Convention on Biological Diversity. Even where such agreements acknowledge that river health is important, implementation is hampered by inadequate global-scale indicators and a lack of coherent monitoring efforts. Consequently, there is no reliable basis for tracking global trends in river health, assessing the impacts of international agreements on river ecosystems and guiding global investments in river management to priority issues or regions. We reviewed national and regional approaches for river health monitoring to develop a comprehensive set of scalable indicators that can support "top-down" global surveillance while also facilitating standardised "bottom-up" local monitoring efforts. We evaluate readiness of these indicators for implementation at a global scale, based on their current status and emerging improvements in underlying data sources and methodologies. We chart a road map that identifies data and technical priorities and opportunities to advance global river health monitoring such that an adequate monitoring framework could be in place and implemented by 2030, with the potential for substantial enhancement by 2050. Lastly, we present recommendations for coordinated action and investment by policy makers, research funders and scientists to develop and implement the framework to support conservation and restoration of river health globally.
Kuehne, L. M.; Dickens, Chris; Tickner, D.; Messager, M. L.; Olden, J. D.; O'Brien, G.; Lehner, B.; Eriyagama, Nishadi. 2023. The future of global river health monitoring. PLOS Water, 2(9):e0000101. [doi: https://doi.org/10.1371/journal.pwat.0000101]