Building Systemic Resilience against Climate Variability and Extremes (ClimBeR): Proposal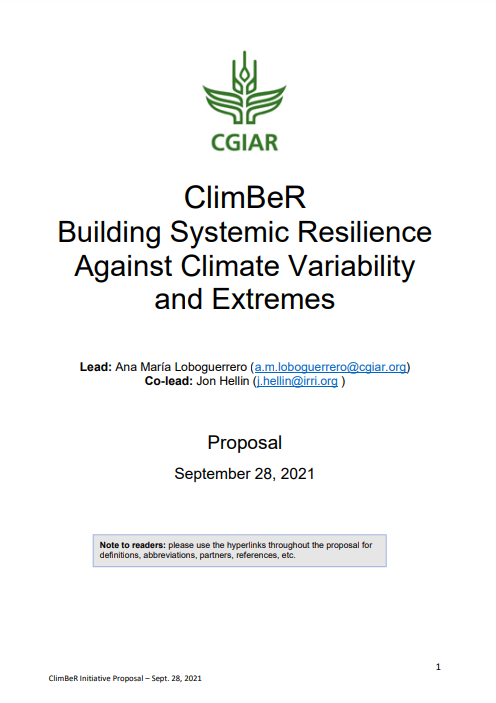 From
Published on

11.11.22

Challenges
Download
Climate change is affecting planetary systems at a higher and faster rate than previously
estimated, with the 1.5°C global warming level now expected to be reached by the early
2030s, a trajectory United Nations Secretary-General Antonio Guterres has called
"catastrophic." If the United Nations Framework Convention on Climate Change (UNFCCC)
and Paris Agreement targets (temperature increases held to 1.5ºC by 2030, carbon neutrality
by 2055) are to be met, urgent – and early – action on the twin goals of climate mitigation
(reducing emissions, creating carbon sinks) and climate adaptation (boosting countries'
resilience to climate change) is required. ClimBeR is aimed squarely at climate adaptation.
The principal challenge addressed by ClimBeR is the poor climate adaptation preparedness of
the food and agricultural systems in low- and middle-income countries (LMICs). The adverse
impacts of climate variability and extremes in the Global South are well documented.
The loss of productive assets and human capital, coupled with the effect of uncertainty on agricultural investments, stymie smallholders' efforts to improve livelihoods, exacerbating poverty and social tensions. The central objective of ClimBeR is, therefore, to transform the climate
adaptation capacity of food, land, and water systems in six LMICs, ultimately increasing the
resilience of smallholder production systems to withstand severe climate change effects like
drought, flooding, and high temperatures.
Loboguerrero Rodriguez, A.M. and Hellin, J.